Dear COVID-19,
As a wife, mother, daughter, coach, and friend, I never thought I would be spending my spring season in my house homeschooling, recruiting online, cleaning, and constantly worrying about the health and well-being of my family, players, and friends.
For me, August 26, 2019, came so quickly. My first goal as a coach was to get in tune with a new group of Arkansas Women golfers. I needed to figure out how I was going to once again develop a culture of excellence while juggling being a wife and mom.  Our staff worked tirelessly to pour into our team as we knew losing four amazing seniors the previous year would be our biggest challenge, but we were ready! We created a plan to help grow our group in more than just golf.  We had a new team motto – "Powered by LOVE" – and little did we know that this would be something that would foreshadow our future needs.  My goal as a coach has always been a wholistic approach in developing our players.  I have seen time and time again that when investing in this complete model, golf will always improve along the journey.  We went back to the basics and were committed to laying a foundation for our future by developing our team in all areas. We made progress each week and headed into the holiday break with momentum and an eagerness to return in January.

I spent the holiday time as usual; with a great family Christmas, which included Santa for Grace and a trip to Arizona to recruit.  The world was turning normally as I headed to Guadalajara, Mexico, for the Mexican Women's Amateur golf tournament to watch our future Razorbacks, but also help most of our team get primed and ready for competition.  We scraped off the rust and were able to identify areas of improvement before our first event of the spring.  The momentum was building and the eye on post-season was a part of my daily plan for our team.  I knew with a young team that the victories would lie in the daily improvements and growth of each young woman.  We were winning the daily battle!
We headed to our first event of the spring in Mexico with an eagerness to get started.  We had just been there a few weeks prior and we knew it was a great starting point for an exciting spring season.  We competed hard, but walked away a bit short of the ultimate goal of winning.  We did not take the trophy, but we made tremendous strides towards our goals of post-season contention.
After two weeks at home, we headed to South Carolina to one of our favorite events of the year: The Darius Rucker Intercollegiate.  It's an amazing tournament, as (assistant coach) Mike (Adams) and I return to our home state of South Carolina.  We are also afforded the opportunity to stay with a former chancellor of the University of Arkansas, Dr. and Mrs. John White.  The field was loaded, and we knew it was going to be a great test.  We were able to compete, learn, and walk away a better team by garnering another Top-10 finish.  We were battled tested on a championship golf course—this was a great event to help prepare us for our postseason goals.  We returned Sunday, March 8, at 11:45 p.m. with ambition to prep for our next event in Arizona.  Practice, workouts, and school resumed as normal on Tuesday, March 10, but I began to realize that the world around us was changing by the hour as your spread around the world was now more recognizable. My focus was getting our team academically caught-up and trying to determine our line-up for our event in Arizona.
On Wednesday, March 11, as I was prepping for practice at our normal 2 p.m. start, we received a message from our Director of Athletics, Hunter Yurachek, that changes were coming and we should start preparing for some adjustments in our competitions moving forward due to COVID-19.  Less than two hours later, we were informed that commercial airline travel would be suspended by the University and that we would need to look into private air travel and/or a bus charter for our future competitions.  No big deal!  I was actually excited because this made our trip to Arizona easier and convenient.  We put a plan in place to make this happen and we continued to train and prep for putting together a lineup to help us accomplish our goal of winning.
Around 11 a.m. on Thursday, March 12, we received another message that all competitions were cancelled through March 30, 2020.  At this moment, I started to realize the severity of the pandemic you were creating.  As a society, I think we always operate with a mindset of "out of sight, out of mind" and this reaction to you was an absolute overreaction.  I was angry that we weren't going to be able to compete in Arizona. I had many thoughts running through my mind: "Why us?  We are a golf team and COVID-19 will never impact our sport!" Little did I know what was ahead of us.
Our team proceeded with 6:15 a.m. workouts on Thursday and were excited about a great day of practice starting at 2:30 p.m.  We were committed to preparing for the next tournament in Mississippi at the beginning of April.  We were about four holes into our on-course practice when I received a Twitter notification that all NCAA Championships for spring sports had been cancelled.  My first reaction was, this can't be true and someone had hacked the NCAA twitter handle.  When I told my team mid-practice, they were devastated. I kept searching for every way I could deem this news unreal. A few minutes later, Hunter messaged all head coaches to confirm that this was true and that we would meet on Friday as a staff to discuss.
On Friday, March 13, we met as a group of head coaches with a lot of questions, concerns and uncertainty. The room was filled with devastation and heartbreak.  We all began to realize that the work we started in August was going to come to an abrupt halt and the vision of our season goals were on the back burner.  As a coach, you work so hard to pour into a team so they are performing their best when April and May come around.  Our team was hitting its stride and it was all brought to an abrupt stop.  What did our future look like? Would we be able to train? Would we be able to play a SEC Championship? Would our team be allowed to continue to grow despite the news we were given?  As the realization set in, we all began to recognize that this COVID-19 might be for real. Our biggest competition was going to be preparing and fighting this virus for our families and student-athletes.  It was becoming more important for us to battle and one that has come with a lot of uncertainty.
I spent the rest of Friday, March 13, developing a plan and response that kept the safety and well-being of our team at the forefront of our decisions.  Should our athletes stay or should they return home?  Should we connect with their families to see that what they would like or should we keep them all here in hopes we could train sometime in the near future?  We wanted our athletes' parents to determine their next move. No matter what they decided, we would support them in making sure they were safe and cared for.
Almost our entire team is back home safely and for the few that are in town, we have implemented plans to ensure they are taken care of in every aspect.
While I have had almost one week to sit at home with my husband and little girl, I have taken the time to try and process what has happened and how suddenly our season plan was no longer applicable.  I am a planner by nature and not being prepared for this has been very unsettling for me.  I like to be in control and I always want to make sure those I lead and care for feel safe and loved.  I can see the stress plaguing my team and others, and I have these inner dialogues with myself to ensure I am displaying calmness and hope.
As I sit and continue to reflect, I recognize for the first time in my career that my plan wasn't the plan we were all following. I am having to adapt and adjust to having the leaders of our country guide me and my family along this journey.  Are they well equipped to show us the way?  Do they have the ability to implement decisions that could have lifetime implications?  My hope is that by following their recommendations my family, my team, and our loved ones will come out on the other side of the pandemic healthy and ready for a normal day.
I am really trying to stay patient and embrace what has been given to us.  I get the chance to wake up every morning and make breakfast for my little girl, read books to her, go on bike rides, teach her the solar system, do yoga, and sit at the kitchen table with her and my husband and do a puzzle together.  I haven't slowed down this much in the last 18 years and now I am getting to be the mom I have always wanted to be to our little girl.  I'm soaking up the self-imposed quarantine as it has reminded me that our plan we create at the beginning of each season can be taken away with one virus like yourself.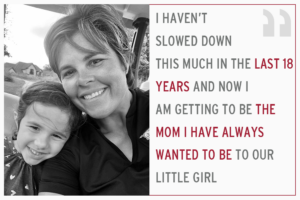 COVID-19, you are taking your toll on all of us around the world. As a coach, I know you will eventually lose and we will outsmart you someday very soon. But, maybe just as important, I need to thank you for making me slow down and recognize that we are all more than our jobs.  The time spent at home has truly taught me the team motto that we adopted back in August is one of the most positive phrases I can hold true during your time here: POWERED BY LOVE!
Sincerely,
Shauna Taylor
Immunocompromised Golf Coach