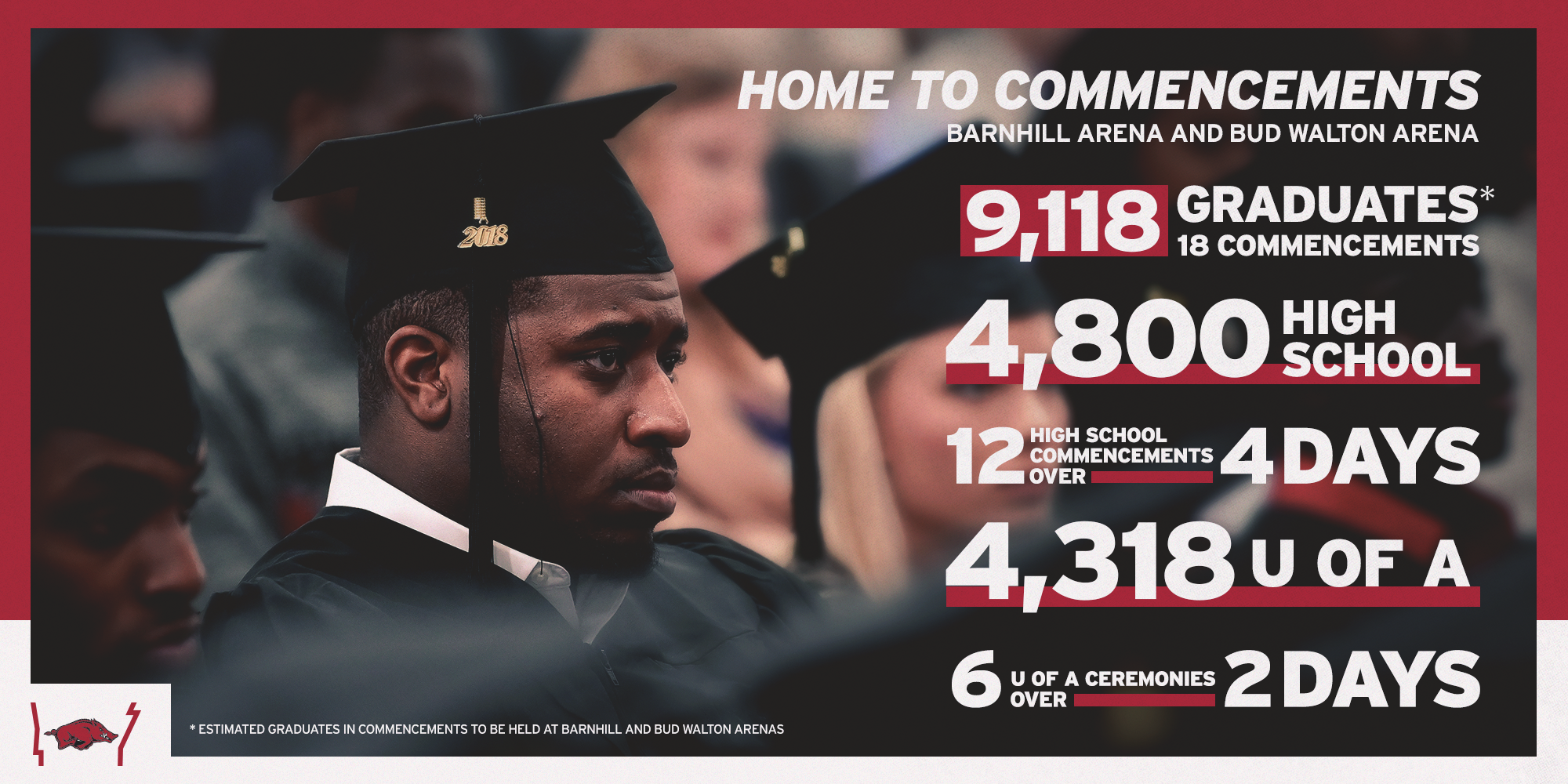 Graduation Destination
FAYETTEVILLE, Ark. – As graduates and families descend onto the University of Arkansas campus for commencement, thousands will be headed to two iconic Razorback venues for that special day. Chances are if you or someone you know is graduating or has graduated from high school or the U of A in the past few years, it was either at Barnhill or Bud Walton Arena, the homes to commencement in Northwest Arkansas.
In the next two weeks, more than 9,100 graduates will walk the stage to receive their diploma during six U of A and 12 high school commencements. This weekend, 4,318 graduates from various colleges at the University of Arkansas will be a part of ceremonies while the following week an estimated 4,800 high school students will do the same at Barnhill and Bud Walton Arenas combined.
From 2016-18, approximately 13,700 graduates attended commencement ceremonies at the two facilities, including 11,300 at Bud Walton Arena and 2,400 at Barnhill Arena. It is just another way Razorback Athletics is integrating with both the campus and Northwest Arkansas community.
So, this weekend as you cheer on your favorite graduate, feel free to also Call the Hogs! After all, graduation and the Razorbacks go hand in hand in commencement season.
Bud Walton Arena
University of Arkansas
J. William Fulbright College of Arts & Sciences (5/10)
All University Commencement [Graduate School] (5/11)
Sam M. Walton College of Business (5/11)
College of Education and Health Professions (5/11)

High Schools
Fayetteville High School (5/16)
Rogers High School (5/17)
Heritage High School (5/17)
Bentonville High School (5/18)
Springdale High School (5/18)
Har-Ber High School (5/18)
Barnhill Arena
University of Arkansas
College of Engineering (5/11)
Dale Bumpers College of Agricultural, Food and Life Sciences (5/11)
High Schools
Rogers Tech High School (5/15)
Huntsville High School (5/16)
Elkins High School (5/17)
Siloam Springs High School (5/18)
Bentonville West High School (5/18)
West Fork High School (5/18)