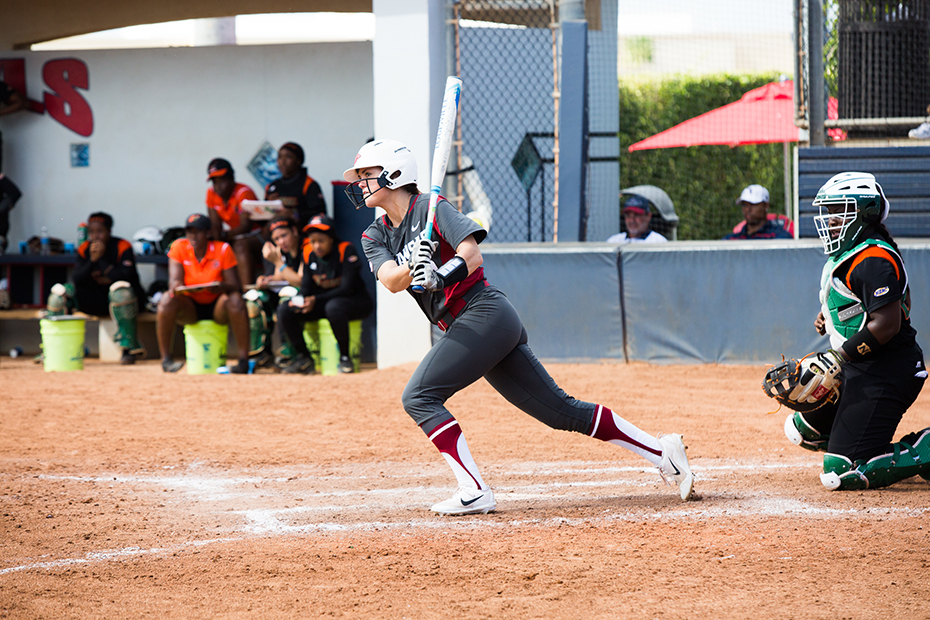 Grand Slam Leads to Road Win in Stillwater
STILLWATER, Okla. – Senior Nicole Schroeder hit two homeruns including a go-ahead grand slam in the sixth to help the University of Arkansas softball team to a 7-6 road win over Oklahoma State. With the victory, the Razorbacks continue their program-best start and improve to 12-1 on the season. Wednesday's result also marked Arkansas' first triumph in Stillwater since the 2001 season. The team plays its home opener Friday at 3 p.m. (CT) on day one of the Wooo Pig Classic.
Final: Arkansas 7, Oklahoma State 6 | Box Score
With the Razorbacks trailing 4-3 entering the sixth, junior transfer A.J. Belans began the rally with a single up the middle for her third hit of the game. After an infield single by Autumn Russell and walk to leadoff hitter Stephanie Canfield, the bases were loaded. Oklahoma State (8-8) got the second out which brought Schroeder to the plate. She delivered with her second grand slam of the season, a no-doubt shot to left center.
The home team answered with two runs of its own in the bottom half of the sixth to cut the Razorbacks' lead to one heading to the seventh. Autumn Storms, who started and pitched the first five innings of the game, re-entered to finish off the game. Oklahoma State had a runner at second with one out after a walk and sacrifice bunt, however, the next hitter was called out when the batted ball hit her in fair territory. Storms closed out the game with a strikeout to earn her first career save.
Arkansas trailed 3-0 after two innings but Schroeder and Tori Cooper hit back-to-back homeruns in the third to pull even on the scoreboard. With her two homeruns against Oklahoma State, Schroeder becomes the third player in program history to reach 30 in her career, joining Miranda Dixon (2007-10) and Devon Wallace (2012-15). Belans registered the first three-hit performance of her Razorback career while Russell was 2-for-3 to extend her hitting streak to eight games.
Up Next
After playing their first 13 games on the road, the Razorbacks make their home debut with the Wooo Pig Classic at Bogle Park. Arkansas will host IUPUI, Lamar and Nebraska at the tournament which begins Friday. General admission is free for all fans at Bogle Park this season.
For more information about Arkansas softball, follow @RazorbackSB on Twitter.