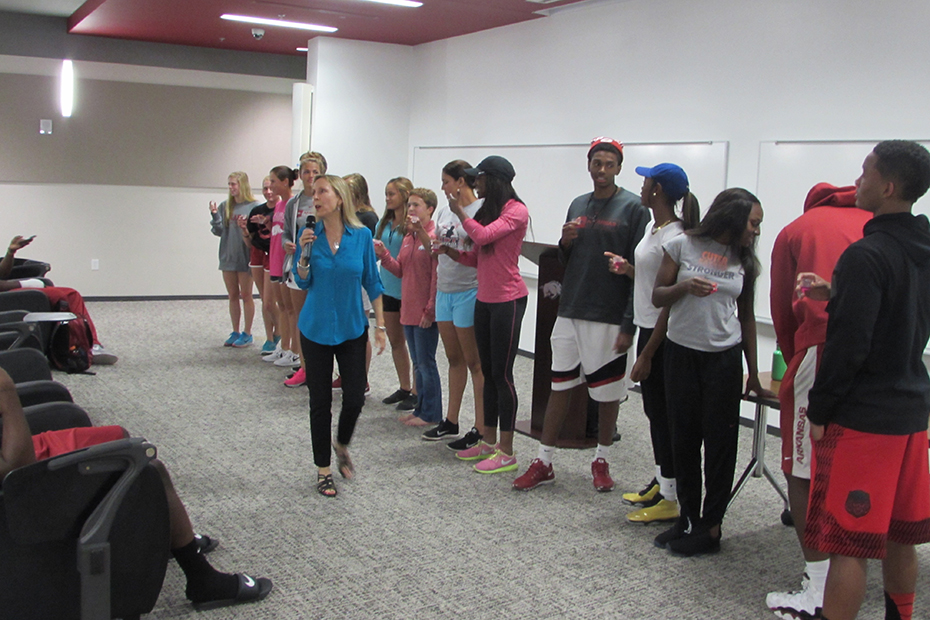 Guest Speaker Shows Student-Athletes How to Avoid Risky Behaviors
Understanding how the body processes alcohol, sexually transmitted diseases (STDs), and formulating strategies on how to avoid risky behaviors were some of the topics national guest speaker Elaine Pasqua presented to more than 100 student-athletes at the Jerry and Gene Jones Family Student-Athlete Success Center on Monday night.
Pasqua, a four-time nominee for Best Speaker of the Year for the Campus Activities Readers Choice Awards, showed athletes in useful demonstrations how STDs can be transferred when participating in alcohol-related risky behaviors. Student-athletes also discussed sexual assault and rape, and what to do if confronted with such a situation.
"Ms. Pasqua opened our eyes to the consequences of risky behaviors by providing shocking statistics," said Summar Roachelle, a junior on the Razorbacks women's golf team. "She kept the talk light while discussing topics that many may have felt uncomfortable with."
Since 1997, Pasqua has been presenting programs about the negative effects of high-risk behaviors to thousands of students at over 500 colleges and universities across the United States.
In addition to her work helping student-athletes, Pasqua also provides player development training for a number of professional sports teams, including the NFL's Carolina Panthers, and MLB's New York Giants and Philadelphia Phillies.
For more information on Razorback student-athlete development, follow @HogLife_Develop on Twitter.