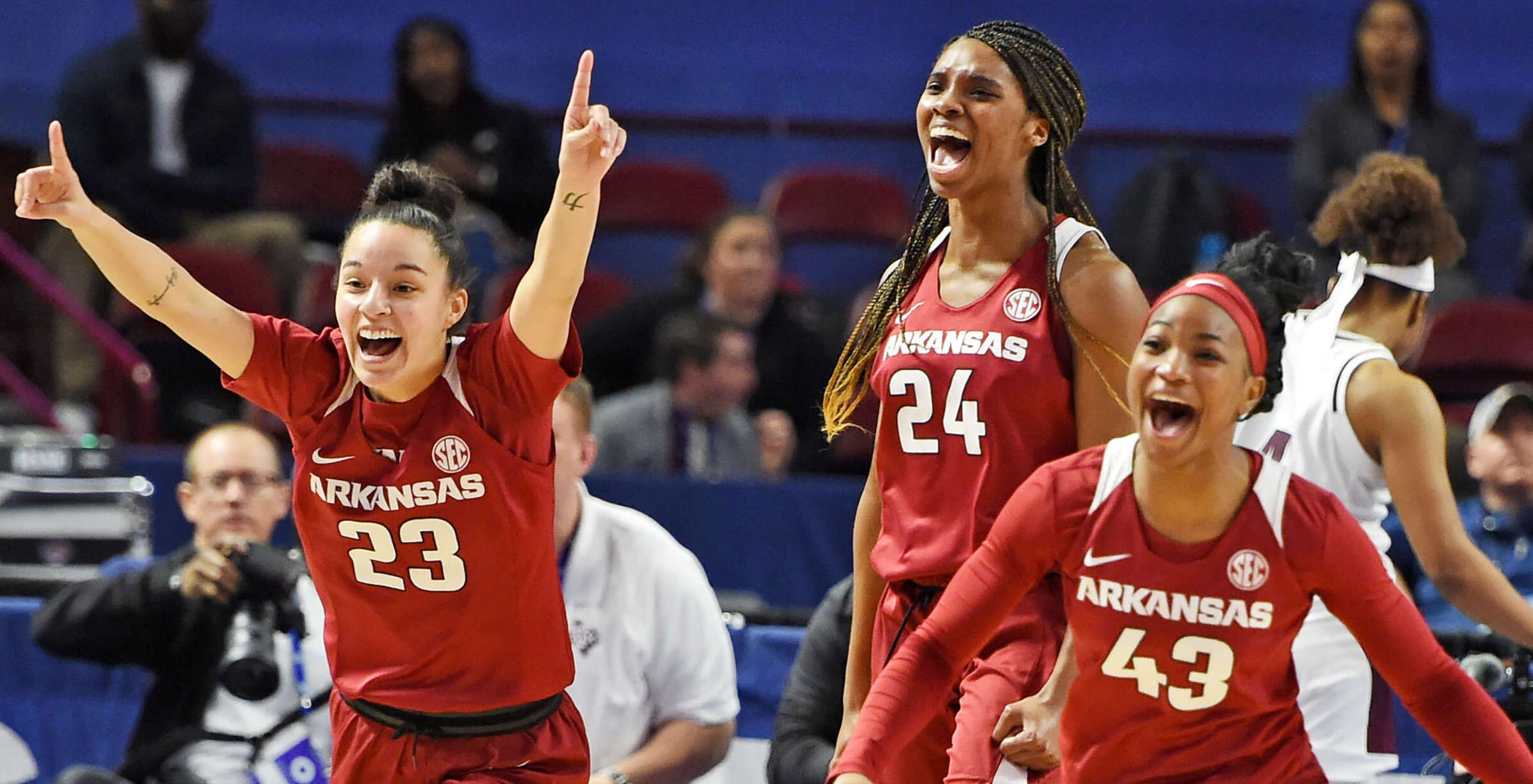 Heartracin' Hogs Deliver Again, Down No. 15 Texas A&M, 67-66
GREENVILLE, SC – No. 25 Arkansas (24-7) completed the second-largest comeback in SEC Tournament history on Friday afternoon, storming back from 17 down to stun No. 15 Texas A&M (22-8), 67-66. Arkansas led in this one for just over eight seconds, as two huge Kiara Williams free throws with 8.6 ticks left on the clock would prove to be the difference.
Freshman guard Makayla Daniels played a great game under huge pressure, leading Arkansas with 13 points. Daniels was also tasked with guarding First Team All-SEC guard Chennedy Carter, who would finish the game with 23 points, but only made nine of her 20 shot attempts. Williams was fantastic all game as well, going for 11 points and four rebounds, all of which were on the offensive glass, off the bench. She also collected two steals and an assist.
TURNING POINT
The Hogs were slow out of the blocks once again in this game and trailed 24-10 after the first quarter. The Razorbacks would chip away in the second quarter, but went into the halftime locker room trailing 38-26.
Head Coach Mike Neighbors' squad punched back in the third quarter, though, opening the frame on a 10-2 run to cut the lead down to just four with 8:07 to play in the frame. From there the teams would trade blows, and the third quarter would end with the Aggies up five, 51-46.
The fourth quarter started with the Aggies reextending their lead, pushing it out to seven with 8:19 left to play. The Hogs kept on coming, though, pulling to within two several times down the stretch. A floater from Amber Ramirez with 1:07 left would cut the lead to just one, and a stop on the other end gave Arkansas a chance to take its first lead of the game. Following a Carter turnover, Williams made the play of the game, grabbing two offensive rebounds, one off her own miss, before getting fouled on her second shot attempt. The senior would calmly knock down both free throws to give Arkansas a 67-66 lead with just over eight seconds to play. Carter had a look to win it, but a great contest from Rokia Doumbia forced the miss.
HOG HIGHLIGHTS
Arkansas' 17 point comeback was the second largest in tournament history. The Hogs came back from 16 down last year vs. A&M at the SEC Tournament.
Arkansas' All-SEC duo of Alexis Tolefree and Chelse Dungee both got into double figures, going for 11 and 12 points, respectively.
Dungee led the Hogs on the glass, pulling down five rebounds, while Tolefree led the team in assists, dishing three of them.
NEXT TIME OUT
The Hogs are onto the semifinals, where they will meet No. 1 South Carolina for the third time this season. That game will tip tomorrow at 4 p.m. CT, and will air on ESPNU.
For more information about Arkansas Women's Basketball, follow us on Twitter and Instagram at @RazorbackWBB and on Facebook at Facebook.com/RazorbackWBB. Be sure to subscribe to our YouTube Channel, "Kickin' It In The Neighborhood" for an inside look at the Razorback women's basketball program and check out The Neighborhood podcasts at CoachNeighbors.com.