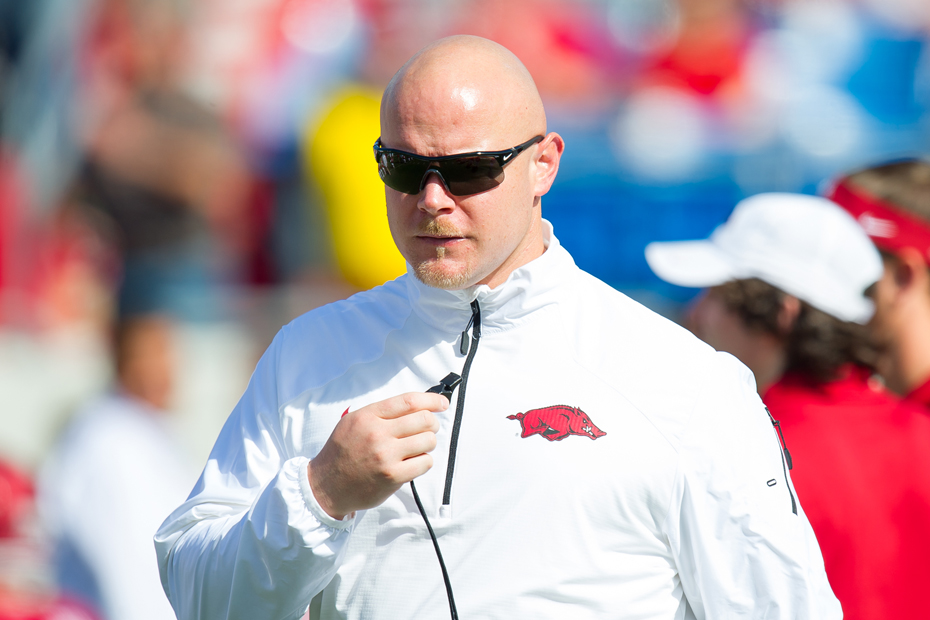 Herbert Named Master S&C Coach
FAYETTEVILLE, Ark. – Ben Herbert, the head strength and conditioning coach at the University of Arkansas, will be named Master Strength and Conditioning Coach (MSCC) by the Collegiate Strength and Conditioning Coaches association (CSCCa), the association announced. This honor is the highest given in the strength and conditioning profession. Herbert oversees the Razorbacks' strength and conditioning program, including working closely with the Razorback Football program.
Herbert will be presented with the blue MSCC jacket in a ceremony on Thursday evening at the Gaylord Opryland Hotel and Convention Center in Nashville, Tennessee. The ceremony is the highlight of the association's national conference each year.
In order to receive this certification and corresponding title of distinction, an individual must first meet the following criteria:
– Hold a minimum of a bachelor's degree;
– Be a currently practicing, full-time strength and conditioning coach on the collegiate or professional level;
– Hold current membership in the CSCCa
– Hold the CSCCa Certification – SCCC (Strength & Conditioning Coach Certified); and
– Have a minimum of 12 years experience as a full-time strength and conditioning coach on the collegiate and/or professional level
The ceremony will honor 21 collegiate strength and conditioning coaches with the prestigious certification of Master Strength & Conditioning Coach. These newly certified coaches will bring the total number of MSCC's to 160.
"Ben (Herbert) and I have worked together a long time and I can't think of anyone more deserving for this honor than him," said head coach Bret Bielema. "He is always on the cutting edge of his profession and trains men mentally and physically to prepare themselves for college football and the next level. Ben is a tremendous asset to our program and a great friend. We are very happy that his fellow strength and conditioning community is recognizing him for his outstanding work in the field."
Herbert is currently in his third season as head strength and conditioning coach at Arkansas after spending the previous 11 years at Wisconsin. The Pittsburgh native helped develop five Razorbacks who were NFL Draft selections in 2015 – the most for Arkansas since 2008.
In 2014, Herbert's efforts helped the Razorbacks defeat LSU, Ole Miss and Texas in the same season for the first time in school history. Herbert's strength and conditioning programs helped Arkansas build the largest starting offensive line in all of football – bigger than any collegiate or NFL offensive line – at 328.6 pounds per player.
For more information on Arkansas Football, follow @RazorbackFB on Twitter.