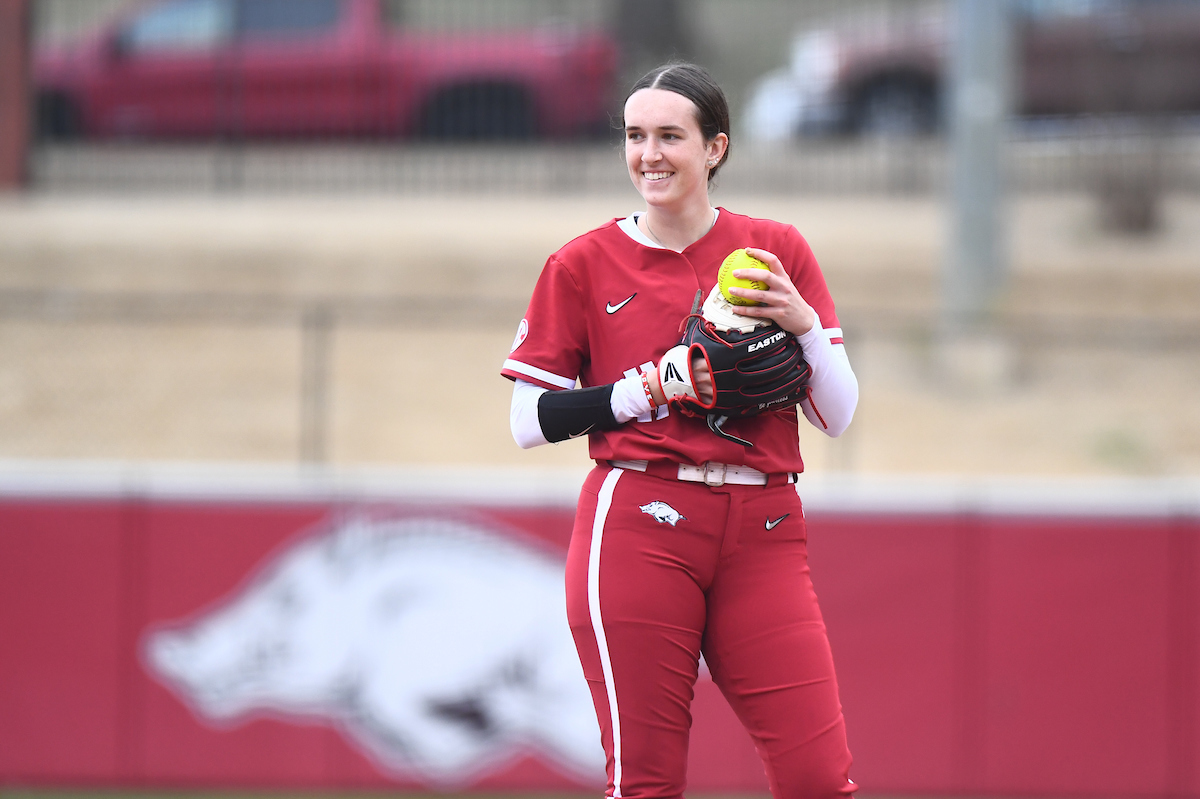 Herron Blanks Iowa State
FAYETTEVILLE, Ark. – Freshman southpaw Robyn Herron tossed a one-hit, complete-game shutout to propel No. 7 Arkansas past Iowa State, 4-0, Thursday afternoon at Bogle Park.
The Razorbacks have tallied back-to-back shutouts after downing Drake, 8-0 (5), Sunday.
Arkansas moves to 14-3 overall on the season after recording its second straight win against the Cyclones.
Herron (4-1) was lights out in her second career complete-game shutout. In 7.0 IP, The Tampa product earned her third career double-digit strikeout performance after fanning 12. Herron is the first Razorback freshman pitcher since Mary Haff in 2018 to throw multiple complete-game shutouts. The rookie worked three 1-2-3 frames and gave up a lone single on a dribbler to third in the fifth. Herron has notched 12+ strikeouts in two of the last three games she has appeared in.
Outhitting Iowa State at a 10-1 clip, several Hogs had big days at the plate led by freshman Reagan Johnson, who hit a career best 4-for-4 with two stolen bases. Redshirt junior Rylin Hedgecock finished 2-for-3 with a two-run home run. Sophomore Raigan Kramer had a career day at the plate as well, scattering a career high two hits and blasting her second career home run. Freshman Lauren Camenzind hammered an RBI double in the second and junior Hannah Gammill smacked a single to left in the sixth.
How It Happened
Lauren Camenzind drove in Arkansas' first run on her RBI double to left center that plated Kramer from first.
Hedgecock hit her sixth homer of the year, a two-run drive, in the third to cushion Arkansas' lead to 3-0.
Kramer padded the lead to 4-0 in the sixth on her solo shot to left.
Notes
Arkansas extends its win streak to five games.
The Hogs have won two consecutive games against Iowa State.
Arkansas recorded its third 10-hit game of the season.
Homering twice, Arkansas has amassed eight games with multiple home runs this season.
The Razorbacks logged back-to-back shutouts after downing Drake, 8-0 (5), Sunday afternoon.
Arkansas is 6-1 at Bogle this season.
Reagan Johnson slugged a career high four hits.
Johnson has recorded back-to-back games with three or more hits.
Raigan Kramer hit a career best 2-for-3 and teed her second career home run.
Herron pitched her second complete-game shutout, becoming the first Razorback freshman pitcher since Mary Haff in 2018 to record multiple complete-game shutouts.
Ringing up 12 Thursday afternoon, Herron has totaled three double-digit strikeout games so far this season.
Up Next
No. 7 Arkansas continues the Wooo Pig Classic Friday with a double dip beginning at 3 p.m. vs. Texas A&M-Corpus Christi. The Razorbacks end the day at 5:30 p.m. vs. North Texas. Both games will be available on SEC Network+.