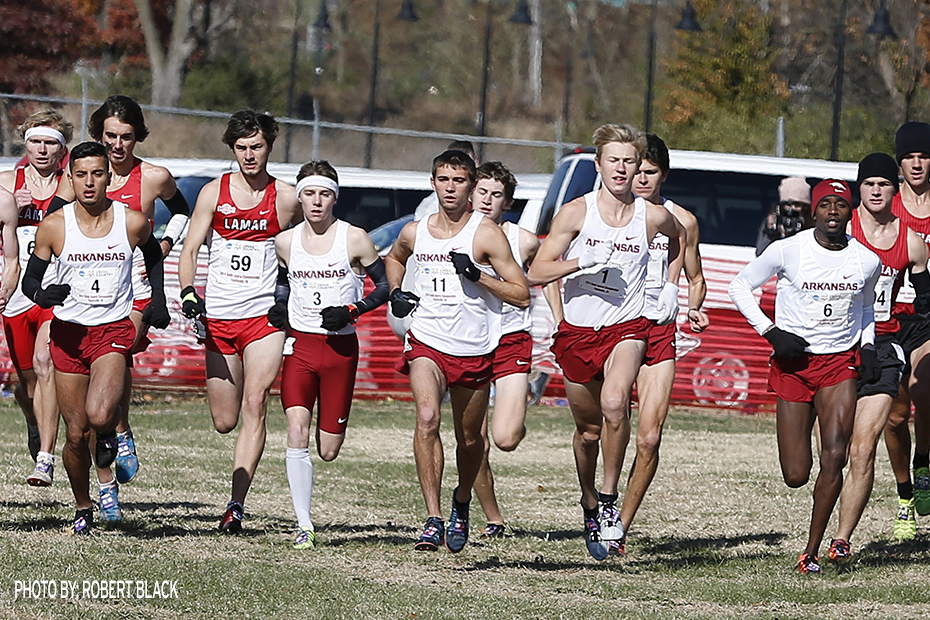 Heymsfield and Tonui Shine at Iona
Iona College Meet of Champions Complete Results
NEW YORK – Led by junior Frankline Tonui the 17th ranked Arkansas men's cross country team finished in second place at the Iona Meet of Champions at Van Cortlandt Park.
Following a successful outdoor track and field season with Arkansas that led to a national championship qualification in the 3,000-meter steeplechase Tonui opened his cross country season on the challenging Bronx course winning the 8K in 25:59.30.
Fellow junior Christian Heymsfield kept pace with Tonui throughout the entire race running well enough to collect a second place finish for the Razorbacks in 25:59.90. The two juniors were the only runners entered in the meet to run a sub-26 8K.
"I thought we had some solid individual performances today," said head coach Chris Bucknam. "Frankline and Christian ran well for their first races of the season. They both ran well within themselves, not pressing too hard this early in the year. I'm especially pleased with Christian since this was his first race since last fall."
Three underclassmen completed the scoring five led by sophomore Ethan Moehn (26:44.60) and a pair of freshmen in Stephen Mugeche (26:45.00) and Graham Brown (26:46.4). It was the first races for both Moehn and Mugeche. The meet marked Brown's first 8K and second appearance in the Razorback top five.
Kyle Hosting (26:52.80) was Arkansas' sixth finisher while Noah Findlay improved on his time from last year by over 30 seconds to clock a 27:16.20 to finish within the top 30.
"We got our first look at freshman Stephen Mugeche and Graham Brown at the 8K distance," said Bucknam. "It's quite a bump up in distance from their 5K days in high school and both show promise, especially considering this is a somewhat hilly race course. Kyle Hosting, a junior college transfer and engineering student, ran much better today than his first race as a Razorback a couple of weeks ago. It was also good to see Ethan Moehn back in the mix with the rest of the squad. He is an outstanding competitor and he is just scratching the surface in regards to his ability. Missing most of last year due to sickness and injury, he is finally getting back to the great form he showed in HS."
"We left a number of our top competitors out of this competition for a variety of reasons, but none due to injury or any personal reasons," said Bucknam. "All of our student-athletes are healthy, training extremely hard and are focused on our team goals. I fully expect our team to compete at full strength in two weeks at the Chile Pepper Festival."
The Razorbacks will train through the last weekend in Sept. competing next on their home turf of Agri Park on Oct. 3 in the 27th annual Chile Pepper Festival.
Iona Meet of Champions 8K Results
1. Frankline Tonui (1) – 25:59.30
2. Christian Heymsfield (2) – 25:59.90
3. Ethan Moehn (15) – 26:44.60
4. Stephen Mugeche (16) – 26:45.00
5. Graham Brown (17) – 26:46.40
6. Kyle Hosting (18) – 26:52.80
7. Noah Findlay (26) – 27:16.20
2015 Arkansas Cross Country Schedule
Tuesday, Sept. 1, Cowboy Preview | Stillwater, Okla. | 4th of 4
Saturday, Sept. 19, Iona Meet of Champions | New York, N.Y. | 2nd of 10
Saturday, Oct. 3, Chile Pepper Festival | Fayetteville, Ark.
Friday, Oct. 16, Pre-Nationals | Louisville Ky.
Friday, Oct. 30, SEC Championships | College Station, Texas
Friday, Nov. 13, NCAA South Central Regional | College Station, Texas
Saturday, Nov. 21, NCAA Championships | Louisville, Ky.
For more information on Arkansas track and field including in-meet updates, follow @RazorbackTF on Twitter.