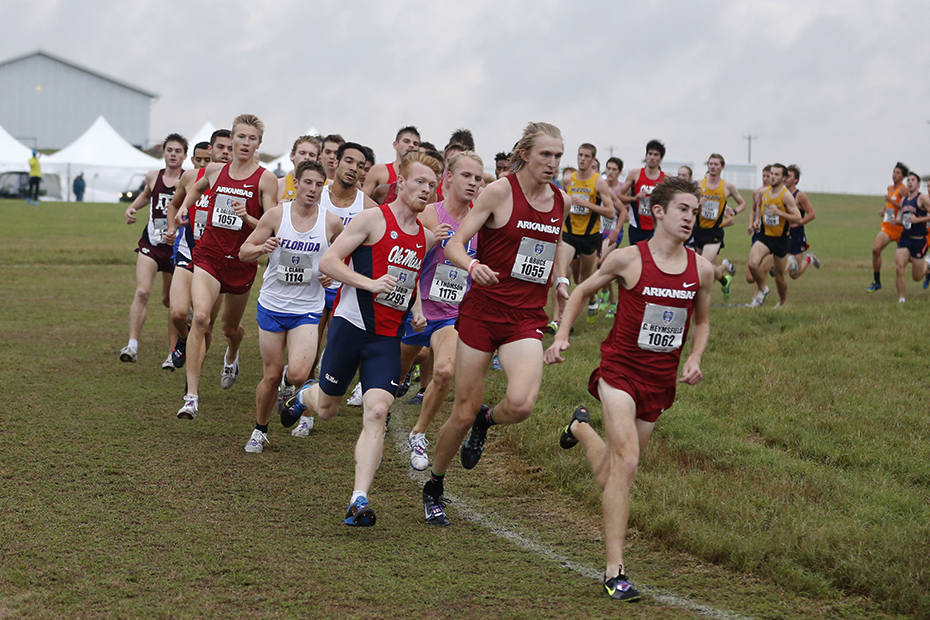 Heymsfield Earns National Academic Recognition
LOUISVILLE, Ky. – Arkansas men's cross country runner Christian Heymsfield was selected as the recipient of the Elite 90 award for the 2015 NCAA Division I Men's Cross Country Championship. The award was presented following the completion of the men's and women's championship races on Saturday afternoon in Louisville, Ky.
Formerly known as the Elite 89, the Elite 90 an award founded by the NCAA in the 2009-10 season, recognizes the true essence of the student-athlete by honoring the individual who has reached the pinnacle of competition at the national championship level in his or her sport, while also achieving the highest academic standard among his or her peers.
The Elite 90 is presented to the student-athlete with the highest cumulative grade-point average participating at the finals site for each of the NCAA's championships. Eligible student-athletes are sophomores or above who have participated in their sport for at least two years with their school. They must be an active member of the team, traveling and a designated member of the squad size at the championship.
The Elkins, Ark. native is a repeat selection for this award. He was last honored by the NCAA for his academic achievement at the 2014 NCAA Cross Country Championships. A redshirt junior, majoring in biological engineering, Heymsfield maintains a 4.0 GPA while contributing to the program as a part of Arkansas' scoring five.
Heymsfield is the second Arkansas runner to receive this prestigious honor. Middle distance runner, Andrew Pisechko, won during the 2014 NCAA Indoor Track & Field Championships gaining academic recognition and racing to All-America honors with the distance medley relay.
Named the 2015 SEC Scholar-Athlete of the year earlier this month, Heymsfield has been a steady contributor for the Razorbacks since the start of the season. Opening his junior campaign in New York, Heymsfield was the second overall finisher at the Iona meet of Champions on Sept. 19. He went on to finish among the top-three runners for the Razorbacks at the Chile Pepper Festival and the Pre-Nationals meet.
At the 2015 SEC Cross Country Championships Heymsfield led the way to Arkansas' 23rd program title running a personal best of 23:25.20 in the 8K to claim the runner-up spot. His performance, which earned him first team All-SEC honors, was the fastest by a Razorback at that distance this season by seven seconds.
For more information on Arkansas track and field including in-meet updates, follow @RazorbackTF on Twitter.