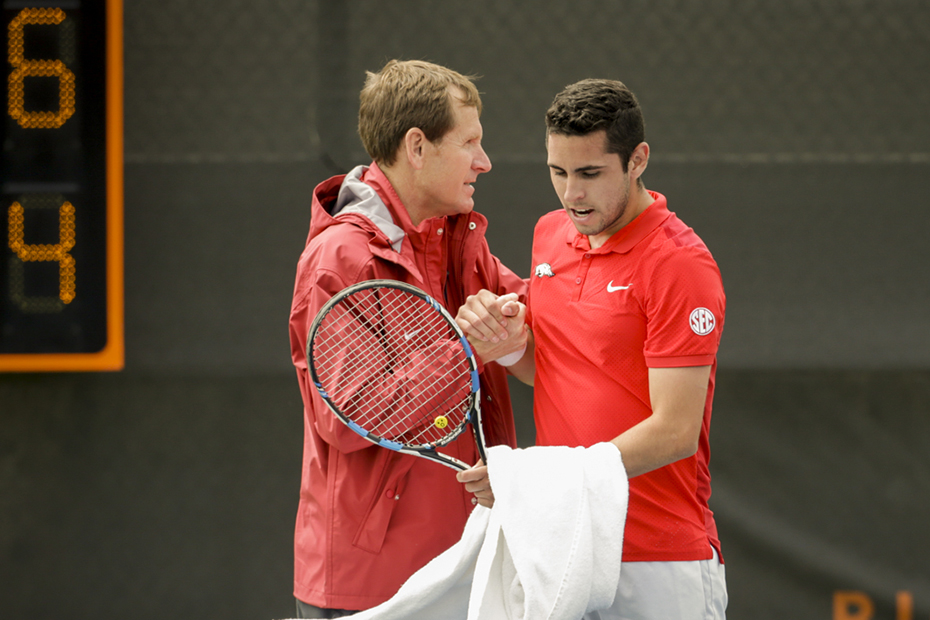 Hogs Notch First NCAA Victory Since 2006
STILLWATER, Okla. — Santiago Munoz came back from an early deficit against Wichita State's Jocelyn Devilliers to clinch a three-set victory and the Arkansas men's tennis team's first NCAA Tournament win in 10 years.
The Mexico City native finished off a 5-7, 6-3, 6-4 thriller at the No. 3 position to give the No. 19 Razorbacks (20-8) a 4-2 decision over the Shockers (17-11) on Saturday morning at Michael and Anne Greenwood Tennis Center.
"It was an unbelievable feeling," Munoz said. "We knew this was going to be a tough team and a tough match all the way to the end, and I'm really glad I was able to pull through."
It was like déjà vu for Munoz, who faced a similar situation against South Carolina in Arkansas' final home match of the season. With the team score tied 3-3 on April 17, the Gamecocks' Andrew Schafer ousted the Razorback netter in a heartbreaking three-setter.
But being a senior, Munoz knew he couldn't dwell on that one result, and there was a lesson to be learned from the defeat. On Saturday, a long 27 days later, he used it to fuel his third match-clincher of the season against Devilliers and Wichita State.
"It crossed my mind during today's match – of course – thinking about what happened against South Carolina," he explained. "The way I looked at it was, 'If the guy beats me, he beats me. But I'm not going to let myself give into the match.'
"I just did the best I could and thank God it went our way."
QUICK HITS
• For the first time all season, head coach Andy Jackson paired Munoz and Adam Sanjurjo at No. 2 doubles, and Johan den Toom and Jose Salazar at No. 3.
• It worked out for the Razorbacks, as the den Toom-Salazar duo finished off the doubles point with a 7-6 (3) victory to go along with a dominant 6-1 win from the top pair of No. 19 Giammarco Micolani and Mike Redlicki.
• In singles, No. 21 Redlicki made quick work of the Shockers' No. 95 Tin Ostojic in straight sets, while dropping only three games in the process. It was Redlicki's 10th ranked win of the season.
• At the No. 5 spot, Sanjurjo notched his 12th straight-set win of the season against Eddie Stoica. His victory over the Wichita State freshman gave Arkansas a 3-0 lead.
• Munoz also has match-clinchers on the year at Tennessee on March 6 and vs. Ole Miss on March 27. His wins against the Rebels and Saturday against the Shockers represent two of his three three-set victories on the season.
UP NEXT
Arkansas moves on to face host No. 16 Oklahoma State in the round of 32 Sunday afternoon at 1 p.m. The Cowboys defeated Bryant 4-0 following the Razorbacks' match at Greenwood Tennis Center.
TODAY'S RESULTS
DOUBLES
1. No. 19 Giammarco Micolani/Mike Redlicki (AR) def. Jocelyn Devilliers/Tin Ostojic (WSU) 6-1
2. Miroslav Herzan/Haru Inoue (WSU) def. Santiago Munoz/Adam Sanjurjo (AR) 6-4
3. Jose Salazar/Johan den Toom (AR) def. Eddie Stoica/Sergio de Vilchez (WSU) 7-6 (3)
SINGLES
1. No. 21 Mike Redlicki (AR) def. No. 95 Tin Ostojic (WSU) 6-2, 6-1
2. Miroslav Herzan (WSU) def. No. 62 Jose Salazar (AR) 6-4, 6-3
3. Santiago Munoz (AR) def. Jocelyn Devilliers (WSU) 5-7, 6-3, 6-4
4. Haru Inoue (WSU) def. Giammarco Micolani (AR) 6-1, 6-4
5. Adam Sanjurjo (AR) def. Eddie Stoica (WSU) 6-4, 6-0
6. William Albanese (AR) vs. Sergio de Vilchez (WSU) 3-6, 7-6 (3), 3-1, unfinished
ORDER OF FINISH
Doubles (1,2,3); Singles (1,5,2,4,3)