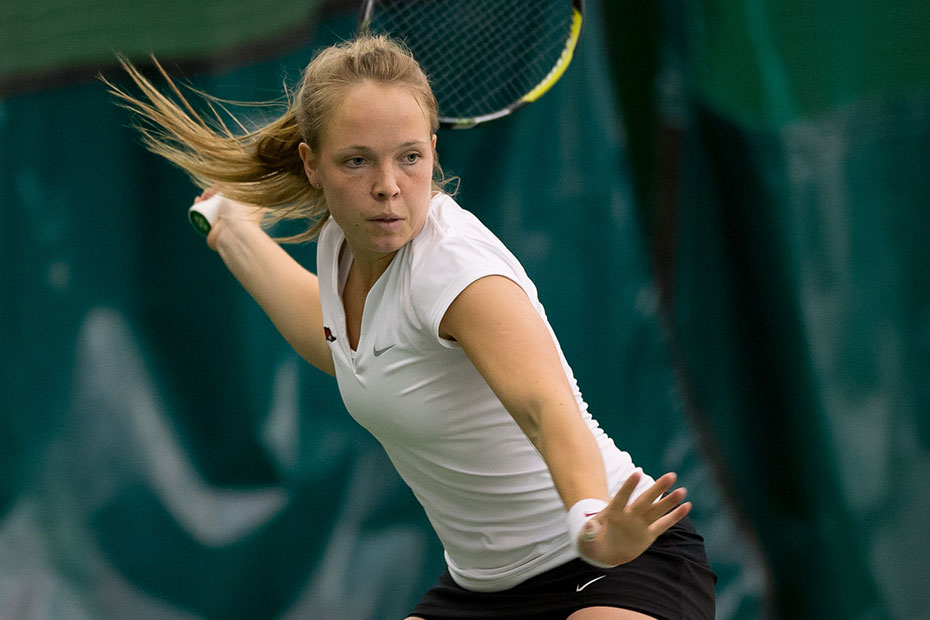 Razorbacks 2-0 After Opening Day
Box Score vs. Saint Louis (PDF) | Box Score vs. Southern Illinois (PDF)
O'FALLON, Ill. — The Arkansas women's tennis team opened its 2017 spring season with a doubleheader sweep of Saint Louis and Southern Illinois on Saturday.
The Razorbacks (2-0) defeated the Billikens 7-0, before beating the Salukis 6-1. Both matches were played at the St. Clair Tennis Club in O'Fallon, Illinois.
"It was an impressive opener for us over two solid mid-major programs," head coach Michael Hegarty said. "Saint Louis is always tough and Southern Illinois is much improved. So we shall take some good confidence out of today."
Arkansas won the doubles point in both matches and never looked back in either contest, claiming 11 of 12 singles matches. Most notably, freshman Natsuho Arakawa and sophomore Agne Cepelyte both won all four matches they played.
In the day's first match against Saint Louis (0-1), the Razorbacks won each of their three doubles contests en route to grabbing the opening point.
Arakawa opened singles competition with a 6-4, 6-2 victory at the No. 4 position. Senior co-captains Shannon Hudson and Sasha Shkorupeieva each followed with straight sets victories as well to clinch the overall match.
Play continued on the remaining courts. Junior Peyton Jennings earned a hard-fought 1-6, 6-1, 10-7 win at No. 6, before Cepelyte battled for a 6-4, 3-6, 10-6 victory at No. 5. Freshman Léolia Jeanjean closed out scoring with a 3-6, 7-5, 11-9 victory at No. 2.
The Razorbacks returned to the courts for a night contest against Southern Illinois (0-1). Hudson and Jeanjean led off doubles action with a 6-3 win at the top spot. The Salukis responded with a victory at No. 3, but the tandem of Cepelyte and Arakawa defeated their opponent 6-4 at No. 2 to give Arkansas the early lead.
In singles, Arakawa was first off the court, easing past her competition 6-0, 6-1 at No. 4. Cepelyte followed, winning 6-1, 7-5 at No. 5. Jeanjean captured the overall match with a 6-4, 6-1 at No. 3.
Play continued on the remaining courts. Southern Illinois picked up a win at No. 2. Hudson earned a 6-2, 6-4 win at No. 1, before Jennings capped the night, dispatching her opponent 6-1, 1-6, 6-3 at No. 6.
Up Next
Arkansas next plays UC Riverside on Jan. 27 at 3:30 p.m. in Los Angeles.