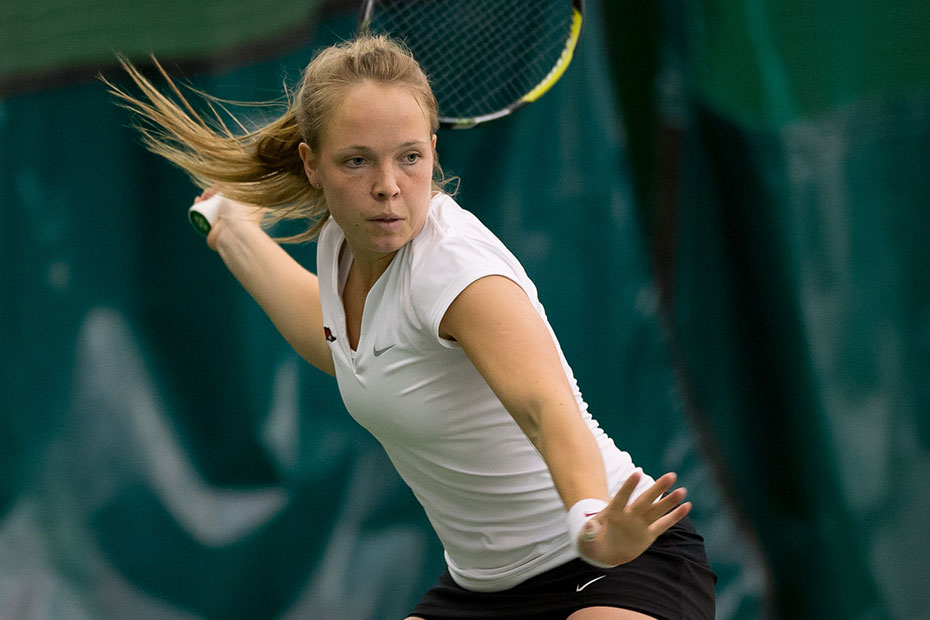 Hogs Cruise Past No. 15 Auburn 6-1
FAYETTEVILLE, Ark. – The No. 31 Arkansas women's tennis team kept its momentum rolling with a 6-1 win over No. 15 Auburn Sunday at the George M. Billingsley Tennis Center.
The Razorbacks (10-6, 3-2) used an exciting doubles performance coupled with a dominant singles showing to cruise past the Tigers (16-4, 4-2) for their fourth-straight victory. The win marked the second straight for Arkansas against Auburn and moved the Razorbacks' all-time record against the Tigers to 19-17.
"I'm happy for our players who are working very hard to build a special season," Arkansas women's tennis head coach Michael Hegarty said. "Today is evidence of many good things happening. Obviously the highlights were our total team cohesion and sharpness from beginning to end. We will work hard to build better things from this effort today."
For the third-straight match, Arkansas got off to a solid start by securing the opening doubles point.
The Razorbacks' 64th-ranked pair of senior Yuliya Lysa and junior Shannon Hudson struck first, blanking Tigers Andie Dikosavljevic and Paula de Man 6-0 at the No. 2 position.
Auburn responded at the No. 1 spot where its duo of Alizee Michaud and Pleun Burgmans defeated the Razorbacks' senior tandem of Makenzie Craft and Flavia Araujo 6-1.
All eyes turned to the final court as Arkansas freshman Ana Oparenovic and sophomore Mia Jurasic downed Tigers Alannah Griffin and Caroline Turner 6-1 at No. 3 to seal the doubles point and give the Razorbacks an early 1-0 advantage. The win moved the Razorback duo to a team-best 10-4 in dual matches and 3-1 in SEC play.
Arkansas rode that momentum into singles play, taking five first sets to Auburn's one. The Razorbacks needed just one hour and 55 minutes to turn four of those leads into victories for the top-15 overall match win.
First off the court was Lysa with a 6-2, 6-1 win over Auburn's No. 21 Dikosavljevic at the No. 1 spot.
Oparenovic extended the Razorbacks' lead to 3-0 with a 6-3, 6-1 triumph at No. 2 over Auburn's No. 76 Michaud, who was previously 15-1 overall, 12-0 in dual matches and had not lost since Sept. 18, 2015. The win also was Oparenovic's fourth-straight over a ranked opponent and improved her record to a team-best 12-4 in dual matches and 4-1 in league play.
Needing just one point for the overall match victory, Arkansas freshman Agne Cepelyte delivered, handling Auburn's Turner 6-0, 6-4. This is the second time this season that Cepelyte has clinched an overall match for the Razorbacks as she emerged victorious over Luca Pump of No. 20 Wichita State in a three-set affair on Feb. 22.
After the clinch, the Razorbacks grabbed victories on two of the three remaining courts. Jurasic bested Auburn's de Man 6-2, 7-6 (5) at No. 5. Hudson followed at No. 3, defeating Auburn's No. 46 Burgmans 6-4, 7-5. The match was Burgmans' first loss to a Razorback in her four-year career.
The Tigers picked up their lone singles win at the No. 4 position as Griffin held off Craft in a three-set super tiebreaker 7-6 (5), 4-6, 1-0 (10) to close out scoring.
The Razorbacks next play a doubleheader against Jackson State in Jackson, Mississippi, on March 23. The first match will start at 11 a.m., and the second contest will follow at 2 p.m.
For more information on Arkansas Women's Tennis, follow @RazorbackWTEN on Twitter.
MATCH RESULTS:
Singles Competition
1. Yuliya Lysa (ARK) def. No. 21 Andie Dikosavljevic (AU) 6-2, 6-1
2. Ana Oparenovic (ARK) def. No. 76 Alizee Michaud (AU) 6-3, 6-1
3. Shannon Hudson (ARK) def. No. 46 Pleun Burgmans (AU) 6-4, 7-5
4. Alannah Griffin (AU) def. Makenzie Craft (ARK) 7-6 (5), 4-6, 1-0 (10)
5. Mia Jurasic (ARK) def. Paula de Man (AU) 6-2, 7-6 (5)
6. Agne Cepelyte (ARK) def. Caroline Turner (AU) 6-0, 6-4
Doubles Competition
1. Alizee Michaud/Pleun Burgmans (AU) def. Makenzie Craft/Flavia Araujo (ARK) 6-1
2. No. 64 Yuliya Lysa/Shannon Hudson (ARK) def. Andie Dikosavljevic/Paula de Man (AU) 6-0
3. Mia Jurasic/Ana Oparenovic (ARK) def. Alannah Griffin/Caroline Turner (AU) 6-1
Order of finish: Doubles (2,1,3); Singles (1,2,6,5,3,4)
Time: 2:50