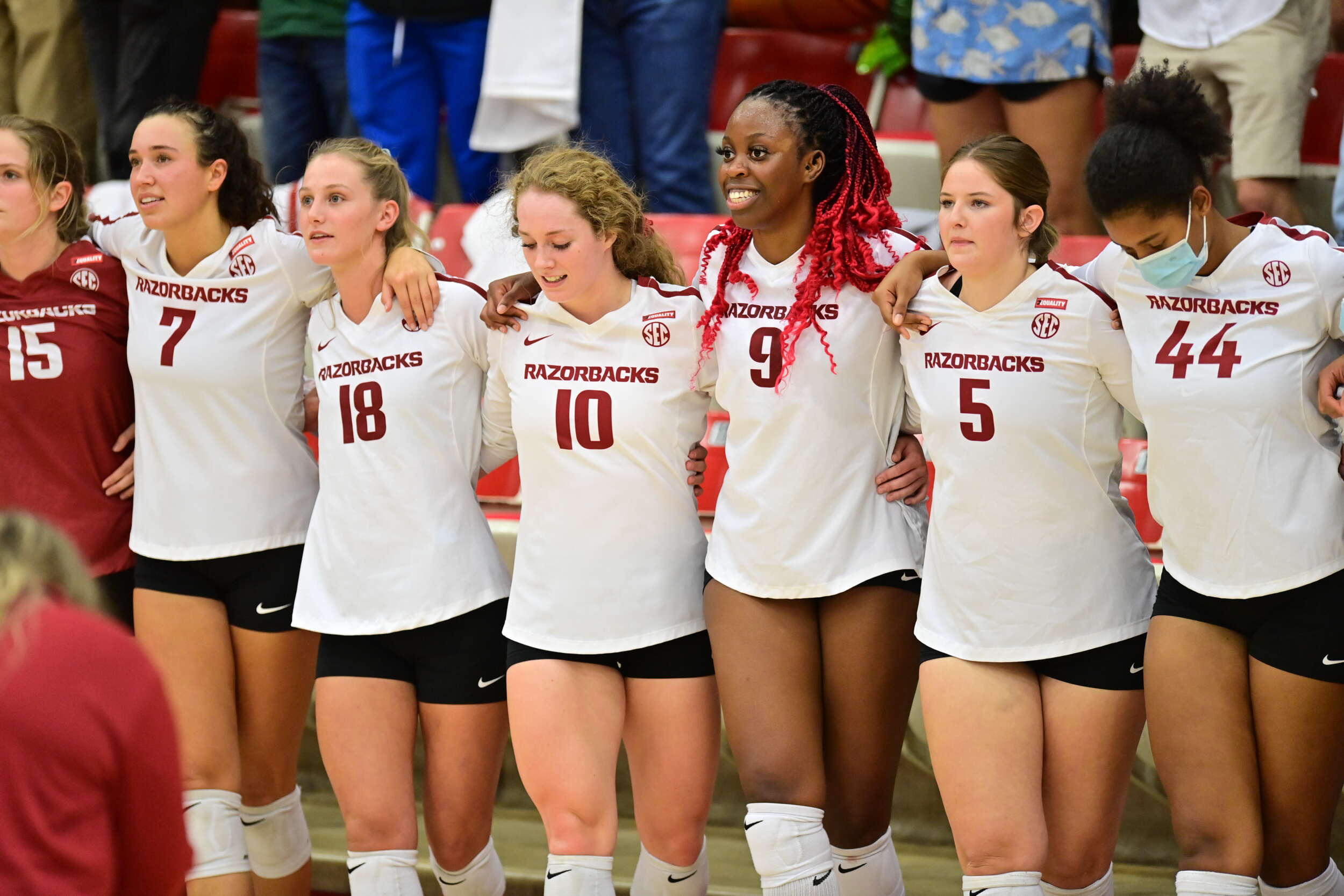 Hogs Down Tigers 3-1 in SEC Opener
After three weeks on the road, the Razorbacks had a sweet return to Barnhill Arena with a 3-1 victory over the LSU Tigers on Wednesday.
Arkansas is now 1-0 in SEC play after the conference opener and moves to 10-2 on the season.
"I thought they were really good and really clean, and we were not clean at all," head coach Jason Watson said. "I don't think we got clean until that third set. I thought it was kind of blue-collar, we had to grind out some things, I think points weren't easy to come by. We grinded them out."
Junior Jill Gillen led the way for the Hogs with 25 kills on the night, hit .239, and set a new season high in aces with four. Freshman Courtney Jackson led Arkansas in digs with 22, a new career and season high. Sophomore Taylor Head added a double-double, her sixth of the season, and had 11 kills and 13 digs.
The first set was back-and-forth between the two teams until LSU found a 6-3 lead that the Tigers continued to stretch. Arkansas didn't string together more than two points at a time, and LSU had a three-point run to bring the score to 17-12. A kill from Head narrowed the gap to 19-15, but the home team added just two more points after that and a kill from the Tigers closed the first set 25-17 in their favor. The Hogs hit .061 to LSU's .281 in the match opener.
The Razorbacks grabbed an early 8-5 lead off of a kill and ace from Head, but the Tigers responded quickly. LSU scored six straight points in an offensive tear and Arkansas called a timeout down 13-9. The Hogs didn't gain too much momentum, and the Tigers went on a 5-2 run to extend the lead to 18-11. Arkansas battled back shortly after with three kills and an ace from Cartwright to make it 19-17 and LSU called a timeout. The Tigers got the first point back, but the Razorbacks rattled off three, including a solo block from senior setter Gracie Ryan, and tied it 20-20. The set stayed tight from there, and a kill from Head spoiled the LSU set point. Another ace from Cartwright gave one to the Hogs, and a kill from senior Ellease Crumpton ended the second 27-25 for Arkansas and tied the match 1-1.
Arkansas opened the third set with a 4-1 run with two kills from Gillen and one from Head, but It didn't take long for LSU to catch up. Two three-point runs had the Tigers up 10-6 early, and they held the lead from there. Down 17-14, Arkansas added four points to make the score 18-17, and while LSU answered, the Hogs added three more, including an ace from senior Lauren Evans, and took a 20-18 lead. The Tigers tallied one point after a timeout, but Arkansas put up five and sealed the set 25-19.
The Razorbacks found themselves down 4-0 early in the fourth set, but three straight aces from Gillen tied it up. A 4-1 Arkansas put the Hogs up 8-5, but LSU added a streak of their own to make the score 9-9. The Razorbacks responded with six of the next nine points and took a 15-12 lead. Both teams added three points each from there and LSU headed to a timeout down 18-15. They traded points after that, but an attack error and a kill from Gillen sent the Tigers to huddle again, with the Hogs up 22-18. A kill and another ace from Gillen finished the fourth set 25-20 and won the match for the Hogs 3-1.
Up Next
Arkansas hits the road again for a conference series against Tennessee in Knoxville this weekend. Saturday's match is set for 3 p.m. and Sunday's will kick off at 11 a.m. The match will be streamed on SEC Network+ and Tennessee will provide live stats.
Visit ArkansasRazorbacks.com for the latest information on all things Arkansas Volleyball. You can also find the Hogs on social media by liking us on Facebook (Arkansas Razorback Volleyball) and following us on Twitter and Instagram (@RazorbackVB).