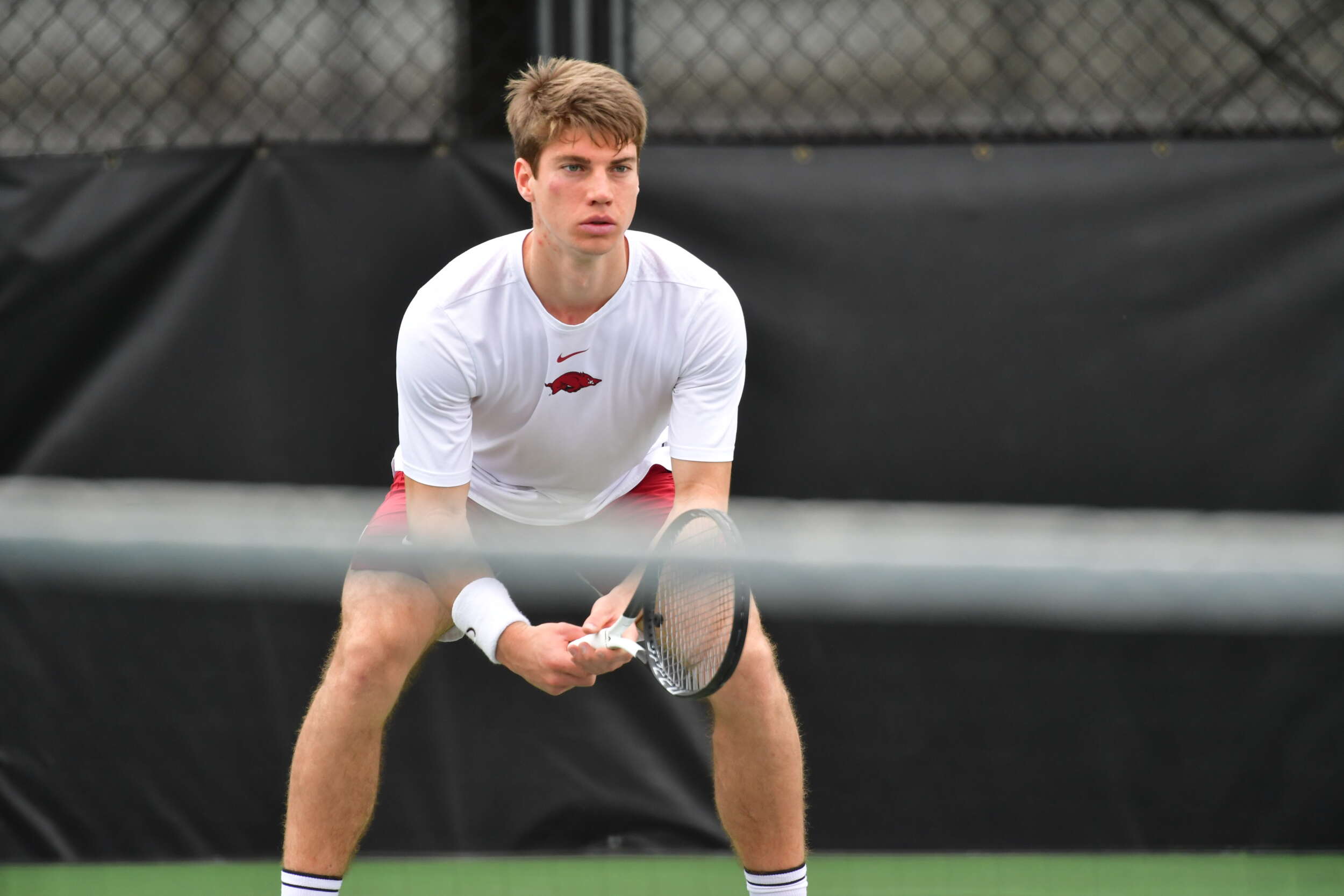 Men's Tennis drops contest with No. 14 Ole Miss, 4-3
FAYETTEVILLE, Ark. – The Razorback men's tennis team battled with No. 14 Ole Miss on Sunday afternoon before ultimately falling to the Rebels in its SEC home opener at the Billingsley Tennis Center, 4-3.
In doubles action, the Razorbacks secured the point for the third time in their last four matches. Maxim Verboven and Enrique Paya impressed with a win over the 40th-ranked pairing of Sandkaulen and Reynolds, 6-4, while Jose Dominguez Alonso and Melvin Manuel took their seventh win of the spring.
The Rebels responded by taking four of the first five singles matches to clinch the victory. However, Paya continued his winning ways in singles play as he won in straight sets on court five over Simon Junk, 6-3, 6-4. Junk came into the day with an undefeated singles record of 7-0 during the dual season. No. 111 Alex Reco played in the lone three set match between the two squads, eventually downing Jan Soren Hain, 6-3, 5-7, 6-0, at the No. 2 spot. Reco leads the Razorbacks with a 9-1 singles record this spring, combining with Paya for a 17-2 record overall and 4-0 to open conference play.
Arkansas will be back at the Billingsley Tennis Center for a nonconference double-header with Arkansas Pine Bluff on Saturday, Mar. 7. First serve on Saturday morning is slated for 11:00 p.m. and at 4:00 p.m. for the night cap. Admission and pizza is free.
Doubles
No. 1 | Verboven/Paya (Ark) def. No. 40 Sandkaulen/Reynolds (OM), 6-4
No. 2 | Hain/Junk (OM) def. Reco/Rousset (Ark), 6-3
No. 3 | Dominguez Alonso/Manuel (Ark) def. Wilson/Slavic (OM), 6-4
Singles
No. 1 | No. 55 Tim Sandkaulen (OM) def. Maxim Verboven (Ark), 6-4, 7-6 (7-5)
No. 2 | No. 111 Alex Reco (Ark) def. Jan Soren Hain (OM), 6-3, 5-7, 6-0
No. 3 | Finn Reynolds (OM) def. Nico Rousset (Ark), 6-2, 7-6 (7-4)
No. 4 | Nikola Slavic (OM) def. Melvin Manuel (Ark), 6-0, 6-4
No. 5 | Enrique Paya (Ark) def. Simon Junk (OM), 6-3, 6-4
No. 6 | Lukas Engelhardt (OM) def. Aleksa Bucan (Ark), 7-6 (7-5), 6-4
Order of finish: 4, 3, 1, 5, 6, 2