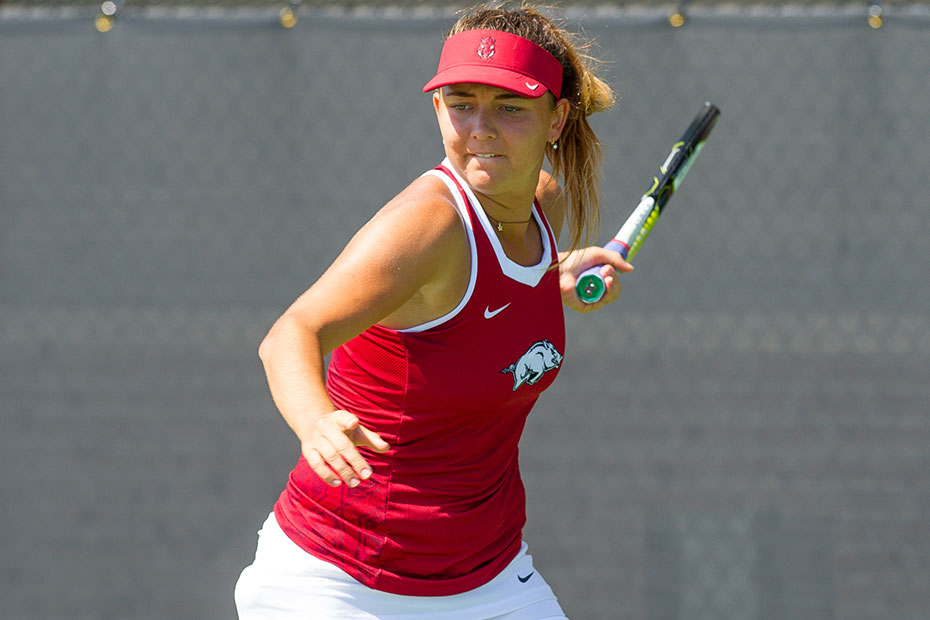 Hogs Earn Big Road Win Over Tennessee
KNOXVILLE, Tenn. – The No. 24 Arkansas women's tennis team won a 4-3 decision over Tennessee at the Dr. Robert L. Barksdale Tennis Stadium Saturday.
The Razorbacks won the doubles point and the first three singles matches to clinch the overall match at 4-0. The match-clincher came from senior No. 88 Yuliya Lysa at the No. 1 spot.
"To get another road victory in conference play helps us in so many ways, the biggest of which is the confidence that comes from rising to the occasion when it's most difficult," head coach Michael Hegarty said. "We just played some very tough tennis during four-straight road matches, and now we can close out the regular season with four in a row at home."
The Razorbacks improved to 16-8 overall and 5-4 in Southeastern Conference action, matching its win total from last season. The Volunteers fell to 8-12 and 1-8 in league play.
In doubles, the Razorbacks opened with a 6-3 win from sophomore Mia Jurasic and freshman Ana Oparenovic at the No. 3 position. The Volunteers answered back with a 6-2 victory at No. 2. All eyes turned to the top spot where Lysa and junior Shannon Hudson rallied for a 7-6 (7) triumph to clinch the point and give the Razorbacks the early advantage.
The Razorbacks then made quick work of the Volunteers in singles play, earning three wins in straight sets to take the team competition. Jurasic was first off at No. 5 with a 6-1, 6-2 victory. Junior Sasha Shkorupeieva followed with a 6-3, 6-1 win at No. 6 before Lysa shut the door, winning 6-2, 6-4 at No. 1. Lysa's victory upped her record to 10-4 in dual matches and 6-2 in league play.
Tennessee picked up wins in the remaining three matches to close out the day's scoring.
Arkansas returns home for two matches next weekend, hosting No. 23 Kentucky and No. 5 Vanderbilt. The Razorbacks take on the Wildcats at noon on April 8 and then face the Commodores at noon on April 10.
For more information on Arkansas women's tennis, follow @RazorbackWTEN on Twitter.
MATCH RESULTS:
Singles Competition
1. No. 88 Yuliya Lysa (ARK) def. No. 42 Sadie Hammond (UT) 6-2, 6-4
2. Eve Repic (UT) def. No. 83 Ana Oparenovic (ARK) 3-6, 6-4, 1-0 (4)
3. Kim Kermet (UT) def. Shannon Hudson (ARK) 6-1, 6-1
4. Brittany Lindl (UT) def. Makenzie Craft (ARK) 6-3, 6-4
5. Mia Jurasic (ARK) def. Tiffany Tavares (UT) 6-1, 6-2
6. Sasha Shkorupeieva (ARK) def. Ashley Bongart (UT) 6-3, 6-1
Doubles Competition
1. Yuliya Lysa/Shannon Hudson (ARK) def. No. 75 Sadie Hammond/Eve Repic (UT) 7-6 (7)
2. Kim Kermet/Brittany Lindl (UT) def. Makenzie Craft/Flavia Araujo (ARK) 6-2
3. Mia Jurasic/Ana Oparenovic (ARK) def. Tiffany Tavares/Margo Taylor (UT) 6-3
Order of finish: Doubles (3,2,1); Singles (5,6,1,3,4,2)