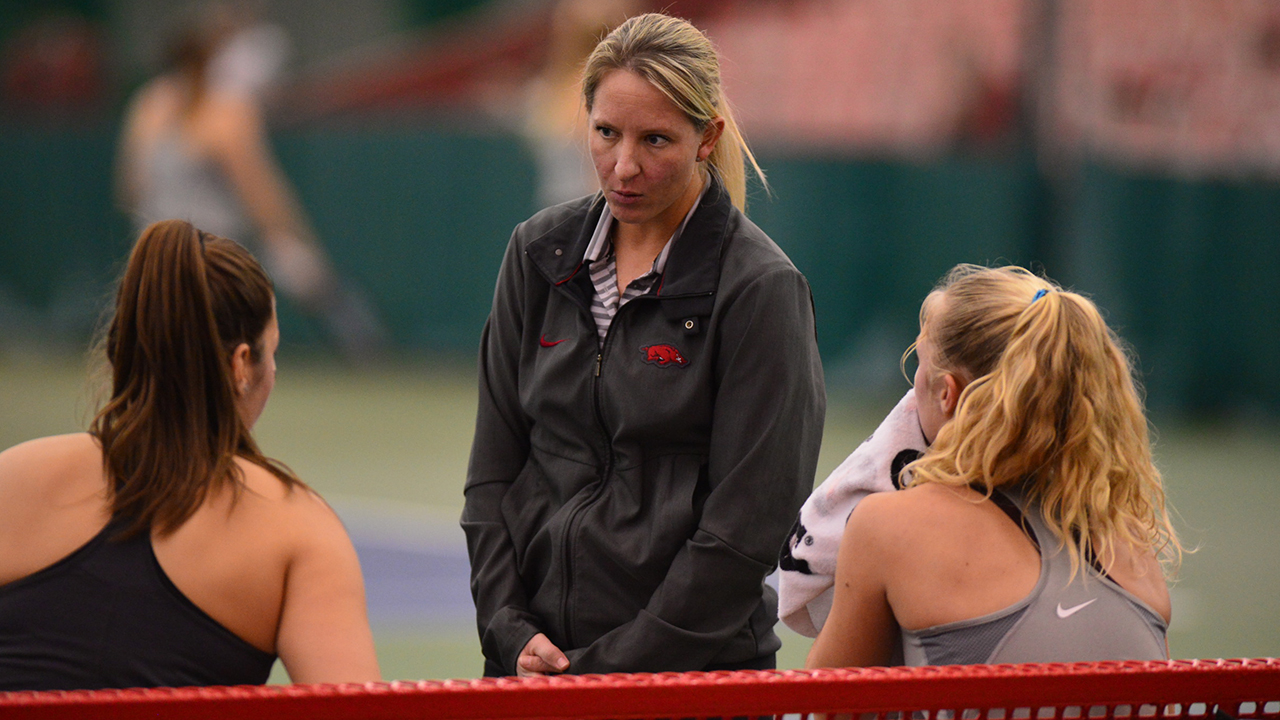 Hogs Fall In Los Angeles
LOS ANGELES- The Arkansas women's tennis team fell 4-1 at Loyola Marymount Saturday afternoon.
The Razorbacks picked up the doubles point in three sets, with Jackie Carr and Shwetha Prabakar falling 6-2 at the No. 3 position. Tatum Rice and Martina Zerulo put Arkansas even with the Lions, before Lauren Alter and Thea Rice clinched the point with a 6-4 win.
Loyola Marymount quickly went up 2-1, as Thea Rice retired at the No. 5 position and Alter fell 6-4, 6-1. The Lions got within one as Zerulo was defeated 6-3, 6-2 before clinching the match at the No. 6 position.
The final two matches were suspended due to the clinch.
Arkansas will return to the court next weekend at No. 12 Kansas. First serve is scheduled for 12 p.m.
For more information on Razorback women's tennis, follow @RazorbackWTEN on Twitter.
Loyola Marymount 4, Arkansas 1
Doubles Results – Order of Finish (3,1,2)
1. Tatum Rice/Martina Zerulo (ARK) def. Vero Miroshnichenko/Eva Marie Voracek (LMU) 6-4
2. Lauren Alter/Thea Rice (ARK) def. Sofiya Gaisina/Yesica De Lucas (LMU) 6-4
3. Elvira Juravliova/Lillian Gabrielson (LMU) def. Jackie Carr/Shwetha Prabakar (ARK) 6-2

Singles Results – Order of Finish (5,4,2,6)
1. Vero Miroshnichenko (LMU) vs. Tatum Rice (ARK) 6-2, 5-6, unfinished
2. Eva Marie Voracek (LMU) def. Martina Zerulo (ARK) 6-3, 6-2
3. Yesica De Lucas (LMU) vs. Jackie Carr (ARK) 5-7, 4-1, unfinished
4. Elvira Juravliova (LMU) def. Lauren Alter (ARK) 6-4, 6-1
5. Lillian Gabrielson (LMU) def. Thea Rice (ARK) 6-0, retired
6. Camila Tumosa (LMU) def. Shwetha Prabakar (ARK) 6-4, 6-2