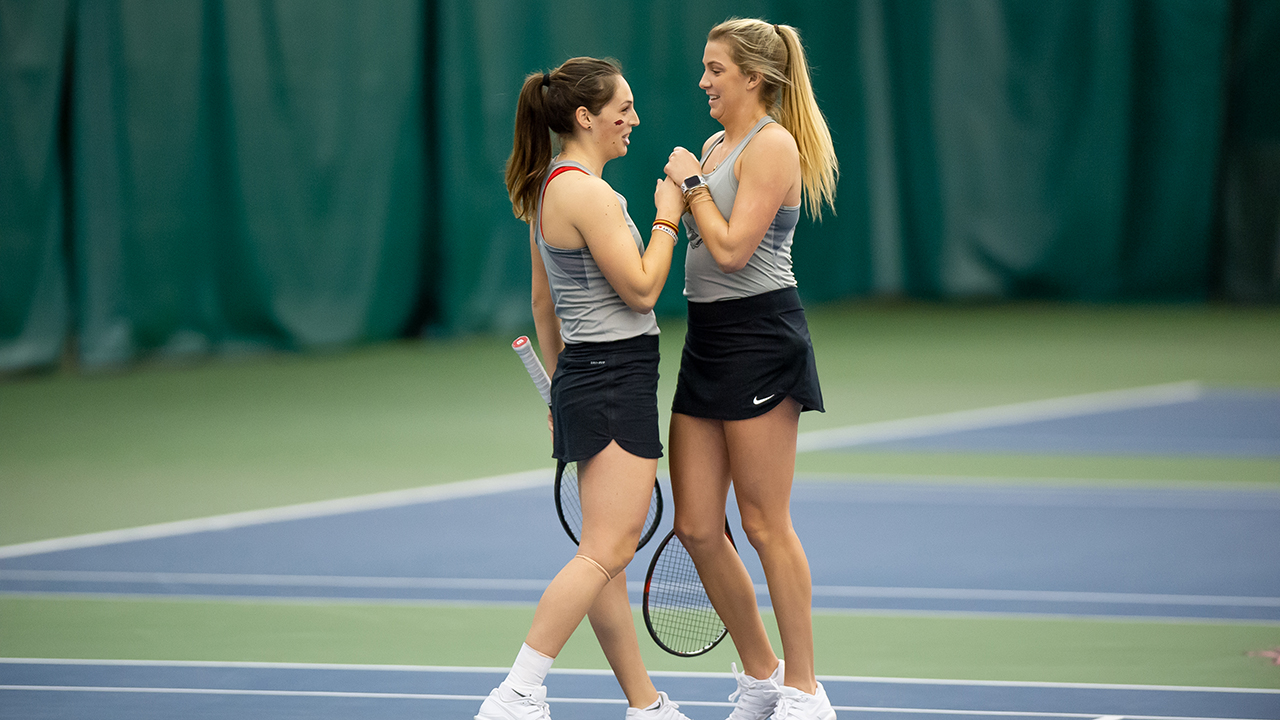 Hogs Fall in SEC Opener
LEXINGTON, Ky.- The No. 41 Arkansas women's tennis team fell at No. 25 Kentucky in its SEC opener Friday afternoon.
The Hogs got off to a solid start, taking the doubles point in straight sets. Martina Zerulo and Tatum Rice defeated No. 50 Akvile Parazinskaite and Justina Mikulskyte before Jackie Carr and Laura Rijkers clinched the point with a 6-2. Win at the No. 3 position.
In singles play, the Wildcats evened the match as No. 81 Rice fell 6-0, 6-2 to No. 46 Mikulskyte. Kentucky went up 2-1 as Carr was defeated at the No. 3 position.
The team got within one as Rijkers fell 7-5, 6-4 and clinched the match as Lauren Alter fell at the No. 5 position. Kentucky put the match away at the No. 2 position, with Zerulo falling 4-6, 6-4, 6-3.
The Hogs will return to the court Sunday afternoon to face No. 6 at Vanderbilt.
For more information on Razorback women's tennis, follow @RazorbackWTEN on Twitter.
No. 25 Kentucky 5, No. 41 Arkansas 1
Doubles Results – Order of Finish (1,3,2)
1. Martina Zerulo/Tatum Rice (ARK) def. #50 Akvile Parazinskaite/Justina Mikulskyte (UKWTEN) 6-2
2. Tiphanie Fiquet/Lesedi Jacobs (UKWTEN) def. Lauren Alter/Miruna Tudor (ARK) 6-3
3. Jackie Carr/Laura Rijkers (ARK) def. Anastasia Tkachenko/Alexis Merrill (UKWTEN) 6-2

Singles Results – Order of Finish (1,3,4,5,2)
1. #46 Justina Mikulskyte (UKWTEN) def. #81 Tatum Rice (ARK) 6-0, 6-2
2. Akvile Parazinskaite (UKWTEN) def. Martina Zerulo (ARK) 4-6, 6-4, 6-3
3. Lesedi Jacobs (UKWTEN) def. Jackie Carr (ARK) 6-1, 6-3
4. Tiphanie Fiquet (UKWTEN) def. Laura Rijkers (ARK) 7-5, 6-4
5. Diana Tkachenko (UKWTEN) def. Lauren Alter (ARK) 6-3, 6-2
6. Anastasia Tkachenko (UKWTEN) vs. Miruna Tudor (ARK) 4-6, 1-1, unfinished