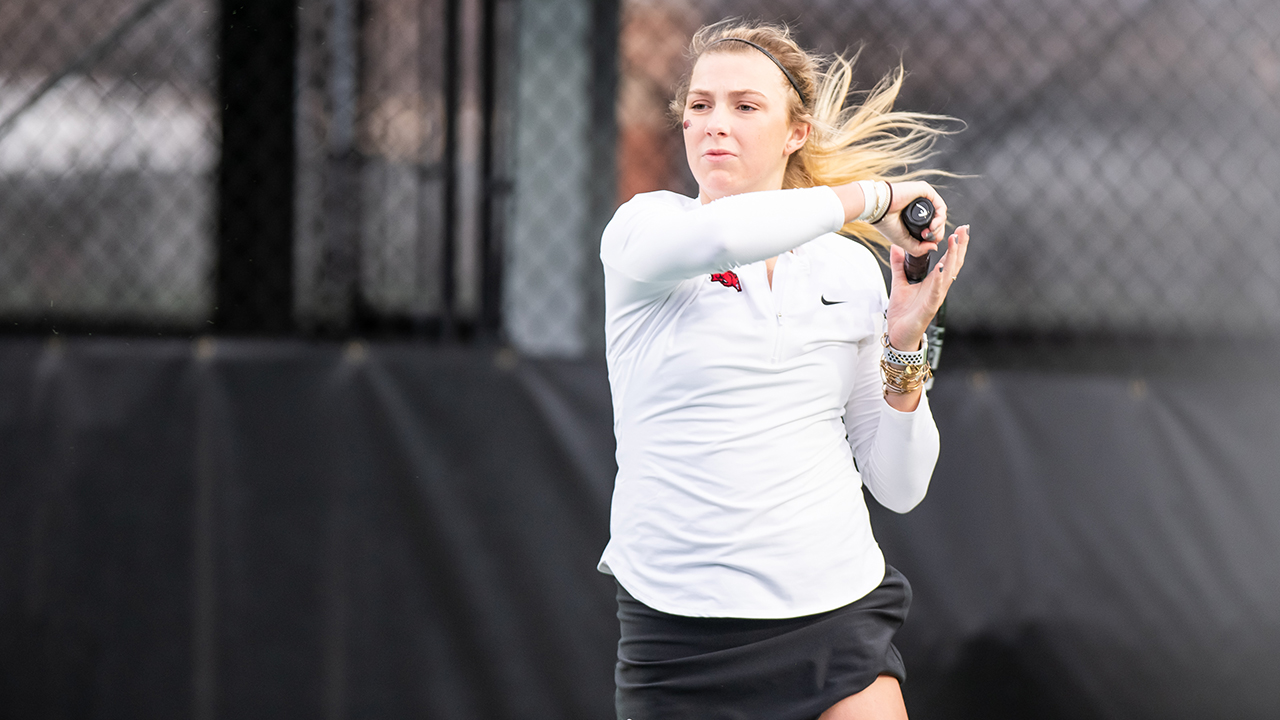 Hogs Fall in Tuscaloosa
TUSCALOOSA, Ala.- The No. 44 Arkansas women's tennis team fell 4-2 at No. 35 Alabama Friday night in the first of its two final regular season matches.
The Hogs opened the match strong, taking the doubles point in three sets. Miruna Tudor and Jackie Carr put Arkansas up a set with a 6-2 win before the Crimson Tide evened doubles play with a 6-3 win at the No. 2 position. Tatum Rice and Lauren Alter clinched the point at the No. 1 position, earning a 6-4 victory over Andie Daniell and Moka Ito.
The Razorbacks quickly went up 2-0, as No. 86 Tatum Rice earned a 6-1, 6-3 win. Alabama earned their first point of the match at the No. 1 position, as No. 88 Martina Zerulo fell to No 47 Andie Daniell. The Tide evened the match at the No. 6 position, with Carr falling 6-1, 6-1.
Alabama got within one of the clinch as Laura Rijkers fell 7-6(7), 6-2, clinching the match with a 4-6, 6-4, 6-0 win over Alter.
Arkansas will return to the court Sunday afternoon, closing out the regular season at Auburn. First serve is set for 12 p.m.
For more information on Razorback women's tennis, follow @RazorbackWTEN on Twitter.
No. 35 Alabama 4, No. 44 Arkansas 2
Doubles Results – Order of Finish (3,2,1)
1. Lauren Alter/Tatum Rice (ARK) def. Andie Daniell/Moka Ito (UA) 6-4
2. Alba Cortina Pou/Luca Fabian (UA) def. Thea Rice/Martina Zerulo (ARK) 6-3
3. Miruna Tudor/Jackie Carr (ARK) def. Ann Selim/Kimberley Gintrand (UA) 6-2

Singles Results – Order of Finish (2,1,6,5,3)
1. #47 Andie Daniell (UA) def. #88 Martina Zerulo (ARK) 7-6 (7-2), 6-0
2. #86 Tatum Rice (ARK) def. Moka Ito (UA) 6-1, 6-3
3. Alba Cortina Pou (UA) def. Lauren Alter (ARK) 4-6, 6-4, 6-0
4. Jacqueline Pelletier (UA) vs. Miruna Tudor (ARK) 7-6 (8-6), 3-1, unfinished
5. Luca Fabian (UA) def. Laura Rijkers (ARK) 7-6 (9-7), 6-2
6. Ann Selim (UA) def. Jackie Carr (ARK) 6-1, 6-1