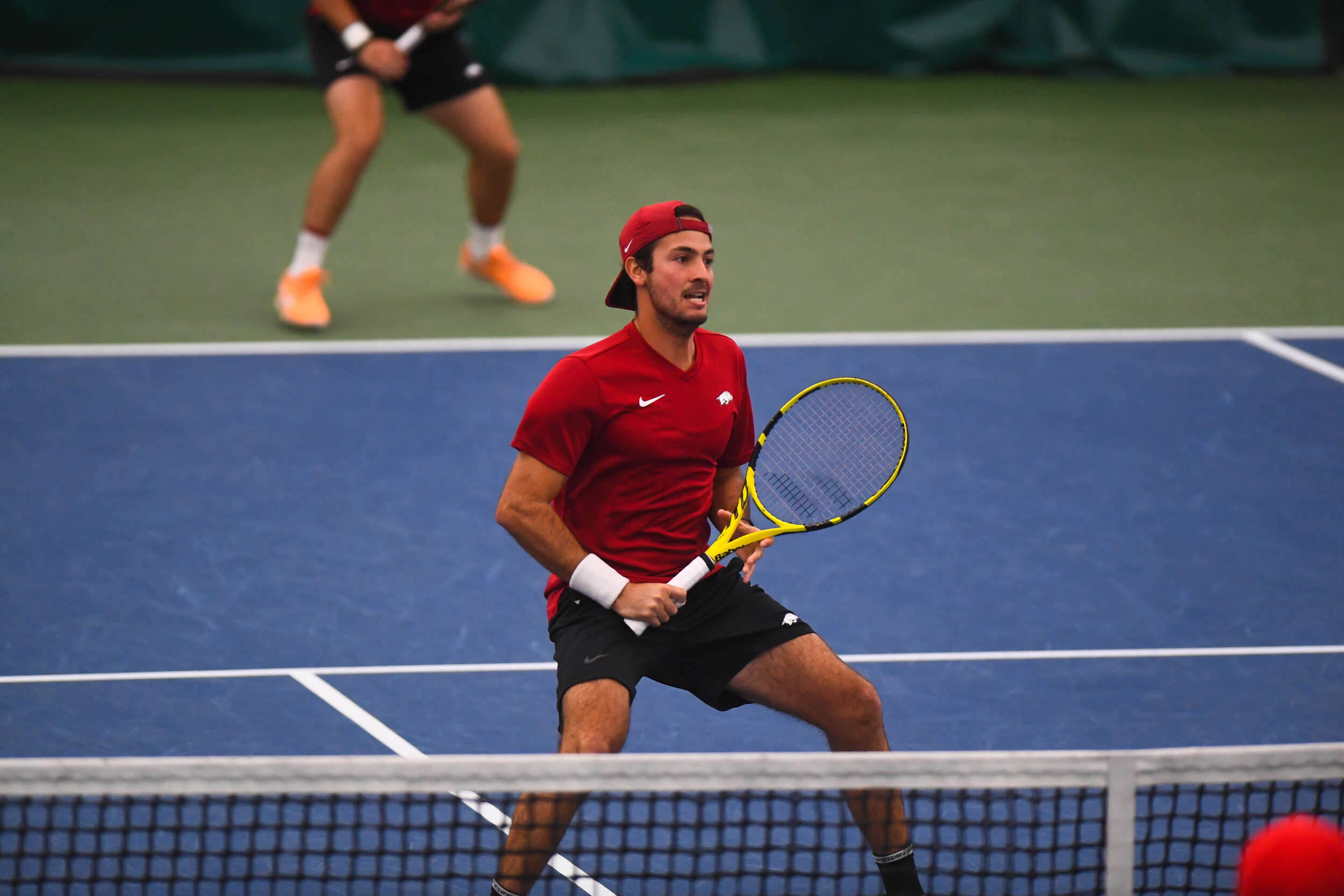 Hogs Fall to Gators in Gainesville, 6-1
GAINESVILLE, Fla. – The No. 55 Arkansas men's tennis team suffered a road loss to the No. 22 Gators on Friday night. The Razorbacks (12-7, 0-6) fought hard in doubles play, but Florida (9-7, 4-2) eventually took the doubles point and carried their momentum throughout the rest of the match.
In doubles play, the Gators took the early advantage on court three, as Braswell/Greif defeated Foster Rogers/Jacob Sweeney, 6-2. The top two courts went down to the wire, but the duo of Adrien Burdet and Melvin Manuel dropped a close one to No. 29 Will Grant and Axel Nefve on court one, giving Florida the early 1-0 lead over the Hogs.
The singles lineup for the Gators featured three top-100 ranked players, however, juniors Stefanos Savva and Adrien Burdet took both No. 70 Nefve and No. 97 Braswell to third-set tiebreaks. Each of those matches ended in wins for Florida, as they also grabbed victories on courts two, five, and six.
Junior Alan Sau Franco grabbed the lone singles point of the match for Arkansas, coming back from a first set loss to beat Nate Bonetto 3-6, 6-4, 6-2, in the No. 4 spot. Sau Franco improves now holds a 7-4 record this dual season.
The Razorbacks travel to No. 4 South Carolina for the final part of a three-match road stretch on Sunday, March 26 before returning home on Friday, March 31 to face No. 51 LSU.
For the latest information on all things Arkansas Men's Tennis, follow the Hogs on social media by liking us on Facebook (Arkansas Razorback Men's Tennis) and following us on Twitter and Instagram (@RazorbackMTEN).