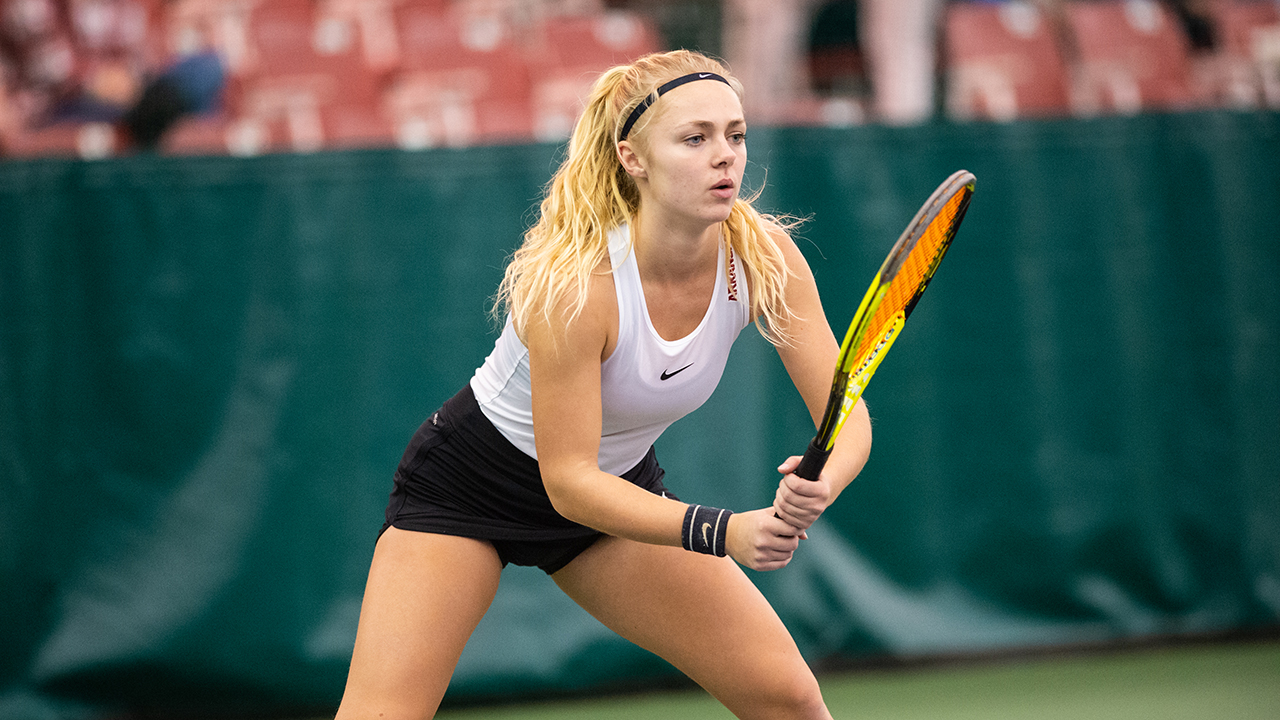 Hogs Fight in Loss at Kansas
LAWRENCE, Kan.- The No. 41 Arkansas women's tennis team fell 7-0 at No. 8 Kansas Saturday afternoon in its final match before opening SEC play.
The Hogs opened doubles play with a split at the top and bottom positions, as Tatum Rice and Martina Zerulo fell to the No. 3 ranked pair in the country while Jackie Carr and Laura Rijkers earned a 6-3 victory over No. 39 Maria Toran Ribas and Malkia Ngounoue. The Jayhawks clinched the doubles point as Thea Rice and Lauren Alter fell to No. 51 Anastasia Rychagova and Sonia Smagina.
Kansas went up 2-0 as Thea Rice fell 6-2, 6-3, and the team got within one as Zerulo fell to No. 79 Janet Koch. The Jayhawks clinched the match at the No. 1 position, as No. 81 Tatum Rice fell 7-6 (4), 6-1 to No. 47 Rychagova.
Playing through the clinch, the Hogs went down 5-0 as Carr fell 6-3, 6-3. Alter picked up a second-set win to force a tiebreaker set, but dropped the match 6-2, 4-6, 6-3. Rijker's match also went to the third set, with the freshman falling 6-3, 7-6, 1-0(8).
Arkansas will return to the court next weekend to open conference play, facing No. 25 Kentucky and No. 2 Vanderbilt on the road.
For more information on Razorback women's tennis, follow @RazorbackWTEN on Twitter.
No. 8 Kansas 7, No. 41 Arkansas 0
Doubles Results – Order of Finish (1,3,2)
1. #3 Janet Koch/Nina Khmelnitckaia (KU) def. Tatum Rice/Martina Zerulo (ARK) 6-3
2. #51 Anastasia Rychagova/Sonia Smagina (KU) def. Thea Rice/Lauren Alter (ARK) 6-4
3. Jackie Carr/Laura Rijkers (ARK) def. #39 Maria Toran Ribas/Malkia Ngounoue (KU) 6-3
Singles Results – Order of Finish (6,2,1,3,5,4)
1. #47 Anastasia Rychagova (KU) def. #81 Tatum Rice (ARK) 7-6 (4-0), 6-1
2. #79 Janet Koch (KU) def. Martina Zerulo (ARK) 6-3, 6-1
3. Ploburng Plipuech (KU) def. Jackie Carr (ARK) 6-3, 6-3
4. Nina Khmelnitckaia (KU) def. Laura Rijkers (ARK) 6-3, 6-7, 10-8
5. Maria Toran Ribas (KU) def. Lauren Alter (ARK) 6-2, 4-6, 6-3
6. Sonia Smagina (KU) def. Thea Rice (ARK) 6-2, 6-3