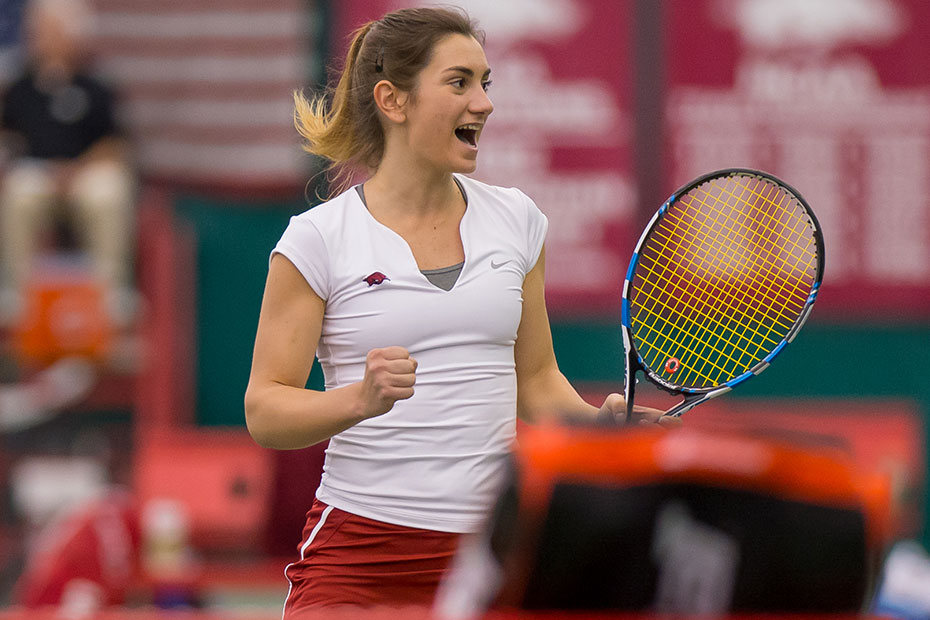 Hogs Get Big Home Win Against Alabama
FAYETTEVILLE, Ark. – The No. 31 Arkansas women's tennis team topped Alabama 4-3 at the George M. Billingsley Tennis Center Friday.
With the win, Arkansas picked up its second-straight Southeastern Conference victory and improved to 9-6 overall and 2-2 in league play. Alabama fell to 4-9, 0-5. The triumph also marked the Razorbacks' first win over the Crimson Tide since 2010.
"We are excited to get a conference win streak going," Arkansas women's tennis head coach Michael Hegarty said. "Alabama is always competitive so we had to be very strong across the board again today."
Arkansas earned the first point of the day by posting victories at the No. 2 and 3 doubles positions. First off the court were Razorbacks Mia Jurasic and Ana Oparenovic with a 6-1 triumph over Alabama's Danielle Spielmann and Joanna Nena Savva at No. 3. Alabama's 32nd-ranked pair of Erin Routliffe and Andie Daniell responded with a 6-4 victory over Razorbacks Makenzie Craft and Flavia Araujo at the top spot. With all eyes on the No. 2 spot, the Razorbacks' 64th-ranked duo of Yuliya Lysa and Shannon Hudson then notched a 7-5 win over Alabama's tandem of Natalia Maynetto and Aryn Greene to clinch the doubles point.
The Razorbacks grabbed a 2-0 lead when Craft eased past Alabama's Savva 6-1, 6-2 at the No. 4 singles position. Alabama trimmed the lead to 2-1 with a 7-5, 6-0 win from No. 85 Routliffe over Lysa at the top spot. From there, Arkansas went up 3-1 as Jurasic bested Alabama's Greene in straight sets 6-3, 6-2 at No. 6. The Razorbacks then got the point it needed from Oparenovic. The freshman came through a tough first set before beating Alabama's No. 31 Daniell 7-6 (5), 7-5 at the No. 2 position for her third-straight win over a ranked opponent and the match-clinching point for the Razorbacks. Oparenovic's victory upped her record to a team-best 11-4 (3-1).
Alabama picked up wins in the last two matches of the day. Maynetto defeated Hudson 6-3, 7-6 (3) at No. 3. Spielmann then outlasted Razorback Sasha Shkorupeieva 3-6, 7-5, 6-0 at No. 5 to close out scoring.
The Razorbacks return to action Sunday at noon to take on No. 15 Auburn (15-3, 3-1) at the George M. Billingsley Tennis Center. Admission to the match is free. Attendees will receive a promo code for the Razorback baseball game against Auburn on March 27 at 1:05 p.m. In addition, pizza, popcorn, Keurig hot chocolate and coffee, and Pepsi products will be provided to all fans in attendance.
For more information on Arkansas women's tennis, follow @RazorbackWTEN on Twitter.
MATCH RESULTS:
Singles Competition
1. #85 Erin Routliffe (UA) def. Yuliya Lysa (ARK) 7-5, 6-0
2. Ana Oparenovic (ARK) def. #31 Andie Daniell (UA) 7-6 (7-5), 7-5
3. Natalia Maynetto (UA) def. Shannon Hudson (ARK) 6-3, 7-6 (7-3)
4. Makenzie Craft (ARK) def. Joanna Nena Savva (UA) 6-1, 6-2
5. Danielle Spielmann (UA) def. Sasha Shkorupeieva (ARK) 3-6, 7-5, 6-0
6. Mia Jurasic (ARK) def. Aryn Greene (UA) 6-3, 6-2
Doubles Competition
1. #32 Erin Routliffe/Andie Daniell (UA) def. Makenzie Craft/Flavia Araujo (ARK) 6-4
2. #64 Yuliya Lysa/Shannon Hudson (ARK) def. Natalia Maynetto/Aryn Greene (UA) 7-5
3. Mia Jurasic/Ana Oparenovic (ARK) def. Danielle Spielmann/Joanna Nena Savva (UA) 6-1
Order of finish: Doubles (3,1,2); Singles (4,1,6,2,3,5)