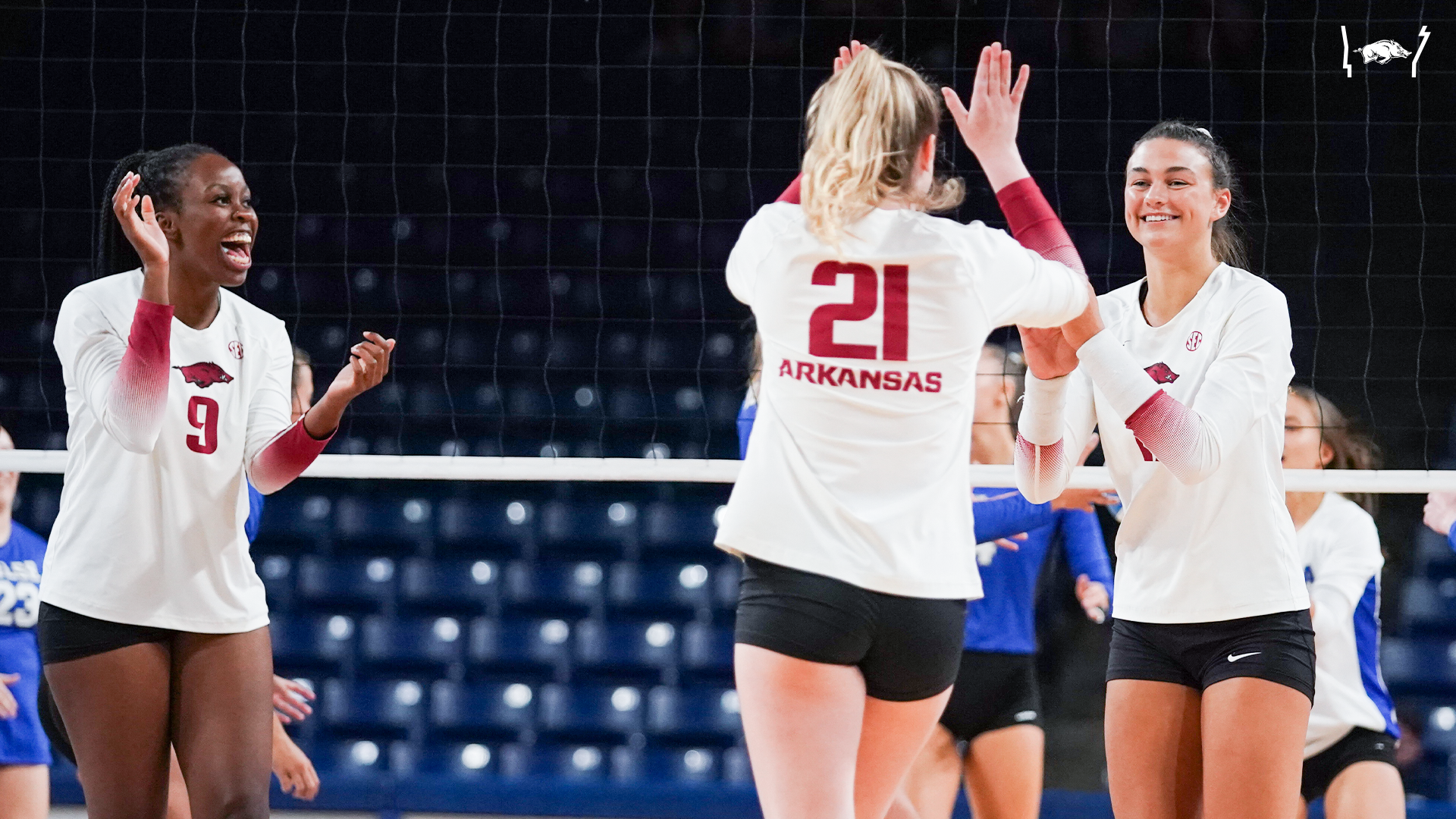 Hogs Go 2-0 in First Day of Tulsa Invitational
The Razorbacks kicked off the Tulsa Invitational on Friday with two matches against Oral Roberts and Tulsa and came away with victories in both. 
Arkansas lost just one set in Friday's slate and posted a 3-0 sweep of Oral Roberts and a 3-1 win against host Tulsa. The Razorbacks are now 7-1 in the 2021 season.
Junior Jillian Gillen led the Hogs on the day with 13 kills in the morning match and 18 in the evening for 31 total. Gillen leads the team with 134 kills this season. Sophomore Taylor Head was not far behind and had 29 kills over Friday's two matches, along with a double-double against Tulsa with 18 kills and 15 digs. 
Junior Maggie Cartwright and senior setter Gracie Ryan also both posted double-doubles against the home team. Cartwright tallied 10 kills and 10 digs, while Ryan set up 55 assists and notched 14 digs. 
Senior Lauren Evans was huge for the Hogs on the service line Friday and racked up six aces. Her four in the match against Tulsa match her career high for a fifth time.
Game Two
A pair of kills from Head and senior Ellease Crumpton allowed the Razorbacks to break through an early back-and-forth of points and they took a 5-3 lead. Tulsa then added two points, but the Hogs went on a four-point tear that featured two kills from Gillen and sent the Hurricane to a timeout down 10-5. Arkansas kept the momentum, though, and put together a 6-4 run that again prompted Tulsa to re-strategize while the Razorbacks led 16-9. The Hurricane were able to find a groove and came within four points, but a kill from senior setter Gracie Ryan, an ace from Evans Tulsa attack errors led Arkansas to set point. Gillen put the Hogs on top with a kill, 25-17.
The second set started very tight between the two teams and featured seven ties up until the midway point. Five straight Tulsa point but the Hogs in a 10-14 deficit and sent them to a timeout. Arkansas wasn't able to get much going after that, and only added one more point before the team huddled again. The Hogs narrowed the gap to six points, but ran out of time and three Hurricane kills closed the set 25-17 in their favor and tied the match. 
Tulsa got off to another hot start in the third set and earned the first three points, but Arkansas put on the pressure and used a three-point streak with two kills from Gillen and took an 8-6 lead. It didn't last long as each team mustered small runs back-and-forth, but the Hogs broke away with four straight points, two kills each from Crumpton and Head, and went up 16-14. Tulsa then took a timeout and there would be four more tie scores from there. Two kills from Gillen gave Arkansas some cushion, and while the Hurricane spoiled the set point, a service error pushed the Hogs to victory, 25-20.
Arkansas saved its best for last and hit an evening-best .381 in the fourth set. The Hogs took a 7-3 lead off of two Gillen kills and Evans' third and fourth aces of the match and Tulsa called a timeout. The Hurricane couldn't gain much ground and added two points, but the Razorbacks tallied four more. Arkansas had its biggest lead at 18-9 off of a kill from Abigail Archibong, but the Hurricane rallied a bit from there. An 8-3 Tulsa run narrowed the Arkansas lead to 21-17, and back-to-back aces from Avery Kalsu soon after made it 23-20. Two of the last three points went in the Hogs' favor, though, and one last kill from Gillen made it 25-21 and secured the match for Arkansas.
Game One
Friday's first match began as a bit of a challenge for the Razorbacks and they found themselves in an 8-4 deficit early. Arkansas then strung together three straight point to narrow the gap and the score at 9-9. The teams volleyed points back-and-forth after that, but two kills from Cartwright and one from Crumpton put the Razorbacks ahead 18-16 and sent the Golden Eagles to a timeout. While Oral Roberts was able to stifle any big Arkansas runs, a kill from Gillen took the teams to set point and an ORU attack error ended the set 25-22 for the Razorbacks.
Arkansas gained an early 7-4 lead in the first set off of kills from Archibong and Gillen, and the Razorbacks never trailed or tied the Golden Eagles from then on out. As Oral Roberts came within two, the Hogs went on a three-point scoring run for the 14-9 advantage and ORU called a timeout. Arkansas kept the pressure on and tallied six points to Oral Roberts' two, which warranted another Golden Eagles huddle. Kills from Head and Gillen started a streak that took Arkansas to set point, and ace from Courtney Jackson sealed the 25-15 victory. The Razorbacks hit their best of the match in the middle set, .423 to the Golden Eagles' .077.
Oral Roberts tied the score early in the third and deciding set, but Arkansas came back with a vengeance and scored four straight points, including two kills from Head and an ace from Cartwright, and put a stop to that. The Golden Eagles then added two points, but the Hogs came back with five for the 11-4 lead and sent ORU to regroup. Oral Roberts put together a couple of streaks and pulled within two at 14-12, but a kill from Gillen, three from Cartwright and an ORU attack error widened the Razorback advantage to 19-12. Senior setter Gracie Ryan added a kill out of an Oral Roberts timeout and brought the Hogs within five of the set and match point. A Gillen slam took the team to 24, and a Golden Eagles service error closed it out 25-17 for an Arkansas set and match win.
The Razorbacks close out the Tulsa Invitational with a match against Stephen F. Austin on Saturday at noon. The match will be streamed live on the Tulsa Hurricane Youtube channel, and live stats will be provided.
More Information
Visit ArkansasRazorbacks.com for the latest information on all things Arkansas Volleyball. You can also find the Hogs on social media by liking us on Facebook (Arkansas Razorback Volleyball) and following us on Twitter and Instagram (@RazorbackVB)