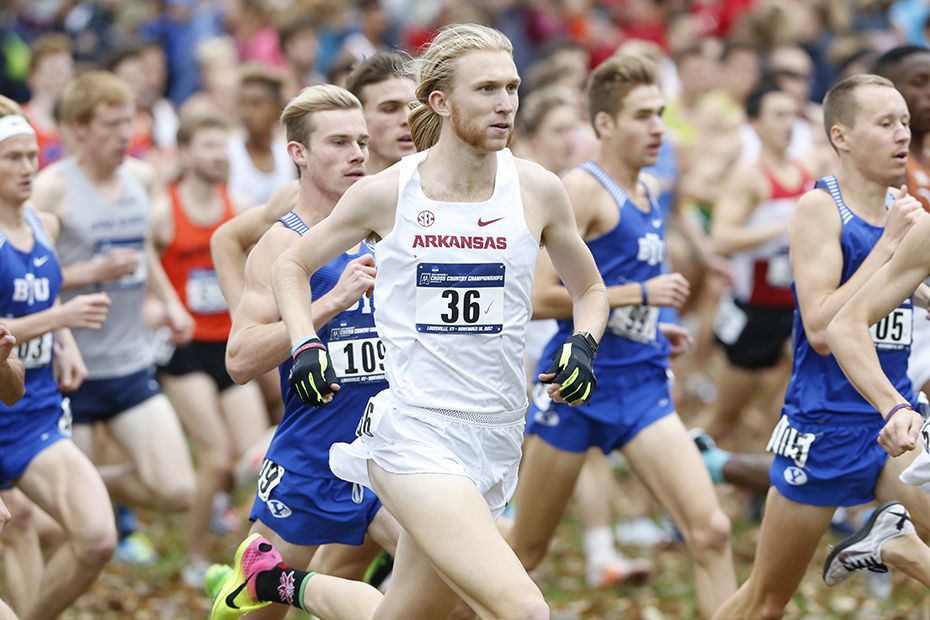 Hogs' Show Heart In NCAA Finale
LOUISVILLE, Ky. — Undeterred by the blustery conditions, the Arkansas men's cross country team battled to its second-consecutive top-five finish at the 2017 NCAA Cross Country Championships Saturday morning at E.P. 'Tom' Sawyer Park in Louisville.
Arkansas' ascent into the national top-five began at the Southeastern Conference Championships, a meet in which they won after being labeled as the 27th-best program in the country. Entering NCAAs ranked 15th in the national polls the Razorbacks pushed back against the 20mph hour winds to begin the race in 8th position. Arkansas improved its standing dramatically over the final 2K, climbing to a fifth-place team finish off the heels of three seniors, one junior and one freshman.
"Tough conditions today but I can't tell you how proud I am of this team," head coach Chris Bucknam said. "They did a phenomenal job. I think coming in ranked 15th and getting fifth, it's just the character of our team. They gave everything they had and fought for every place, every position. I'm just so proud of them."
Senior Leaders
Razorback seniors Jack Bruce, Austen Dalquist and Alex George paced the Hogs through the fast 10K course, finishing 13th, 43rd and 51st, respectively. It marked the third-straight year that Arkansas has placed three runners among the top 60 – a feat made more impressive when juxtaposed to the field size of about 220 to 250 runners per year.
"What a race Alex had considering some personal adversity this week," Bucknam said. "It was a great race for Jack Bruce. I don't know how many guys he passed on the final 800 meters but it was a lot of guys. Austen Dalquist had a breakthrough race. Just an unbelievable performance for him. We're grateful for every meet we a chance to compete in and these guys gave their best effort."
Jack Bruce to the Stage
A 2015 transfer from UALR Jack Bruce closed out his cross country career as a three-time All-American for the Hogs. Bruce finished among the top-25 fastest runners at the national meet in all three years in which he competed for Arkansas – his best finish at the final cross country national meet of his career. He earned his 2017 All-American honor, clocking a 10K personal best of 29 minutes, 39.50 seconds. It was first time under 30 minutes at that distance.
Bruce's NCAAXC Progression
• 2015 (Louisville, Kentucky) – 23rd, 30:15.30
• 2016 (Terre Haute, Indiana) – 19th, 30:10.90
• 2017 (Louisville, Kentucky) – 13th, 29:39.50
"2015 was a huge shock and a surprise for me," Bruce said. "I don't think anyone really saw it coming, including me. "2016 was mostly about proving that, the first national meet wasn't a fluke and a big part of that was running with Alex [George] the entire way. We keyed off each other really well and had a good race strategy. This year the only thing that I wanted to do was go out with a bang and I think, literally and figuratively I did that. The last 2K I was prepared to put my body on the line to accomplish that. My time at Arkansas has been an honor and a privilege."
Junior Cameron Griffith and freshman Matt Young rounded out the Razorbacks top-five, finishing 86th and 116th, respectively.
With the cross country season wrapped up Arkansas will turn its attention to the indoor track and field season. The Razorbacks will open their 2018 indoor track campaign Friday, Jan. 12 hosting the Arkansas Invitational at the Randal Tyson Track Center.
Team Finish (Top Five)
1. Northern Arizona, 74 (2-3-8-28-33)
2. Portland, 127 (9-12-21-39-46)
3. BYU, 165 (20-23-32-35-55)
4. Stanford, 221 (5-14-15-69-118)
5. Arkansas, 259 (11-36-43-72-97)
Arkansas Results (Overall Finishes)
13. Jack Bruce – 29:39.49
43. Austen Dalquist – 30:04.75
51. Alex George – 30:11.12
86. Cameron Griffith – 30:32.85
116. Matt Young – 30:52.70
166. Andrew Ronoh – 31:16.41
225. Ethan Moehn – 32:05.35
2017 Cross Country Schedule
Fri, Sept. 1 – Cowboy Preview (Stillwater, Okla.) 1st of 4
Fri, Sept. 15 – Iona College Meet of Champions (New York, N.Y.) 2nd of 11
Sat, Sept. 30 – Chile Pepper Festival (Agri Park) 1st of 40
Sat, Oct. 14 – Pre-Nationals (Louisville, Ky.) 9th of 40
Fri, Oct. 27 – SEC Championship (Athens, Ga.) 1st of 13
Fri, Nov. 10 – NCAA South Central Regional (College Station, Texas) 1st of 23
Sat, Nov. 18 – NCAA Championship (Louisville, Ky.) 5th
*italicized meet denotes completion.
For more information on Arkansas track and field including in-meet updates, follow @RazorbackTF on Twitter.