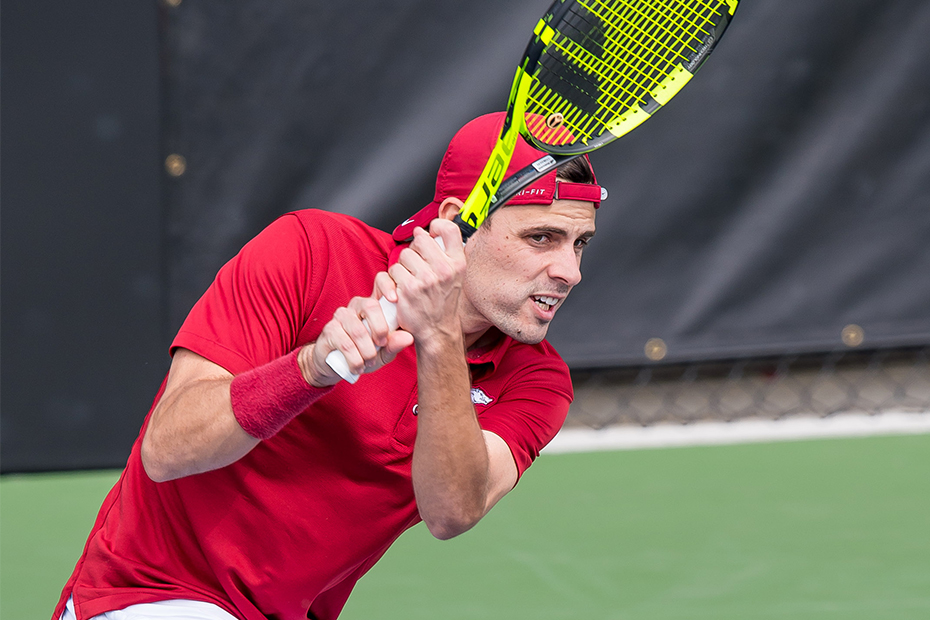 Hogs Host Tide And Mavericks For Sunday Tripleheader
FAYETTEVILLE, Ark. – The Arkansas men's tennis team looks to open the final month of the regular season with a tripleheader Sunday, as the Razorbacks face Southeastern Conference foe Alabama at 1 p.m., before taking on Nebraska-Omaha in a doubleheader.
Arkansas (9-11, 2-6 SEC) has had a rough stretch over the past month. After winning three of their first four matches to begin the month of March, the Razorbacks have dropped six of the last seven with a lone victory over No. 14 Georgia. It marked the first time in 14 years that Arkansas was able to defeat the Bulldogs.
Arkansas' lone senior Jose Salazar moved up to No. 65 in the country last week in singles, after defeating a pair of two 50 players. Following his jump in the rankings, Salazar has extended his winning streak to a team-best five straight matches, after going 3-0 last week with another pair of top-50 wins, including a 6-4, 6-4 victory over No. 8 Alfredo Perez of Florida. Salazar is 20-9 overall this season with a 14-5 mark this spring and a 6-4 record against ranked opponents, including four straight.
For more information on Razorback men's tennis, please follow @RazorbackMTEN on Twitter.