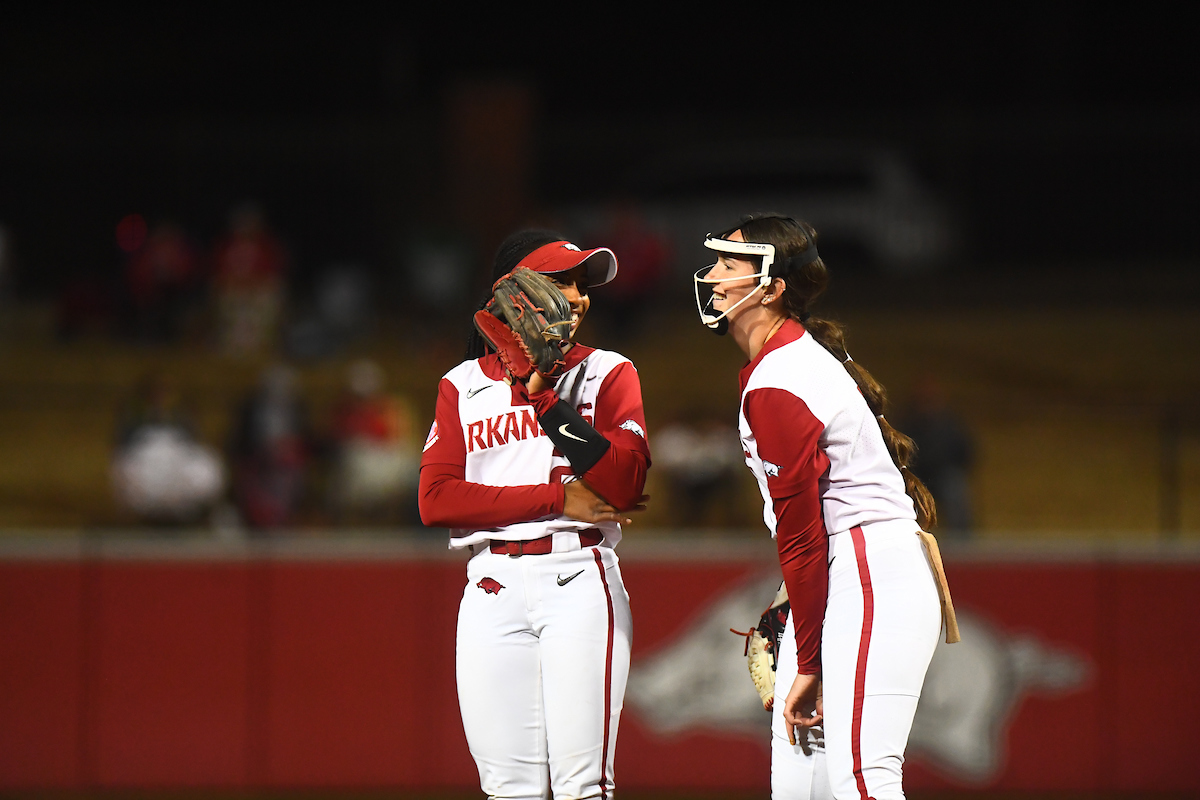 Hogs One-Hit Iowa State, Corpus Christi
FAYETTEVILLE, Ark. – The No. 7 Arkansas Razorbacks (18-3) continued their dominant weekend at the Woo Pig Classic with a double dip sweep of Iowa State and Texas A&M-CC Saturday at Bogle Park. Arkansas defeated Iowa State, 7-4, before exploding to a 12-0 (5 inn.) run-rule victory against Texas A&M-CC.
Arkansas' pitching staff had another electrifying day after tossing two one-hitters. Junior LHP Callie Turner (5-0) set the table in the first game vs. Iowa State, spinning 6.1 frames and striking out five en route to her fifth win on the season. Turner worked 6.1 zero-hit frames before surrendering a lone hit in the top of the seventh with one out. Freshman LHP Hannah Camenzind forced two groundouts to end the ballgame.
In game two vs. TAMU-CC, freshman LHP Robyn Herron (5-1) spun tremendously in her second straight one-hitter to earn the victory. The freshman went 4.1 innings and amassed 11 strikeouts before giving up TAMU's one hit in the top of the fifth. Fanning 11 in the game, Herron posted her fourth double-digit strikeout game of the season which leads the staff.
Combining with freshman RHP Nikki McGaffin for the shutout, McGaffin took over for Herron in the top of the fifth with one out, retiring two of three batters faced to seal the victory.
Arkansas controlled everything Saturday, outhitting Iowa State and TAMU-CC 14-2 while outscoring the two teams 19-4. Rylin Hedgecock pounded two home runs to gravitate her weekend home run count to five. Hedgecock clobbered a solo shot against Iowa State before trouncing her first grand slam of the season vs. the Islanders. Sophomore Raigan Kramer added a three-run tank against Iowa State.
Game 1 vs. Iowa State
Raigan Kramer led the charge going 2-for-3 with a walk and a career high four RBIs. Kramer pocketed her second home run of the weekend on a three-run bomb. Adding to Arkansas' home run count, Rylin Hedgecock solo homered in the sixth. Kristina Foreman drove in a run on her single in the first. Reagan Johnson and Atalyia tallied hits apiece. Hannah Gammill drew a career high three walks and scored a team high two runs.
Game 2 vs. TAMU-CC
Arkansas totaled a season high 12 hits and 12 runs against the Islanders. Rylin Hedgecock powered Arkansas with her grand slam. Reagan Johnson finished 2-for-2 with two runs scored, two walks, an RBI and a stolen base. Sophomore Madi Conklin drove in two runs on her double to right center in the fourth. Rylee Cloud, Raigan Kramer, Lauren Camenzind and Atalyia Rijo all added hits.
Notes
Arkansas moves to 18-3 overall and 10-1 at Bogle Park.
The Hogs stretch their win streak to nine games.
Arkansas secured its seventh run-rule victory.
The Razorbacks totaled a season high 12 hits and 12 runs against TAMU-CC.
Rylin Hedgecock has homered five times at the Wooo Pig Classic.
Robyn Herron recorded her fourth double-digit strikeout game after tallying 11 against TAMU-CC.
Herron has thrown back-to-back one-hitters.
Callie Turner and Robyn Herron turned in one-hitters in the doubleheader sweep.
Raigan Kramer logged a career high four RBIs against Iowa State.
Up Next
No. 7 Arkansas finishes the Wooo Pig Classic at 12:15 p.m. Sunday vs. North Texas on SEC Network+.