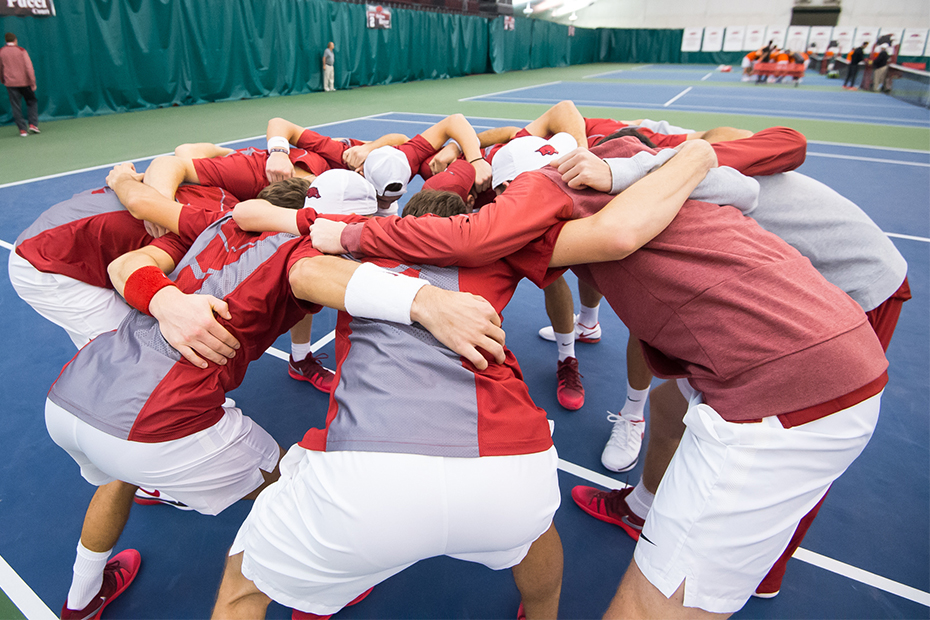 Hogs Picked Ninth In SEC Coaches' Preseason Poll
BIRMINGHAM, Ala. – In one of the deepest men's tennis conferences in the country, Arkansas was selected ninth in the SEC coaches' preseason poll Tuesday.
Texas A&M was selected first by the league coaches, ahead of Florida and Georgia, who tied for second. Arkansas travels to Athens, Georgia, this weekend with the chance of playing the Bulldogs for the first of two times this season in the ITA Kickoff Weekend.
The preseason poll is voted on by the men's tennis head coach at each institution and is based on a 13-12-11-10-9-8-7-6-5-4-3-2-1 vote.
So far this season, Arkansas is 1-2, with two losses to top-20 programs in No. 15 Oklahoma State and No. 18 Oklahoma. To open the season, the Razorbacks defeated the Tulsa Golden Hurricane 5-2.
Prior to head coach Andy Jackson taking over the Razorback program in 2014, Arkansas had finished .500 or better in league play twice – in 1992 (6-5) and 2006 (6-5). After spending the first two years in Fayetteville near the bottom of the conference, finishing 12th and 13th, respectively, Jackson has turned the Razorback program around, recording two of best conference records in school history each of the last two seasons.
A season ago, the Razorbacks finished tied for sixth in the league with a 6-6 conference record, after being selected to finish fifth in the preseason. In 2016, the Razorbacks recorded their best finish since joining the SEC with a 7-5 record in conference play, finishing tied for fourth.
Five SEC teams are currently ranked in the top-20 of the Oracle/ITA Rankings. Arkansas plays host to two of the top-three ranked teams in the league, hosting No. 4 Georgia and No. 7 Texas A&M. The Razorbacks will travel to three of the top-five ranked programs in the conference, going to No. 9 Florida, No. 14 Mississippi State and No. 20 South Carolina.
Preseason Poll
1. Texas A&M              157
T2. Florida                   153
T2. Georgia                 153
4. Mississippi State   132
5. South Carolina      108
6. Kentucky                99
7. Ole Miss                 82
8. Vanderbilt              72
9. Arkansas                66
10. Tennessee              53
11. Alabama               52
12. Auburn                  29
13. LSU                       21
For more information on Razorback men's tennis, please follow @RazorbackMTEN on Twitter.