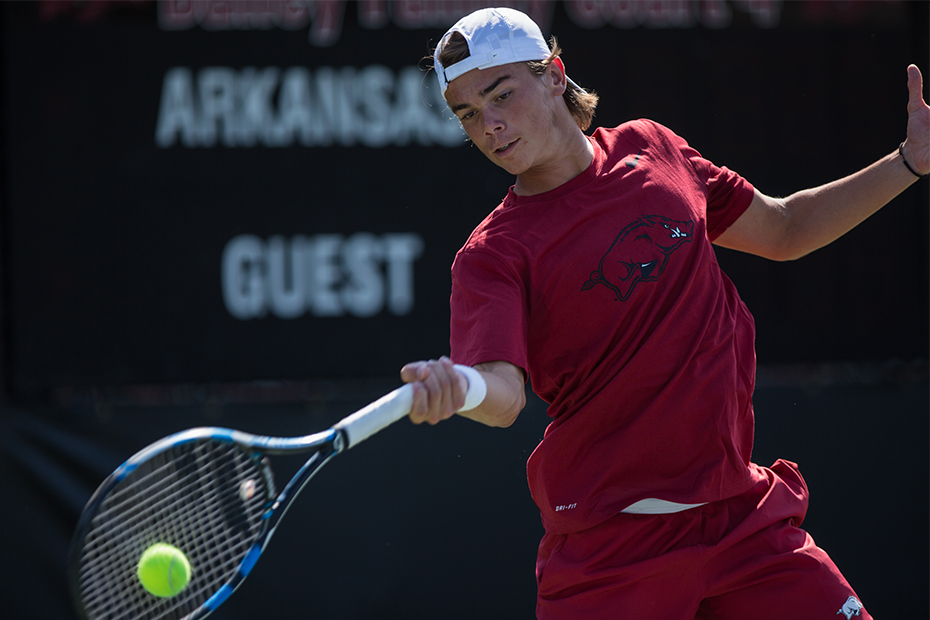 Hogs Rally To Defeat Hawkeyes
ATHENS, Ga. – Down 3-2, Arkansas closed out the final two matches in three sets Monday to rally over Iowa, defeating the Hawkeyes 4-3.
After freshman Alex Reco defeated Iowa's Jonas Larsen 7-6, 6-1 on court five to tie the match 3-3, everything came down to the sixth spot. Freshman Jose Alonso found himself down 3-0 early in the first set to Will Davies. Alonso was able to rally over the Hawkeye, winning the first set 7-5, before Davies tied matched him with a 7-5 win of his own in the second set to force the decisive set. In the third set, Alonso was able to put away Davies 6-4 to clinch the win for the Razorbacks.
Senior Jose Salazar won his second straight singles match of the season, improving his overall record to 4-1 in dual matches this spring. Salazar was able to handle Iowa's Josh Silverstein 6-1, 6-2 at the top spot.
Arkansas' other victory came on court four, as freshman Josh Howard-Tripp improved to 3-2 this spring with a 6-2, 1-6, 6-4 win over Kareem Allaf.
The Razorbacks fell on courts two and three, as juniors Adam Sanjurjo and Oscar Mesquida each dropped their matches to Piotr Smietana (6-4, 6-4) and Joe Tyler (7-6, 7-6), respectively.
Iowa was able to take the early lead, claiming the doubles points with a 6-1 win on court one and a 6-3 win on court two.
Arkansas 4, Iowa 3
Singles Results – Order of finish (1, 2, 4, 3, 5, 6)
1. #113 Jose Salazar (AR) def. Josh Silverstein (IOWA) 6-1, 6-2
2. Piotr Smietana (IOWA) def. Adam Sanjurjo (AR) 6-4, 6-4
3. Joe Tyler (IOWA) def. Oscar Mesquida (AR) 7-6 (9-7), 7-6 (7-5)
4. Josh Howard-Tripp (AR) def. Kareem Allaf (IOWA) 6-2, 1-6, 6-4
5. Alex Reco (AR) def. Jonas Larsen (IOWA) 7-6 (7-5), 6-1
6. J. Alonso (AR) def. Will Davies (IOWA) 7-5, 5-7, 6-4
Doubles – Order of Finish (1, 2)
1. Larsen/Allaf (IOWA) def. Sanjurjo/Mesquida (AR) 6-1
2. Davies/Smietana (IOWA) def. Salazar/Howard-Tripp (AR) 6-3
3. Tyler/Jacoby (IOWA) vs. Terrell/Reco (AR) 5-4, uf
Arkansas returns to action this weekend, as the Razorbacks host Wichita State on Saturday at 10 a.m., followed by a doubleheader against Saint Louis.
For more information on Razorback men's tennis, please follow @RazorbackMTEN on Twitter.