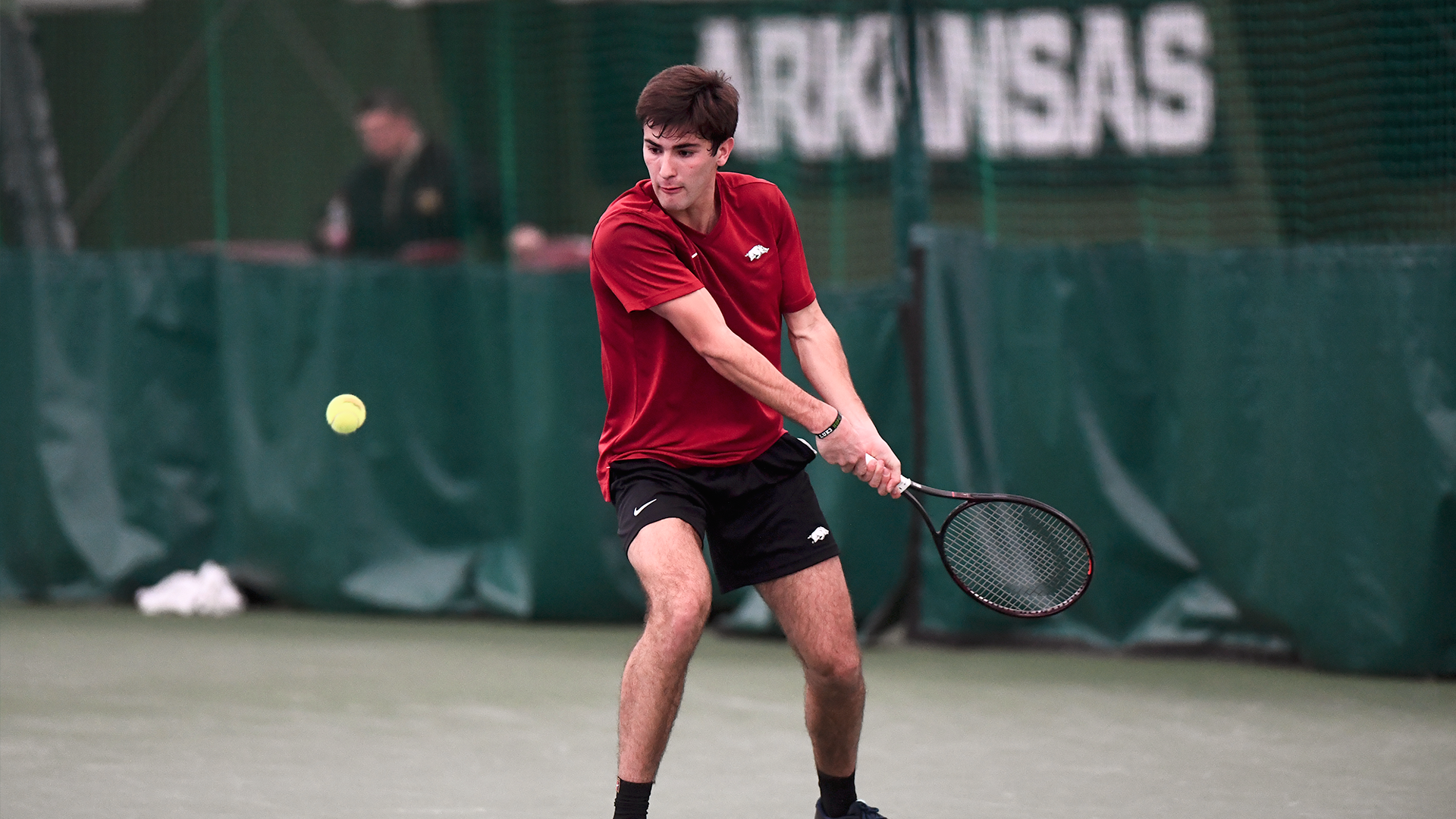 Hogs Rally to Defeat Omaha, 5-2
FAYETTEVILLE, Ark. – The No. 31 Arkansas men's tennis team stays perfect in home non-conference play, defeating Omaha 5-2 on Sunday. The Razorbacks improve to 12-1 as they begin Southeastern Conference play on the road next week.
The Mavericks took the early lead over the Hogs, taking the doubles point with wins on courts one and two. The lone doubles win for the Razorbacks came on court two where Jake Sweeney and Jakob Mosvold teamed up for a 6-1 win over their opponents. It was the first time the Razorbacks dropped the doubles point at home and went on to win the match.
Arkansas gained momentum as singles play began, taking the first set on five courts. On court one, Stefanos Savva put the first point up for Hogs with a 6-3, 6-4 over Omaha's Mikhail Korkunov. Freshman Gerard Planelles Ripoll then followed with his sixth-straight victory this season, taking a 6-4, 6-1 win on court six.
On court three, Benedikt Emesz extended the Arkansas lead to put the Hogs within one, defeating Hugo Piles of Omaha 6-2, 7-5. Junior Adrien Burdet clinched the match win for the Razorbacks, grabbing a 6-4, 7-5 win over Maverick Ryoma Mishiro on court four. With the match win in hand, junior Melvin Manuel closed out the Razorback wins with a 7-5, 6-4 victory of his own on court two.
The Razorbacks go on the road to begin SEC play, taking on the Vanderbilt Commodores on Thursday, March 2 before returning home on Thursday, March 9 for a match against Ole Miss.
For the latest information on all things Arkansas Men's Tennis, follow the Hogs on social media by liking us on Facebook (Arkansas Razorback Men's Tennis) and following us on Twitter and Instagram (@RazorbackMTEN).