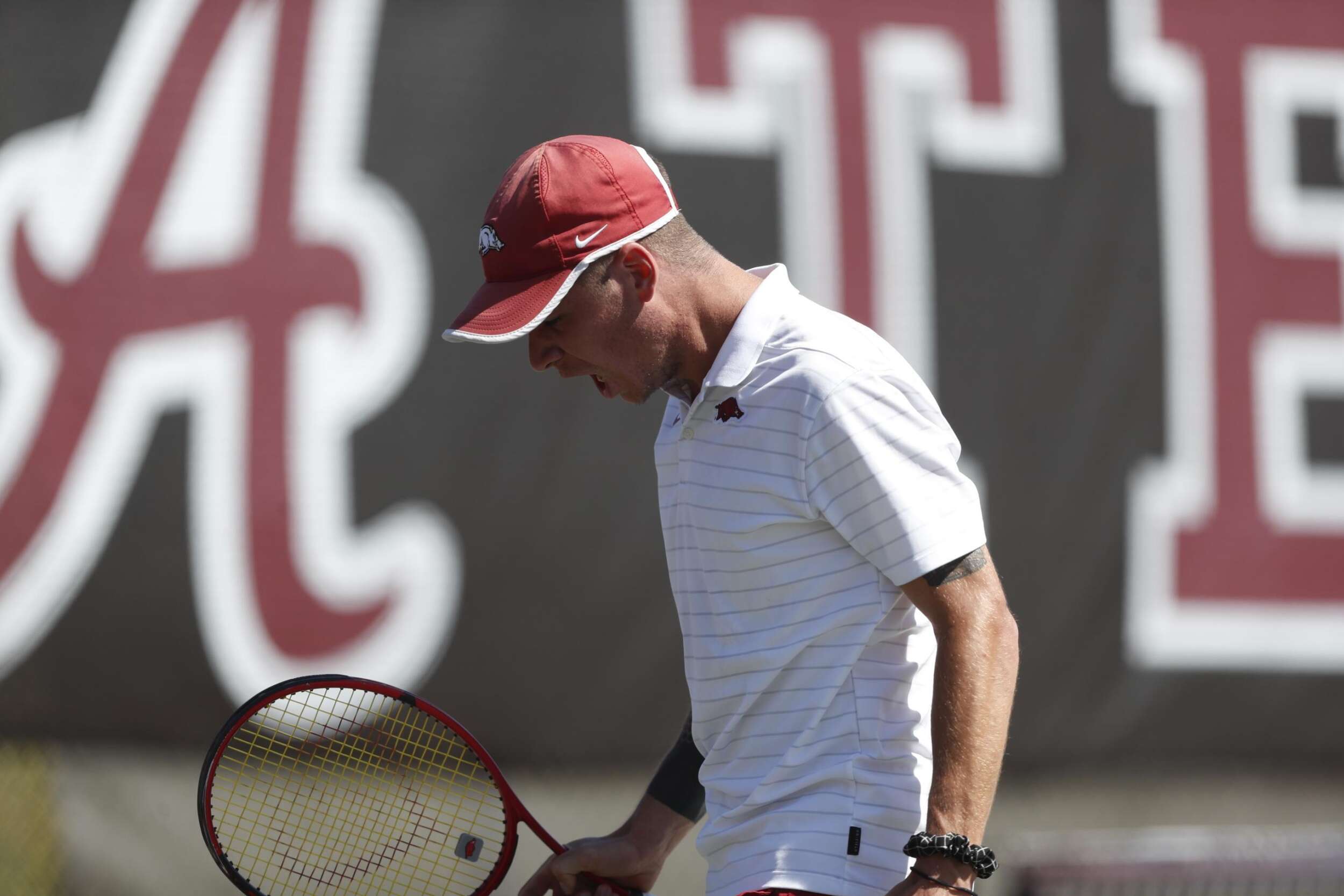 Hogs Rebound, Grab Road Win at Alabama, 5-2
TUSCALOOSA, Ala. – Arkansas Men's Tennis (11-11, 2-7) got back in the win column Sunday as the Hogs defeated the Alabama Crimson Tide for the second time this season, this time on Alabama's home courts. It was the first SEC win for the Hogs since Arkansas took down No. 25 Auburn at home earlier this spring. 
Arkansas and Alabama previously met in the ITA Indoor Kickoff event in February, when the Hogs swept the Tide, 4-0, in Starkville, Mississippi. Sunday was much of the same, as the Hogs controlled the match for the entirety of the afternoon, clinching the match at 4-1 after just under three hours of play.
"It was a win we really needed," Arkansas Head Coach Andy Jackson said. "We fought hard, and that was the key. We have our best tennis ahead of us."
Alabama had won the doubles point in consecutive matches coming into Sunday, including against No. 24 Texas A&M on Friday, and the Hogs and Tide split doubles sets on courts one and three to force a winner-take-all set on court two. Razorbacks Adrien Burdet and Melvin Manuel, tied at 5-5 with Enzo Aguiard and Juan Martin, won the final two games to put the Hogs on the board first.
Razorbacks Oscar Pinto, Melvin Manuel and Aleksa Bucan were all sharp in their singles matches, each winning in straight sets to claim the conference victory. Manuel improved to a stellar 13-2 on the season while Pinto and Bucan both bounced back from losses at Tennessee on Friday. 
Arkansas senior Nico Rousset ended the day with a big win at the second singles spot after falling in a third set in three of his previous six matches, taking down Enzo Aguiard in three hard-fought sets.
Sunday's match featuring each program's top singles player went down to the wire. Alabama's No. 112-ranked Filip Planinsek took the first set in a tiebreaker over Razorback and No. 107-ranked Alex Reco. Reco responded to win the second set, also in a tiebreaker, which forced a third set super tiebreaker to decide the match. Planinsek took the third set tiebreaker, 10-7.
The win was Arkansas' first on the road this season. The Hogs will look to build off the victory when they return home to face Mississippi State on Friday. The match is set to begin at 4 p.m.