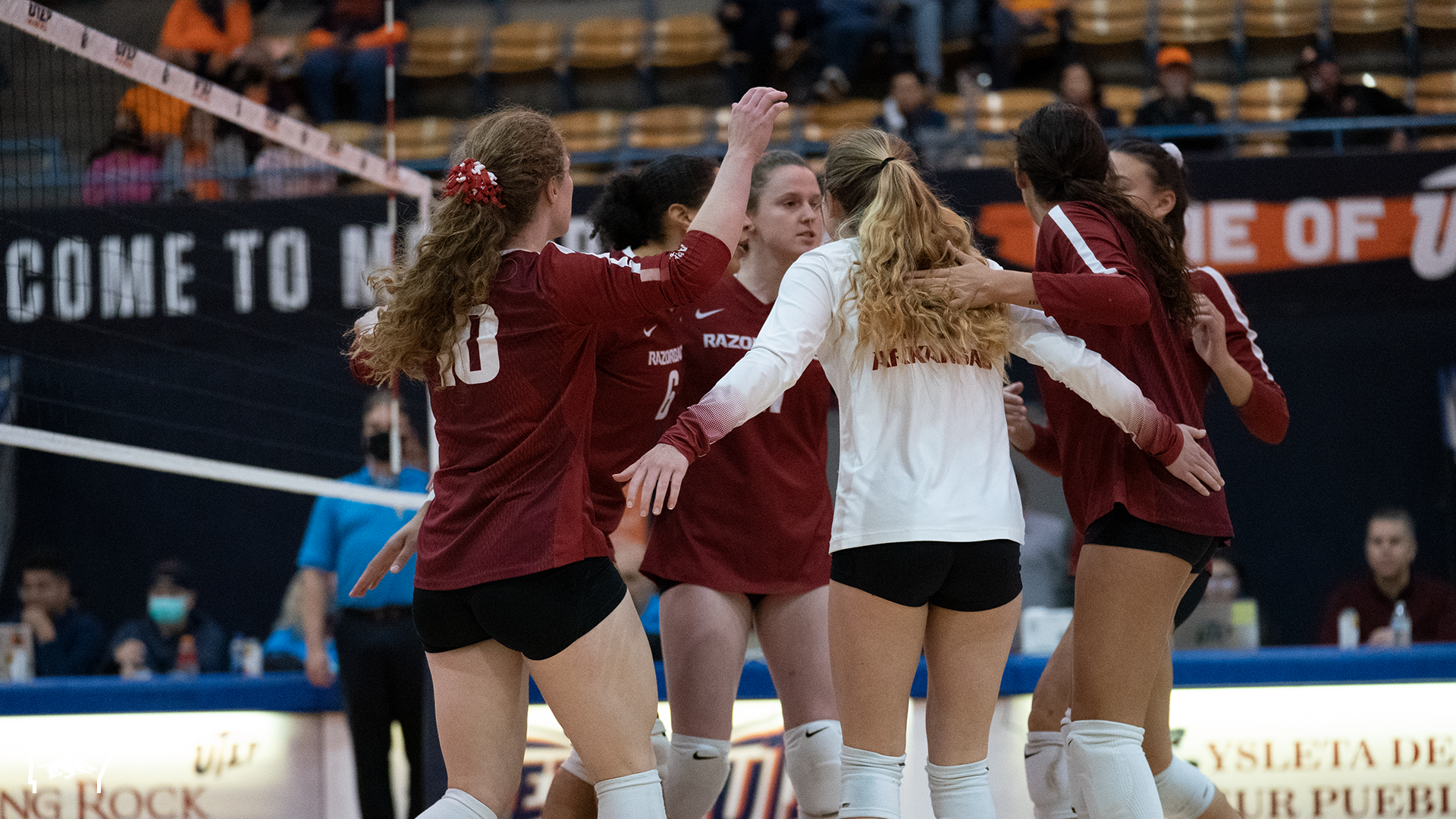 Hogs' Season Comes to an End in Third Round of NIVC
The Arkansas volleyball program had played its longest postseason since 1998 heading into Tuesday's third-round match with UNLV, but the run came to a close for the Razorbacks as they were swept by the Rebels 3-0.
Arkansas finishes the year with a 20-11 record, the most wins for the team since 2017. The Hogs had not competed in a postseason since 2013, and had not made it to a third tournament round in over 20 years, when they fell 3-0 to Hawaii in the 1998 NCAA field.
Jill Gillen and Taylor Head led the Hogs offense on Tuesday with 11 kills apiece. Senior setter Gracie Ryan contributed 33 assists and a team-high 12 digs for her 14th double-double this season and 30th in her career.
The first set was extremely tight between the two teams, and neither was able to hang on to more than a two-point lead the entire way through. A three-point run featuring a kill from Head and an ace from Courtney Jackson had the Hogs up 15-13 at the media break, but the back-and-forth continued. The Rebels used a two-point streak to go over 20 and the Razorbacks called time down 21-19. A kill from Head tied it at 22-all, but UNLV pushed through and took the first set 25-23.
The second set was more of the same and saw six ties and a lead change by the 10th point. Senior Lauren Evans hammered home an ace for the 10-10 tie and a UNLV error made it 12-12, but the Rebels took a lead there that they wouldn't let go of. The Hogs chipped away, but back-to-back UNLV kills made it 21-18 and sent Arkansas to a huddle. The Razorbacks got over 20 with a kill from Abigail Archibong and an ace from Ryan, but the next two of three points went to the Rebels for the 25-22 UNLV set victory.
The Rebels started the third set on a 7-4 tear and kept the edge the whole way. Back-to-back kills from Gillen put the Hogs within one at 8-7, but that's the closest they came the remainder of the set. UNLV was the first to 20 and the Razorbacks called time down 20-14, but the Rebels got the first two points out of the break. Kills from Maggie Cartwright and Head narrowed the gap to 23-17, but a pair from UNLV took the Rebels to set and match point and then finished it 25-17 for the 3-0 match sweep.