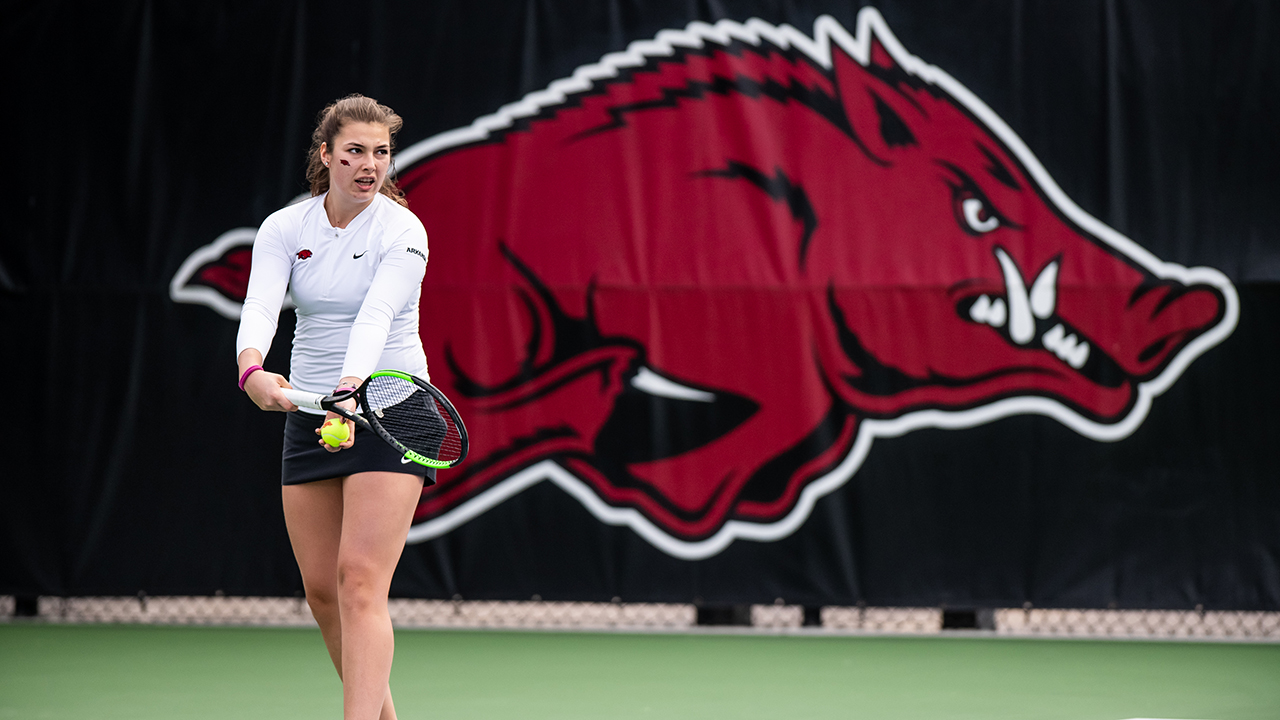 Hogs Set For Home Finale
FAYETTEVILLE, Ark.- The No. 40 Arkansas women's tennis team will close out home play this weekend by hosting No. 1 Georgia, No. 17 Tennessee, and Oral Roberts.
The Hogs are coming off a weekend-sweep in Mississippi, defeating the Rebels and the Bulldogs. Arkansas downed Ole Miss 4-2 last Friday afternoon before rallying from a 3-0 deficit to earn a 4-3 decision at Mississippi State Sunday afternoon.
The team continues to be led in singles play by No. 84 Tatum Rice and No. 104 Martina Zerulo, with both Razorbacks going 1-1 last weekend. The pair has a combined 20 singles wins this season, with Rice recording a team-leading 11.
Juniors Jackie and Lauren Alter have picked up steam late in conference play, with Alter winning three of her last four matches and Carr winning her last three matches. Carr has clinched two matches this season, including the team's victory at Mississippi State.
Georgia is 17-0 (9-0 SEC) this season, winning the ITA National Women's Team Indoor Championships in February. This will be the 34th meeting between the teams, with the Bulldogs holding a 30-3 series advantage.
Tennessee is 16-5 (6-3 SEC) and will face Missouri before arriving on the Hill. This will be the 31st meeting between the teams, with the Lady Vols holding a 22-8 series advantage.
Oral Roberts is 4-15 (1-4 Summit League) this season, going 2-2 in its last four matches. This will be the 18th meeting between the teams, with the Hogs holding a 14-3 advantage.
First serve against Georgia is set for 2 p.m. Friday afternoon, while Sunday's doubleheader will begin at 12 p.m. against Tennessee. First serve against the Golden Eagles is slated for 5 p.m., with senior day activities to precede the event.
For more information on Razorback women's tennis, follow @RazorbackWTEN on Twitter.