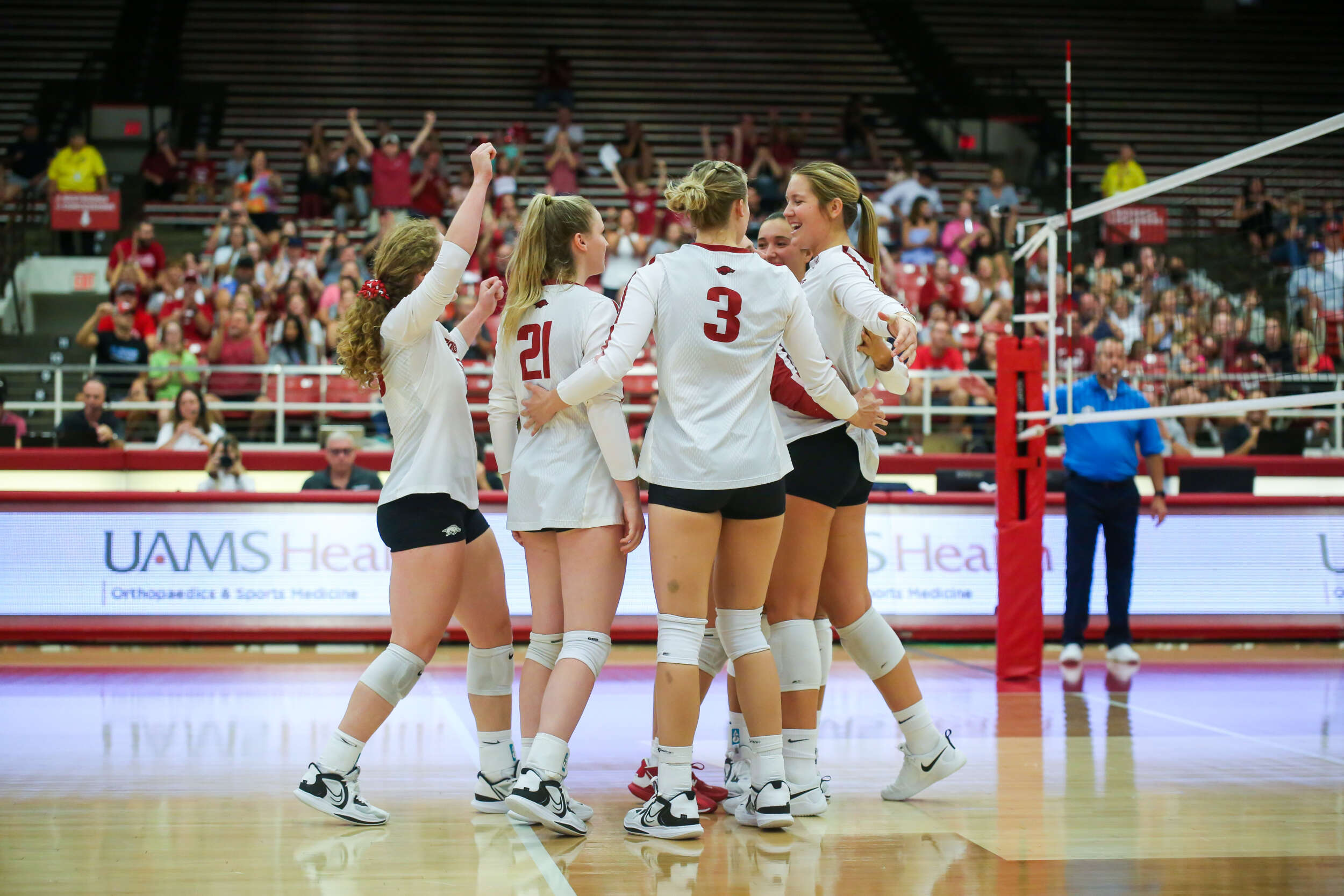 Hogs Set for Invitational Action in Fort Collins
Coming off their highest-ranked win in 15 years in opening weekend, the Arkansas volleyball squad is in for another set of strong opponents in week two.
Arkansas takes on Colorado State, Alabama State and Florida Gulf Coast Thursday-Saturday in Fort Collins, respectively. It's the first time in 11 years that the Razorbacks and Rams have met and the first in Fort Collins since 2008. The weekend will mark the first-ever contests that the Hogs have had with Alabama State and FGCU.
Thursday's match against host Colorado State is set for 8 p.m. CT and will be streaming live via Colorado's State's website. Friday's tilt with Alabama State is at 5:30 p.m. and Saturday's finale with FGCU is set for 12 p.m. Neither Friday or Saturday's match will be streamed, but Colorado State will provide live stats throughout the tournament.
Last Time Out
Arkansas hosted then-No. 8 Washington to open the 2022 slate and came away with its first top-10 win since 2015 and highest-ranked win since 2007. The Hogs defeated the Huskies 3-1 on Friday, and Washington came back to take the weekend finale 3-1 for a series split.
Junior outside hitter Taylor Head led the offense all weekend with 32 total kills and 25 digs, with double-doubles in both matches. Graduate Gracie Ryan and sophomore Hannah Hogue split duties at the setter position, and Hogue set a new career high in assists in Friday's match with 31. Sophomore libero Courtney Jackson led the defense with 33 digs on the weekend and a career-high five service aces on Saturday, which included four in the first set alone.
In this week's AVCA Coaches' Poll, Arkansas received 58 votes. The last time the Hogs were in the rankings was the 2015 season, after they defeated No. 9 Florida in five sets.
Scouting the Series: Colorado State
Returned All-Mountain West players Kennedy Stanford (OH) and Ciera Pritchard (S) for the 2022 slate
Rams were picked to win the Mountain West for the 11th time in 13 seasons after winning the 2021 regular season title, and fourth of the last five conference titles
First meeting in 11 years between the two teams
Record: 2-1
Stat leaders
Kills/set: Kennedy Stanford/Karina Leber, 2.67
Assists/set: Ciera Pritchard, 9.92
Digs/set: Katie Yoshimoto, 3.33
Blocks/set: Jacqi Van Liefde, 1.00
Alabama State
Faced New Mexico State, LIU Brooklyn and Arizona in opening weekend and went 0-3
Lady Hornets were picked to finish third in the SWAC, behind Florida A&M and Jackson State
First-ever meeting between Arkansas and Alabama State
Record: 0-3
Stat Leaders
Kills/set: Kaylah Jackson, .288
Assists/set: Madison Beasley, 5.18
Digs/set: Temperance Chatman, 4.18
Blocks/set: Mahogany Vinson, 0.91
FGCU
Three Eagles won ASUN weekly honors after FCGU opened its season 3-0 with wins over Navy, Rhode Island and Maryland
OH Erin Shomaker has been tabbed as the preseason ASUN Player of the Year and FGCU is picked to finish first in the conference
In 2021, FGCU tied its program record for single-season wins with 27 and its best-ever RPI of 31
Record: 3-0
Stat Leaders
Kills/set: Erin Shomaker, 4.17
Assists/set: Chelsey Lockey, 10.25
Digs/set: Dana Axner, 3.92
Blocks/set: Skylar English, 1.08
More Information
Visit ArkansasRazorbacks.com for the latest information on all things Arkansas Volleyball. You can also find the Hogs on social media by liking us on Facebook (Arkansas Razorback Volleyball) and following us on Twitter and Instagram (@RazorbackVB).