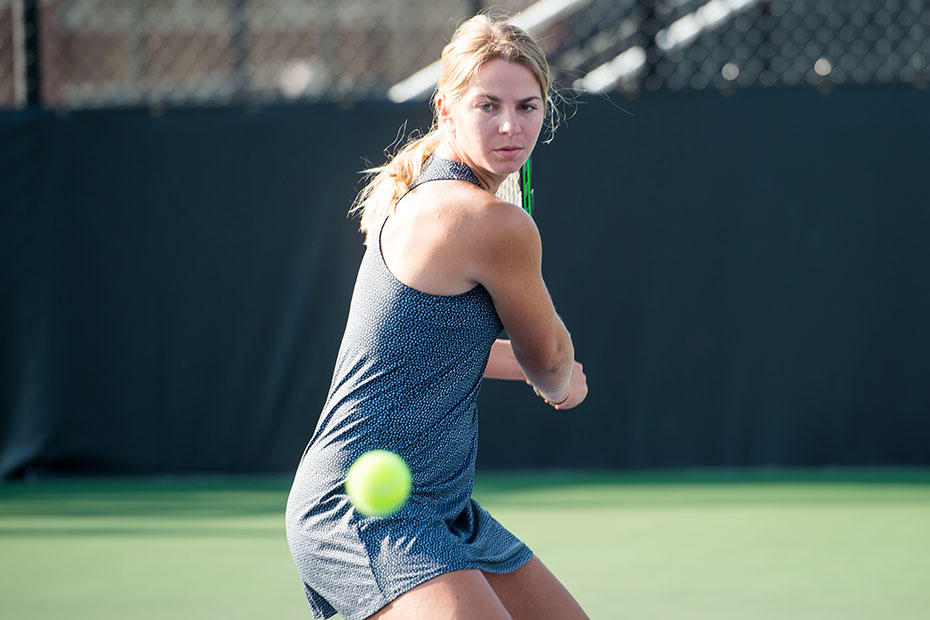 Hogs Start Fast, Finish Strong On Day 1 At Regionals
LAWRENCE, Kan. — The Arkansas women's tennis team got off to a fast start and finished strong on the first day of competition Thursday at the Intercollegiate Tennis Association Central Regional Championships, winning 10 of its 11 matches.
"We had an impressive opening day today," head coach Michael Hegarty said. "As always at regionals, Day 2 is the longer and more physical day, and we are ready for the challenge."
The Razorbacks opened the day going four-for-four in doubles action. Top-seeded and No. 9 ranked Leolia Jeanjean and Giulia Pairone won 8-1. Ana Oparenovic and Mia Jurasic earned an 8-7 victory. Agne Cepelyte and Natsuho Arakawa defeated their opponent, 8-2, while Tatum Rice and Jackie Carr won 8-3.
In singles, top-seed and No. 36 ranked Oparenovic made quick work of her opponent with a 6-0, 6-0 win. No. 3 seed and No. 62 ranked Jeanjean was dominant in a 6-0, 6-1 victory. Jurasic and Rice each earned 6-1, 6-0 wins, while Arakawa got a 6-2, 6-0 victory. Carr scored a 6-1, 7-5 win. Cepelyte was defeated, 6-4-6-3.
The Razorbacks will return to action for Day 2 at 9 a.m. CT Friday.
For more information on Arkansas women's tennis, follow @RazorbackWTEN on Twitter.
Doubles Results
No. 1 Jeanjean/Pairone (Arkansas) def. Kadijevic/Antonijevic (Oral Roberts), 8-1
No. 7 Jurasic/Oparenovic (Arkansas) def. Epperson/Henne (Creighton), 8-7
Cepelyte/Arakawa (Arkansas) def. Lynch/Kemper (Northern Illinois), 8-2
Rice/Carr (Arkansas) def. Emme/Frei (Minnesota), 8-3
Singles Results
No. 1 Ana Oparenovic (Arkansas) def. Theodora Kyriakopoulou (South Dakota State), 6-0, 6-0
No. 3 Leolia Jeanjean (Arkansas) def. Erin Epperson (Creighton), 6-0, 6-1
Jackie Carr (Arkansas) def. Mariluz Domingo (Saint Louis), 6-1, 7-5
No. 11 Mia Jurasic (Arkansas) def. Daria Chemodanova (South Dakota), 6-1, 6-0
Tatum Rice (Arkansas) def. Michelle Walker (Nebraska Omaha), 6-1, 6-0
Rosanna Maffei (Kansas State) def. Agne Cepelyte (Arkansas), 6-4, 6-3
Natsuho Arakawa (Arkansas) def. Courtney Lubbers (Western Illinois), 6-2, 6-0