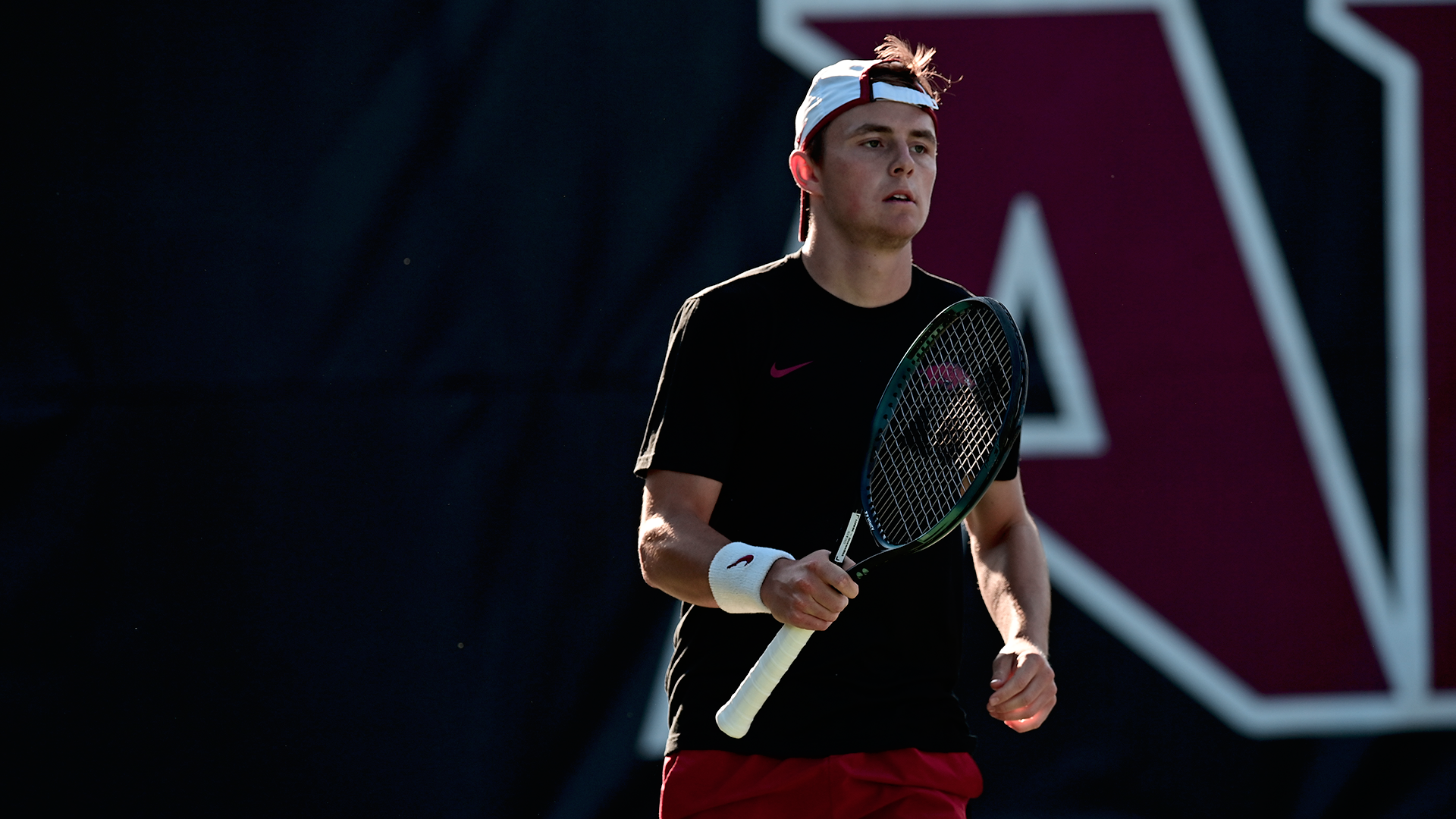 Hogs Suffer 6-1 Loss to No. 48 Crimson Tide
FAYETTEVILLE, Ark. – The No. 68 Arkansas men's tennis team came up short to No. 48 Alabama on Friday night, 6-1. The Crimson Tide (11-14, 3-9) took the doubles point early on over the Razorbacks (12-13, 0-12) and carried their momentum throughout the rest of the match.
In doubles play, Alabama took the early 1-0 lead in the match as they won on courts two and three to claim the doubles point. Juniors Jakob Mosvold and Foster Rogers fell to Ferreira/Sarouk, 6-3, in the No. 3 spot and juniors Stefanos Savva and Alan Sau Franco were defeated by Aguiard/Foster, 6-3, on court two.
In singles play, the Crimson Tide won the first two points, pushing their lead to 3-0. On court five, Foster defeated Adrien Burdet, 7-6 (4), 6-0, and No. 75 Planinsek took down Savva, 7-5, 4-6, 6-2, in the No. 2 spot. The lone point of the match for the Hogs came from Benedikt Emesz, as he beat Sarouk, 7-6 (5), 6-2, on court six. With the win, Emesz improves to 6-5 overall this dual season.
Alabama rallied to win the final three courts as Ponce De Leon came back to win the final two sets over Sau Franco in the No. 3 spot to clinch the match. Arkansas' Melvin Manuel fell to No. 113 Aguiard and Planelles Ripoll dropped a third-set tiebreak to Jones, giving the Crimson Tide the 6-1 match victory.
The Razorbacks are back at home on Sunday, April 16 for their final home match of the season as they host No. 8 Tennessee at Billingsley Tennis Center.
For the latest information on all things Arkansas Men's Tennis, follow the Hogs on social media by liking us on Facebook (Arkansas Razorback Men's Tennis) and following us on Twitter and Instagram (@RazorbackMTEN).