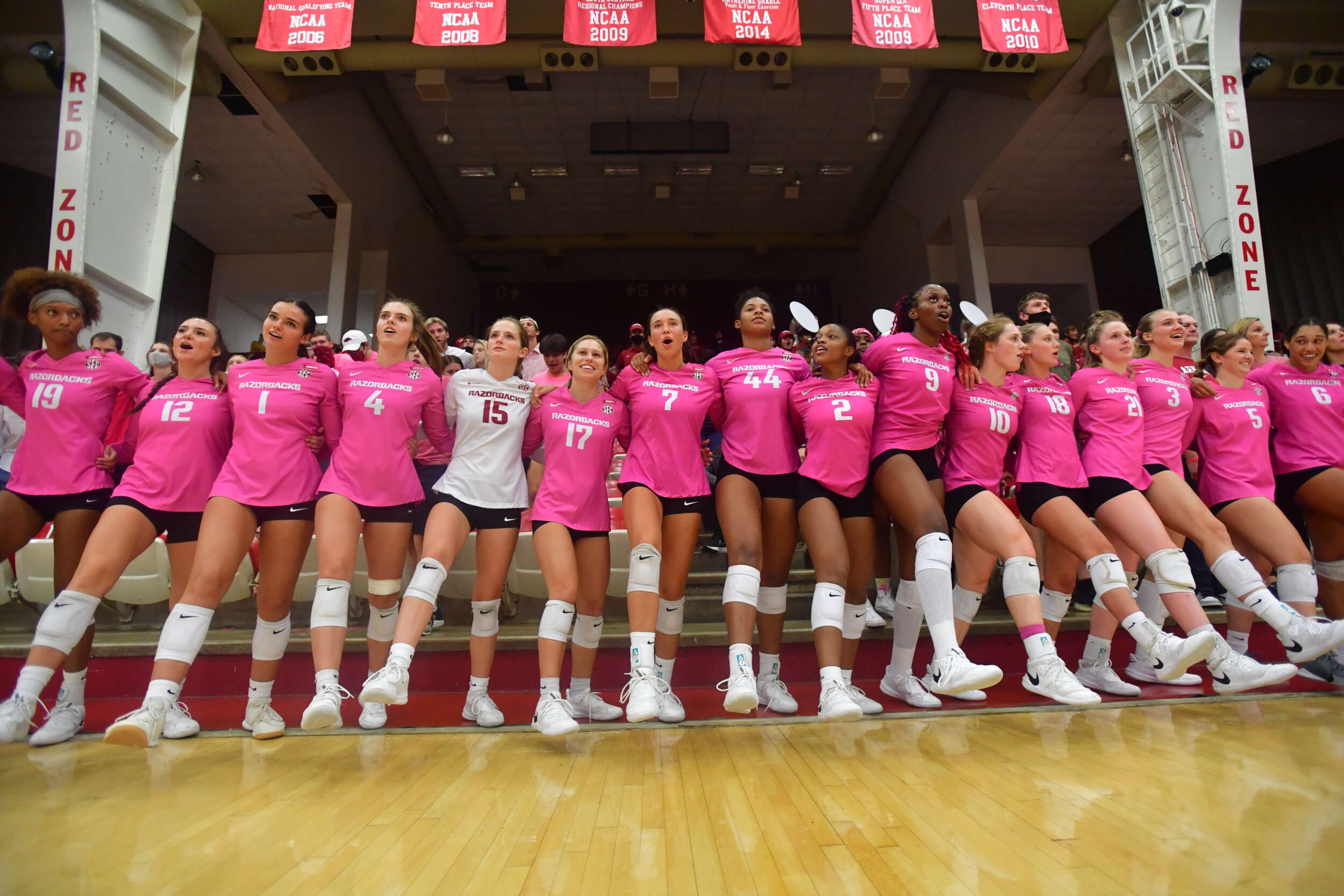 Hogs Sweep Dogs at Home
The Razorbacks returned to Barnhill Arena for their annual Pink Match on Saturday and came away with a sweep over the Georgia Bulldogs. 
Arkansas evens its SEC record to 2-2 with the victory and its season record to 11-4. 
Both Taylor Head and Jillian Gillen hit .300 in the match. Head posted .333 with a team-best 17 kills, and Gillen was just behind with .310 and 13 kills. Four Hogs added service aces on the night: Gillen, Lauren Evans, Maggie Cartwright and Courtney Jackson. 
"I was really pleased with the work we did this week. Our schedule was beneficial in that we got three really good days of practice in, and we saw a significant return in our ability to score some points from the service line," head coach Jason Watson said. "It's really good, we've got a challenging week coming up. It's a pretty important stretch, and this was a significant win for us."
The Hogs got off to a commanding start in the first set and allowed just one Georgia point to 13 for Arkansas, which included four kills from Head and an ace from Evans. The Bulldogs couldn't add more than two points at a time from there, and Arkansas kept pushing to make the advantage 19-8 and sent Georgia to a timeout. The Bulldogs swung the momentum from there and went on a six-point run to make it 19-15, but couldn't mount a big enough comeback. Another kill from Head put the set away 25-21 in favor of the home team for the 1-0 match lead.
The Bulldogs got their first lead of the night at 6-3 early in the second set, which they held until the midway point. The Hogs had a hard time digging themselves out of the hole and headed to a timeout down 20-16. Arkansas then scored the next six points, capped off by an ace from Cartwright and gained a two-point lead. Georgia headed to a timeout, but the Hogs pushed the score to 23-20. Two Georgia errors sealed the second 25-22 and put the Razorbacks up 2-0 in the match. 
Georgia had the early advantage again in the third, but a kill from Gillen and an ace from Jackson put the Hogs up 6-5. The teams played close from there and tied the score six times. Back-to-back kills from Gillen and senior Ellease Crumpton put Arkansas up 13-11 and sent Georgia to a timeout. The Bulldogs crept up and added seven points to take a 18-17 lead, but it didn't last long and the Razorbacks made it 20-18. Georgia added three more points, but Gillen's 13th kill of the game made it 25-23 and secured the match sweep. 
Up Next
The Hogs have a busy week with a midweek match at Ole Miss set for Wednesday at 6 p.m. They return home for a conference series against Auburn Oct. 9-10 at 1 p.m. and 3 p.m., respectively.
Visit ArkansasRazorbacks.com for the latest information on all things Arkansas Volleyball. You can also find the Hogs on social media by liking us on Facebook (Arkansas Razorback Volleyball) and following us on Twitter and Instagram (@RazorbackVB).