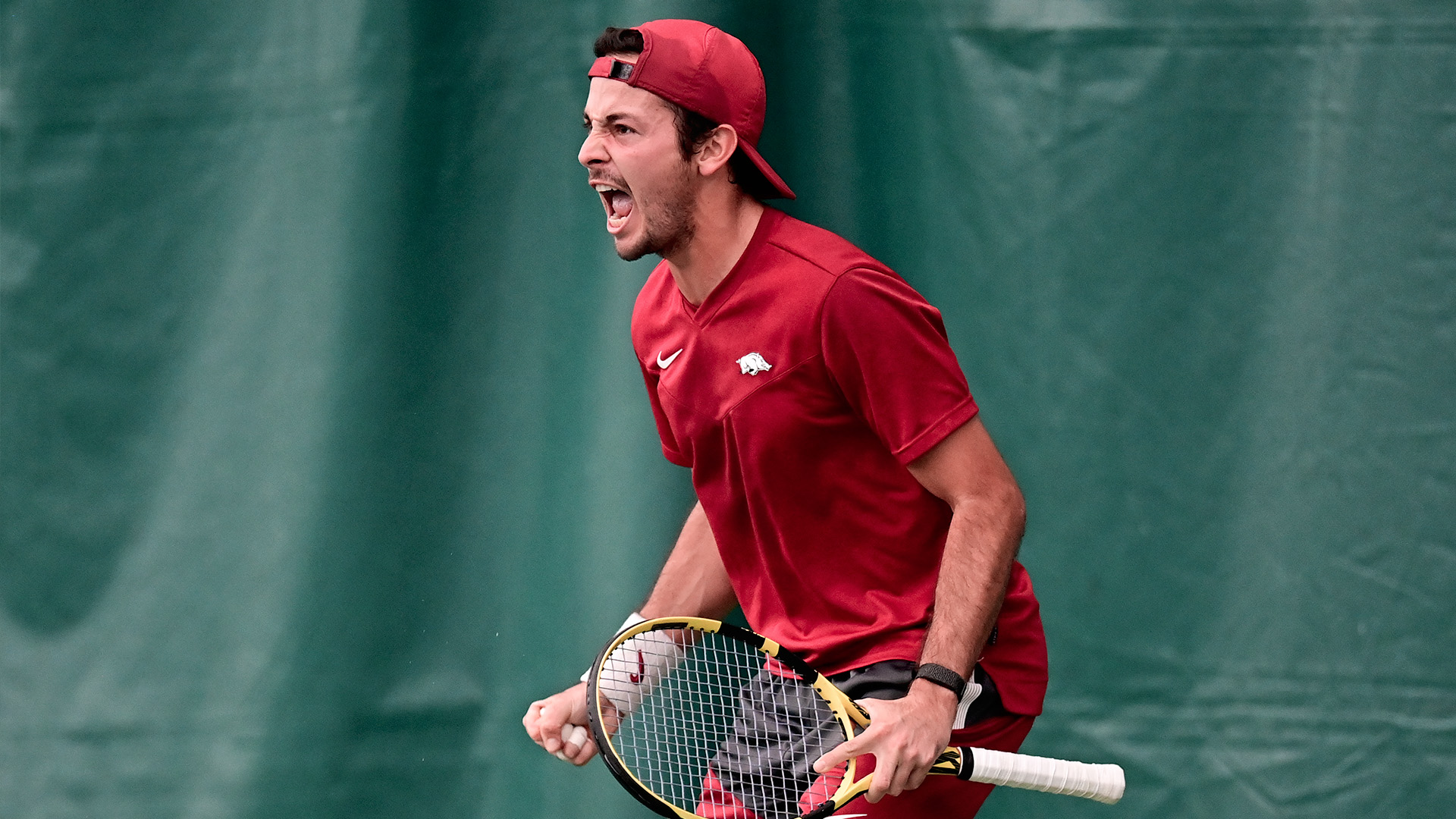 Hogs Sweep Doubleheader Against Illinois State
FAYETTEVILLE, Ark. – The Razorbacks men's tennis team swept the Redbirds on Sunday, finishing 3-0 on the weekend. Arkansas won both matches 4-0 over Illinois State (4-5) to improve to 9-1 overall this season.
The Hogs started off the doubleheader by introducing three new pairings in the doubles lineup. However, Arkansas still grabbed two commanding wins on courts one and two. The tandem of Juniors Melvin Manuel and Adrien Burdet didn't drop a game en route to a 6-0 win. Juniors Stefanos Savva and Alan Sau Franco followed with a quick 6-1 victory over ISU's Cuchran/Anderson, helping the Razorbacks take the doubles point.
Arkansas rolled into singles play as Adrien Burdet struck first for the Hogs, winning 6-2, 6-0 over Melker Isaksson on court three. In the No. 1 spot, Stefanos Savva took command of his match early on, eventually winning in straight sets, 6-2, 7-5. Gerard Planelles Ripoll rallied back to win a first set tiebreak, proceeding to clinch the match for the Razorbacks after a 7-6 (5), 6-2 victory.
In the second part of the doubleheader, the Redbirds were competitive in doubles play, but Arkansas still earned the doubles point. On court one, Manuel/Burdet stayed perfect on the day after taking a 6-4 win, but Illinois State fired back with a win on court two. In the deciding match, Planelles Ripoll and Foster Rogers defeated ISU's Ming-Chieh Chiu and Caden Scarlett in the No. 3 spot, giving the Razorbacks the early 1-0 edge.
Arkansas remained in control for all of singles play, winning the first set on all six courts. Rogers secured the first singles point for the Hogs after a dominant 6-2, 6-0 straight-set win over Dominic Anderson. Melvin Manuel captured his first singles win of the day on court two with a 6-3, 6-2 victory. After today's win, Manuel holds a 7-0 record in singles play this dual season. Planelles Ripoll grabbed the final point in both matches today, taking a 6-2, 6-2 victory.
The Razorbacks return to Billingsley Tennis Center on Friday, Feb. 10 as they face Washington at 6 p.m. CT, for their fourth straight home match.
For the latest information on all things Arkansas Men's Tennis, follow the Hogs on social media by liking us on Facebook (Arkansas Razorback Men's Tennis) and following us on Twitter and Instagram (@RazorbackMTEN).