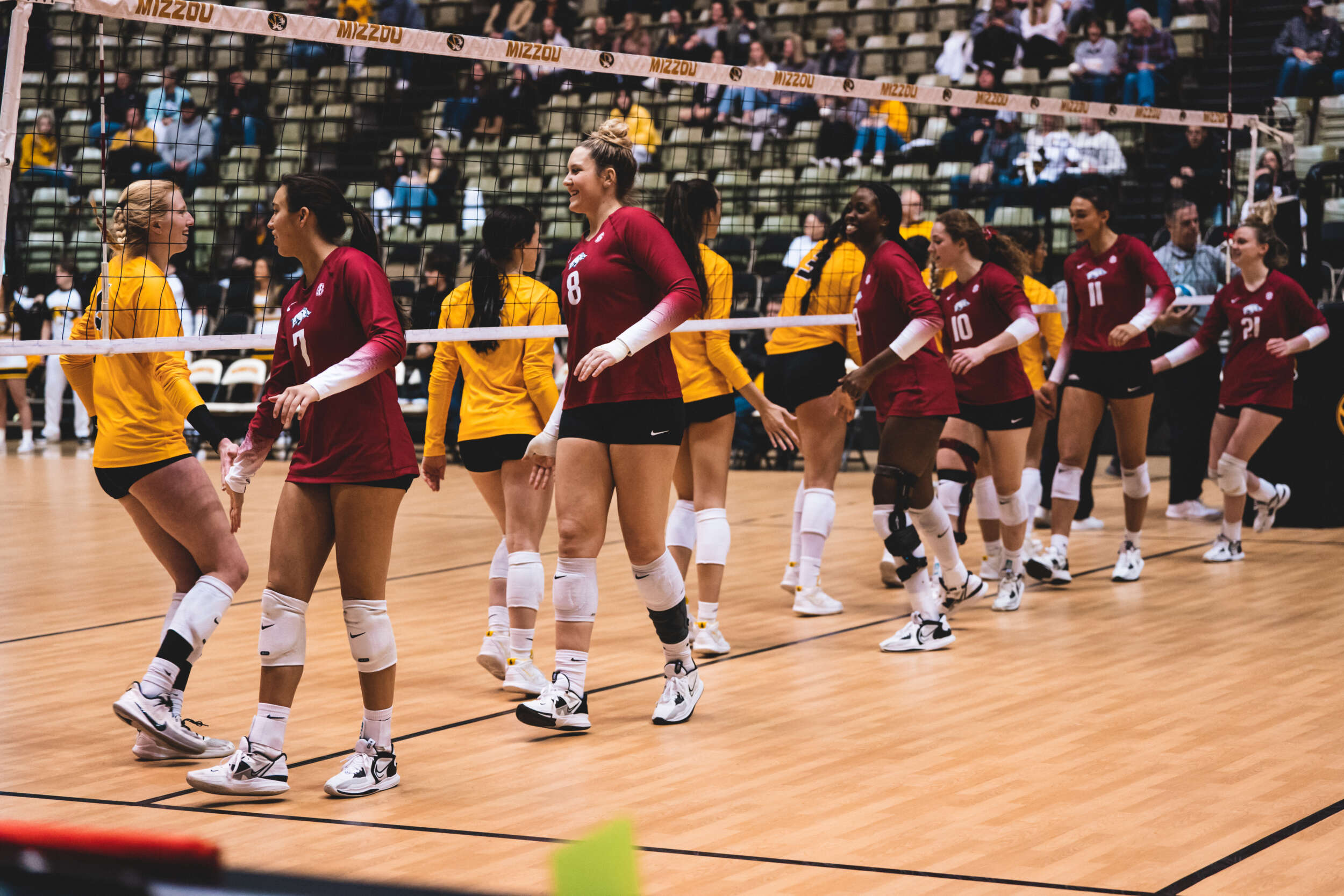 Hogs Sweep Tigers, Watson Gets 100th Win
In their first match in 10 days, the Razorbacks came out with a vengeance and made quick work of the Missouri Tigers with a sweep, the team's first-ever win in Columbia.
The victory put Arkansas at 16-8 on the season overall and 7-7 in SEC play. It was also head coach Jason Watson's 100th in his time at Arkansas and 300th in his career.
Junior Taylor Head led the offense with 10 kills, and senior Jill Gillen had nine. For the first time this season, graduate Gracie Ryan served as a solo setter all match and registered 24 assists. Ryan also had eight digs, an ace and a season-high three kills on three attempts for a perfect 1.000 hitting percentage.
Arkansas posted double-digit blocks for the 12th time this season with 11. Graduate middle Tatum Shipes had a team-high six on the night, and Abigail Archibong made her return after missing four matches due to injury and added four. Gillen and fellow senior Maggie Cartwright also contributed four, Gillen with one solo.
Set 1
The Hogs used three separate three-point runs early in the match and broke out to an 11-6 lead, which sent the Tigers to a timeout. Arkansas stayed vigilant and limited Missouri to no more than two points at a time, while the Hogs strung together a six-point run, which included back-to-back aces from Head, and went up by 11 at 23-12. A kill by Gillen brought it to set point and while Mizzou answered, Abigail Archibong closed out the first with a kill, 25-14 for Arkansas.
Set 2
Gillen kicked the second set off with a historic ace. The 128th in her career, the serve officially put her in the program top five all-time. The set was close from there with six ties, but the Hogs put up a three-point run to regain the lead. The Tigers then went on a three-point streak of their own which tied it at 11-11, but Arkansas got three of the next four for a 15-12 edge at the media timeout. The Hogs kept their foot on the gas and scored 10 unanswered by the end of the run for a 22-12 advantage. The Tigers clawed their way back and added seven straight points, but they were too late. They foiled set point three times, but a service error put the second in Arkansas' hands, 25-22.
Set 3
The Tigers shifted the momentum in the third set and led early, but the Razorbacks went on a four-point run capped off by an ace from Ryan, which put Arkansas up 10-8. The Tigers regrouped with a timeout and traded points with the Hogs, but three straight, including an ace from Hannah Hogue, made it 17-11 in favor of the visiting team. Missouri called time again and cut the lead to five, but a kill from Shipes pushed Arkansas to 20 points and a comeback out of reach for the Tigers. They made it to 16, but three unanswered from the Hogs and a Mizzou ball handling error finished it for the Hogs and secured the sweep.
Up Next
The Razorbacks return home this weekend for their final matches at Barnhill Arena in 2022. The Hogs take on the Alabama Crimson Tide at noon on Saturday and 3 p.m. on Sunday. Saturday's match will serve as Women's Empowerment Day, and Sunday's will be Senior Day. The series finale on Sunday will be streamed live on SEC Network Plus.
More Information
Visit ArkansasRazorbacks.com for the latest information on all things Arkansas Volleyball. You can also find the Hogs on social media by liking us on Facebook (Arkansas Razorback Volleyball) and following us on Twitter and Instagram (@RazorbackVB).