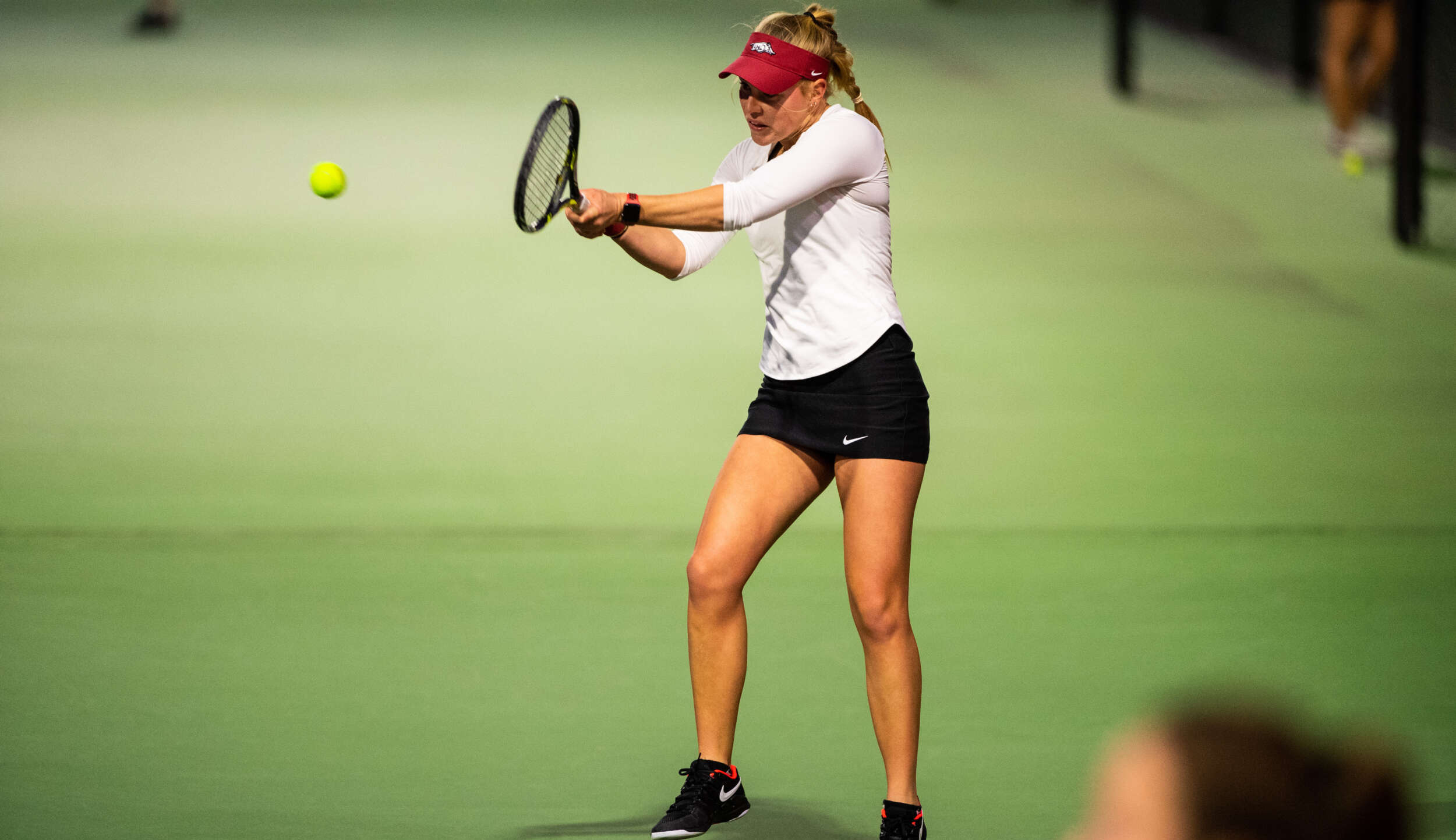 Hogs take down Tigers on road
COLUMBIA, Mo. – Registering its second win in SEC play, the No. 49 Arkansas women's tennis team (7-4,2-1) posted a convincing 4-1 victory on Sunday afternoon at the Mizzou Tennis Complex over Missouri.
Martina Zerulo, Lauren Alter and Kelly Keller all collected singles victories to wrap up the match after the Razorbacks claimed the doubles point.
DOUBLES
The match began with a highly contested doubles point that went in favor of the Razorbacks. The No. 35 duo of Alter and Tatum Rice cruised to a 6-2 victory over Ellie Wright and Elys Ventura. Arkansas' No. 3 paring of Rijkers and Thea Rice dropped their match in a tie break of 7-5 against Marta Oliveira and Vivien Abraham leaving the doubles point up to court two. Zerulo and Jackie Carr clinched the doubles point in a timely manner with a 6-4 victory, putting the Razorbacks on the board heading into singles play.
SINGLES
The same focus Arkansas showed in doubles, was evident in singles beginning with Zerulo. The junior opened singles play, scoring an impressive 7-5, 6-3 decision, dispatching Wright in the No. 1 position. The victory makes the Manfredonia, Italy, native 2-0 in SEC play. The Hogs took a 3-0 lead after freshman Kelly Keller won by forfeit in the No. 5 position. Carr suffered a 6-2, 6-3 loss to Oliveira on court three, giving the Tigers their first and only point.
With Tatum Rice battling in the No. 2 position, Alter on court four and Rijkers on court six, Arkansas needed just one more win to clinch it. After winning the first set 6-3, Alter dropped a hard-fought 6-7(6-8) decision to Mizzou's Abraham in the second set. It all came down to the third set, where Alter came out victorious clinching the match for the Razorbacks with a 6-3, 6-7(6-8), 6-3 win.
Tatum Rice and Laura Rijkers saw their matches go unfinished in the third set.
UP NEXT
The Hogs return to the Hill for a two-match thriller, taking on No. 17 Vanderbilt Friday and No. 34 Kentucky on Sunday at the Billingsley Tennis center. Friday's match against Vanderbilt is set for 5 p.m. and first serve for Sunday's match against the Wildcats is set for noon.
Arkansas Razorbacks 4, Mizzou 1
Singles competition
1. Martina Zerulo (ARK) def. Ellie Wright (MIZ) 7-5, 6-3
2. Serena Nash (MIZ) vs. Tatum Rice (ARK) 1-6, 7-6 (7-3), 3-4, unfinished
3. Marta Oliveira (MIZ) def. Jackie Carr (ARK) 6-2, 6-3
4. Lauren Alter (ARK) def. Vivien Abraham (MIZ) 6-3, 6-7 (6-8), 6-3
5. Kelly Keller (ARK) def. No player (MIZ), by forfeit
6. Elys Ventura (MIZ) vs. Laura Rijkers (ARK) 5-7, 7-6 (7-4), 0-2, unfinished
Doubles competition
1. #35 Lauren Alter/Tatum Rice (ARK) def. Ellie Wright/Elys Ventura (MIZ) 6-2
2. Martina Zerulo/Jackie Carr (ARK) def. Gabrielle Goldin/Serena Nash (MIZ) 6-4
3. Marta Oliveira/Vivien Abraham (MIZ) def. Laura Rijkers/Thea Rice (ARK) 7-5
Match Notes:
Arkansas Razorbacks 7-4
Mizzou 8-7
Order of finish: Doubles (1,3,2); Singles (5,3,1,4)