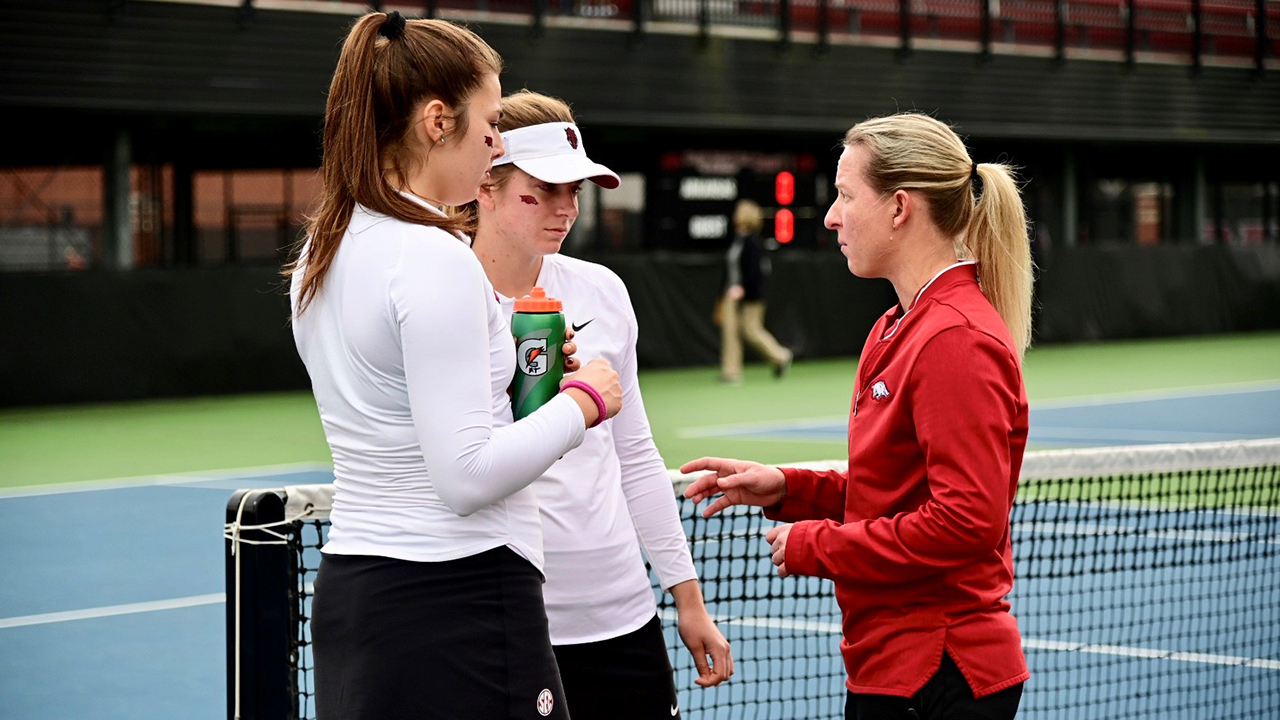 Hogs to Close Out Home Stretch
FAYETTEVILLE, Ark.- The No. 46 Arkansas women's tennis team will close out a five-match homestand this weekend as it hosts No. 21 LSU and No. 11 Texas A&M at the Billingsley Tennis Center.
The Razorbacks are coming off a 4-3 victory over Missouri in a thriller last weekend in their first SEC win of the season. The team opened the match with a hot start, going up 3-1 through doubles play and three singles matches. Martina Zerulo clinched the match at the No. 1 position, defeating then-No. 97 Mackenzy Middlebrooks in the tiebreaker set.
Zerulo's performance against the Tigers and a 6-2, 6-3 defeat of then-No. 12 Ida Jarlskog of Florida two weeks ago earned her a No. 115 ITA ranking. No. 79 Tatum Rice moved up 19 spots in the ITA rankings following a 6-2, 6-2 victory over then-No. 43 MacCartney Kessler of Florida.
The team re-entered the rankings after the victory over Missouri, once again cracking the top-50 to come in at No. 46. The Hogs are 43-38 overall in singles play, with Rice leading the team at 9-4.
LSU is 12-6 (2-4 SEC) this season and will bring a four-match losing streak to the Hill. This will be the 41st meeting between the teams, with the Tigers holding a 22-18 series advantage.
Texas A&M is 16-3 (4-2 SEC), winning its last two matches and facing Missouri Friday afternoon before traveling to Fayetteville, Ark. This will be the 23rd meeting between the two teams, with the Aggies holding a 13-9 series advantage.
First serve against the Tigers is set for 5 p.m. Friday afternoon, while first serve against the Aggies is slated for 1 p.m. Sunday afternoon.
For more information on Razorback women's tennis, follow @RazorbackWTEN on Twitter.