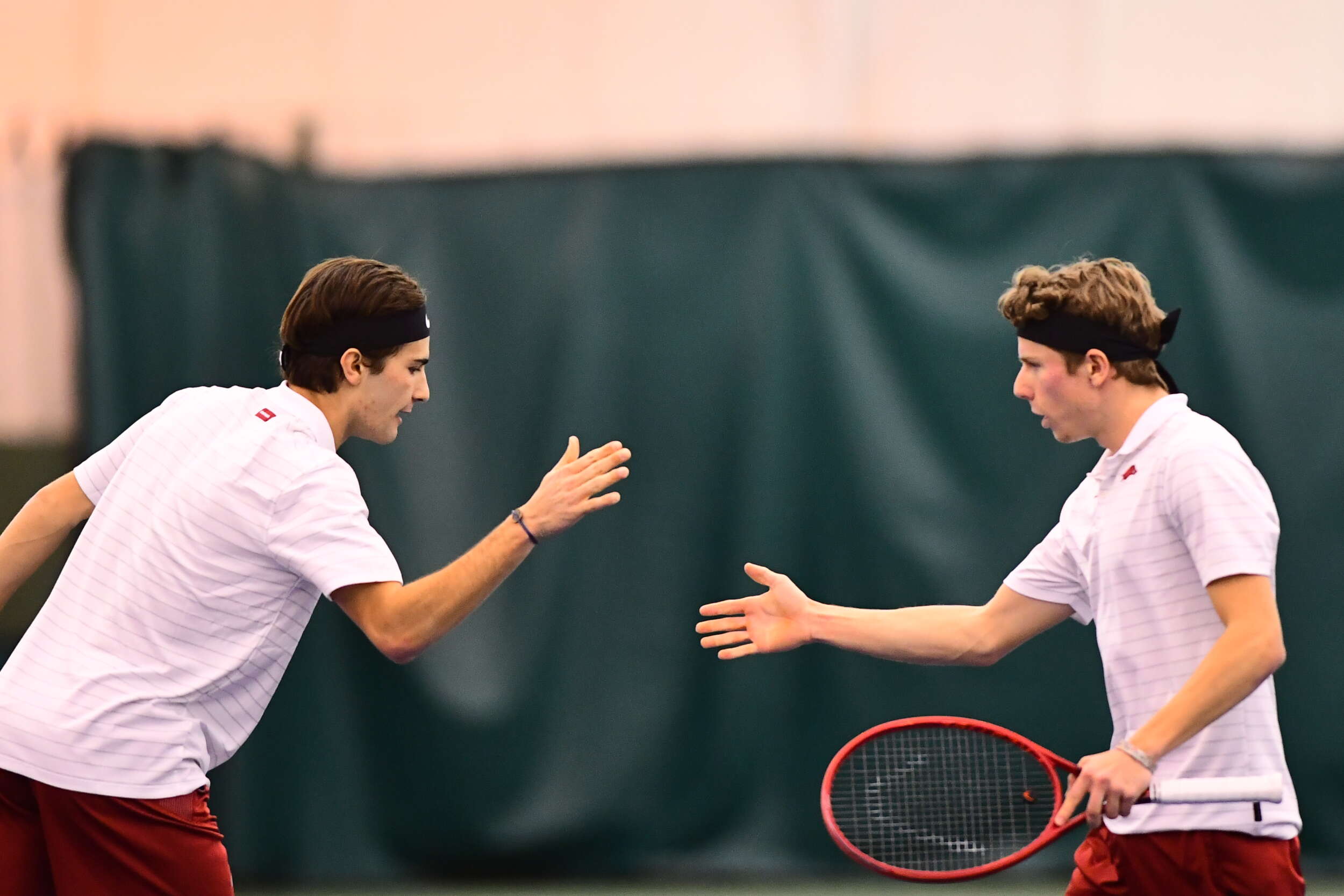 Hogs Win in Matchup With ORU, Fall to UCF, in Doubleheader
FAYETTEVILLE, Ark. – The Arkansas Men's Tennis team (9-4) split its doubleheader with UCF and Oral Roberts on Sunday, falling to UCF, 4-1, and taking down ORU, 7-0. Arkansas is now 8-1 at home, earning a 7-0 sweep in four of them.
"We are really proud of the effort and fight today," Head Coach Andy Jackson said. "Tennis, like most sports, heavily favors the team who plays better when it counts most. UCF to their credit was better." 
The Knights won a tightly-contested doubles point, as Razorbacks Hunter Harrison and Jake Sweeney won their match on court three after an Arkansas loss on court one to No. 30 Leyton Cronje and Bogdan Pavel, forcing a winner-take-all match on court two. The No. 47 doubles duo in the country, Arkansas' Adrien Burdet and Melvin Manuel, came back from down 4-1 to send the match to a tiebreaker at 6-6, but ultimately could not get the win. 
Manuel was a highlight in singles for Arkansas against UCF, easing his way to a 6-2, 6-1 win over JC Roddick.
The Hogs were clinical in their second match of the day versus Oral Roberts.
Arkansas won the doubles point after Avery Zavala and Oscar Pinto clinched with a 6-4 win on court one. Then in singles, the Razorbacks took five of six matches in straight sets, including No. 37 Aleksa Bucan's win on court three, winning 6-4, 6-4 in his return to the court. 
Next up for the Hogs is the start of SEC play, which will begin with a road match on Friday in College Station, Texas, when the Hogs take on No. 18 Texas A&M.
"We are eager to improve and look forward to going to Texas A&M on Friday," Jackson said.
The Razorbacks and Aggies will play Friday night at 6 p.m. CT.