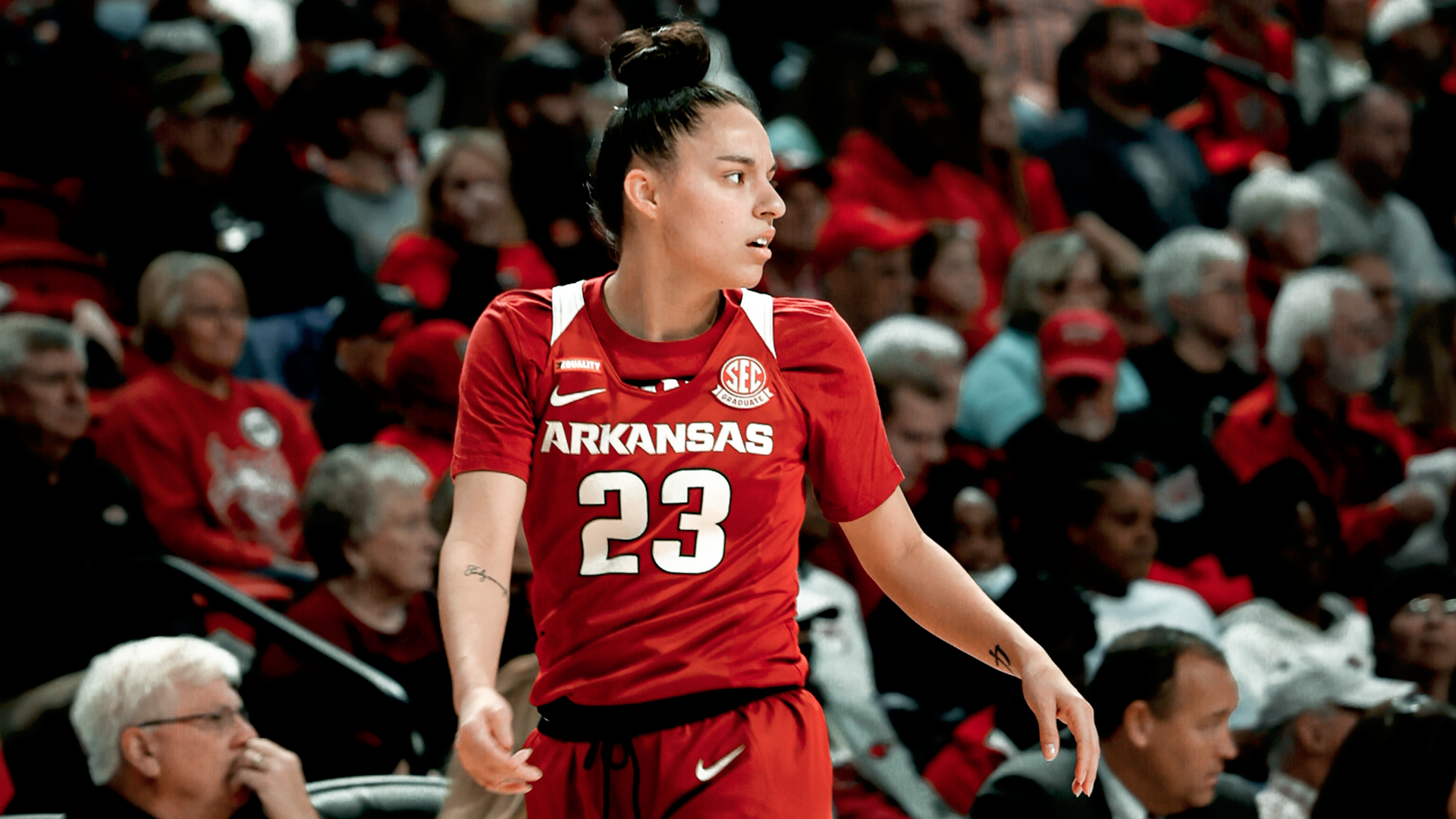 Hogs Win Natural State Showdown, Beat Arkansas State, 94-71
JONESBORO, Ark. – Arkansas Women's Basketball (3-1) won what turned into a chippy affair inside First National Bank Arena on Friday night, as Head Coach Mike Neighbors' Hogs took down Arkansas State (2-2), 94-71. The Hogs were efficient all night long, dropping in 94 points, their second game this season scoring 90+, shot the ball at a fifty percent clip, and only turned it over 11 times.
Junior guard Makayla Daniels did it all against the Red Wolves, pouring in a season-high 22 points on 8-13 shooting. Daniels was also a force on the boards from her lead guard spot, pulling down eight rebounds, a team-high. Fellow point guard Samara Spencer kept her stellar freshman campaign rolling, dropping in 16 points on 6-11 from the field.
TURNING POINT
Arkansas State used its home crowd early, jumping out to a quick 12-6 lead. The Razorbacks would respond though, led by Daniels, who would finish the first period with 10 points and three rebounds. From that point on, the Hogs would outscore the Red Wolves 22-8, and end the first frame up 28-20.
While the Red Wolves would keep it close for the remainder of the first half, Neighbors' crew blew it open in the third quarter, winning the frame 25-18. By the time the fourth period rolled around, the Hogs held a commanding 18-point advantage.
HOG HIGHLIGHTS
Daniels' all-around ability shined in this one, as she added five assists and a steal to her 22-point eight-rebound performance.
Spencer has now scored 10 or more points in three of her four collegiate games played, and her 16 against A-State represented a new career-high.
Amber Ramirez got into double-figures for the third straight game, going for 13 points.
Marquesha Davis once again provided a jolt off the bench, going for 10 points and three steals.
Rylee Langerman was great in this one, going for eight points, six boards, three assists and three steals.
Emrie Ellis threw a block party once again, rejecting four shots, her second game this season with 4 or more.
NEXT TIME OUT
Arkansas heads home, where they will meet the Mustangs of SMU on Monday, Nov. 22. That game will tip at 7 p.m. CT, and can be streamed on SEC Network+
For more information about Arkansas Women's Basketball, follow us on Twitter and Instagram at @RazorbackWBB and on Facebook at Facebook.com/RazorbackWBB. Be sure to subscribe to our YouTube Channel, "Kickin' It In The Neighborhood" for an inside look at the Razorback women's basketball program and check out The Neighborhood podcasts at CoachNeighbors.com.