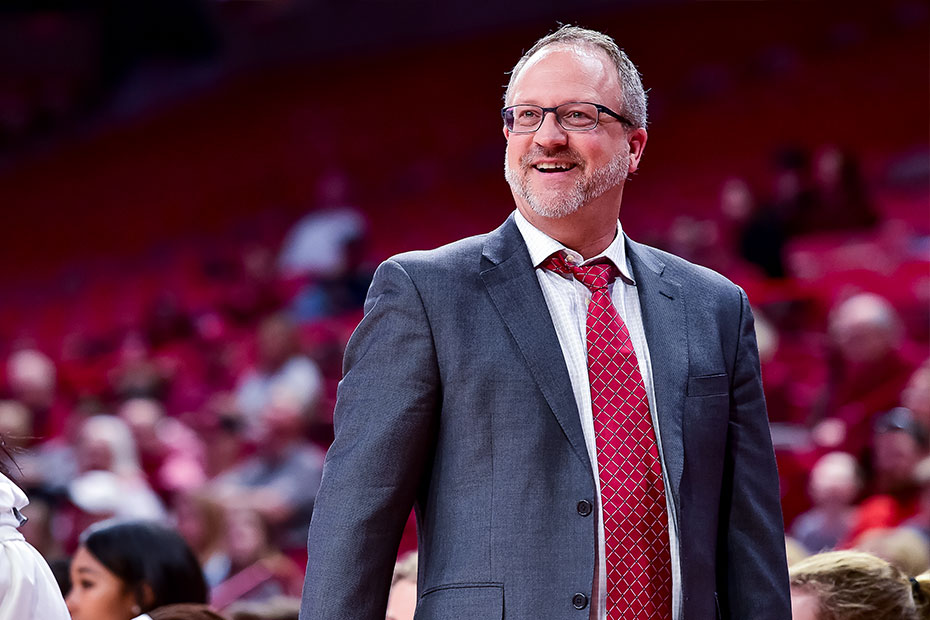 Hughes Joins Razorbacks In The Fall
FAYETTEVILLE, Ark. – University of Arkansas women's basketball coach Mike Neighbors announced the addition of Avery Hughes as a preferred walk-on on Thursday.
Hughes, a 5-7 guard from Bentonville High School in Bentonville, Arkansas, helped the Tigers to a 27-4 record and a 13-1 mark in conference play this year. Hughes was a varsity team member as a freshman and completed her Tiger career scoring more than 1,000 career points.
She finished her career as Bentonville's second leading scorer and set single game records for points (34) and free throws (20-for-22). Hughes is a two-time all-conference and all-state selection leading Bentonville to the 2019 conference title and a state runner-up finish Her honors include All-Arkansas second-team, All-Northwest Arkansas first-team, Gatorade Player of the Week, two KURM Dream Team selections and team captain honors as a senior.
Hughes is the first walk-on for Neighbors and his staff at Arkansas and he is quick to compare her to the success story of Alexus Atchley, a former player he worked with at Washington. Atchely joined the Huskies averaging just 4.4 minutes per game in her first season. She progressed through Neighbors' system, became a team captain and started the final 21 games, including in the Final Four, of her senior season.
In addition to her success on the court, Hughes is a four-year letterwinner in track and earned four all-conference honors. She paced the Tigers to the 2018 outdoor conference title.
Hughes has a 4.2 grade point average, plans to major in biology at Arkansas and to pursue a career as a physician's assistant.
From Avery Hughes
I've dreamed of being a Razorback my whole life and I cannot wait to make Fayetteville my new home. Thanks to Coach Neighbors and his staff. I'm so excited for this new journey. Go Hogs!!!
From Coach Neighbors
When we talk to potential walk-on prospects, we paint the bleakest, joyless image of what Division I basketball could be like. At that point, 99% of potential student-athletes do not pursue it. Avery Hughes is the rare 1% who says, "Bring it on, Coach!" She is among the 1% who understand that is supposed to be hard, but that it will be worth it. Avery is among the 1% of Arkansas high school players who turn down scholarship offers to be a Razorback.
Avery is our first invited walk-on for a reason. She is setting the standard for future Arkansas high school players to understand what it takes on and off the court to be considered for this opportunity.
More Information
For more information about Arkansas women's basketball, follow us on Twitter and Instagram at @RazorbackWBB and on Facebook at Facebook.com/RazorbackWBB. Be sure to subscribe to our YouTube Channel, "Kickin' It In The Neighborhood" for an inside look at the Razorback women's basketball program and check out The Neighborhood podcasts at CoachNeighbors.com.