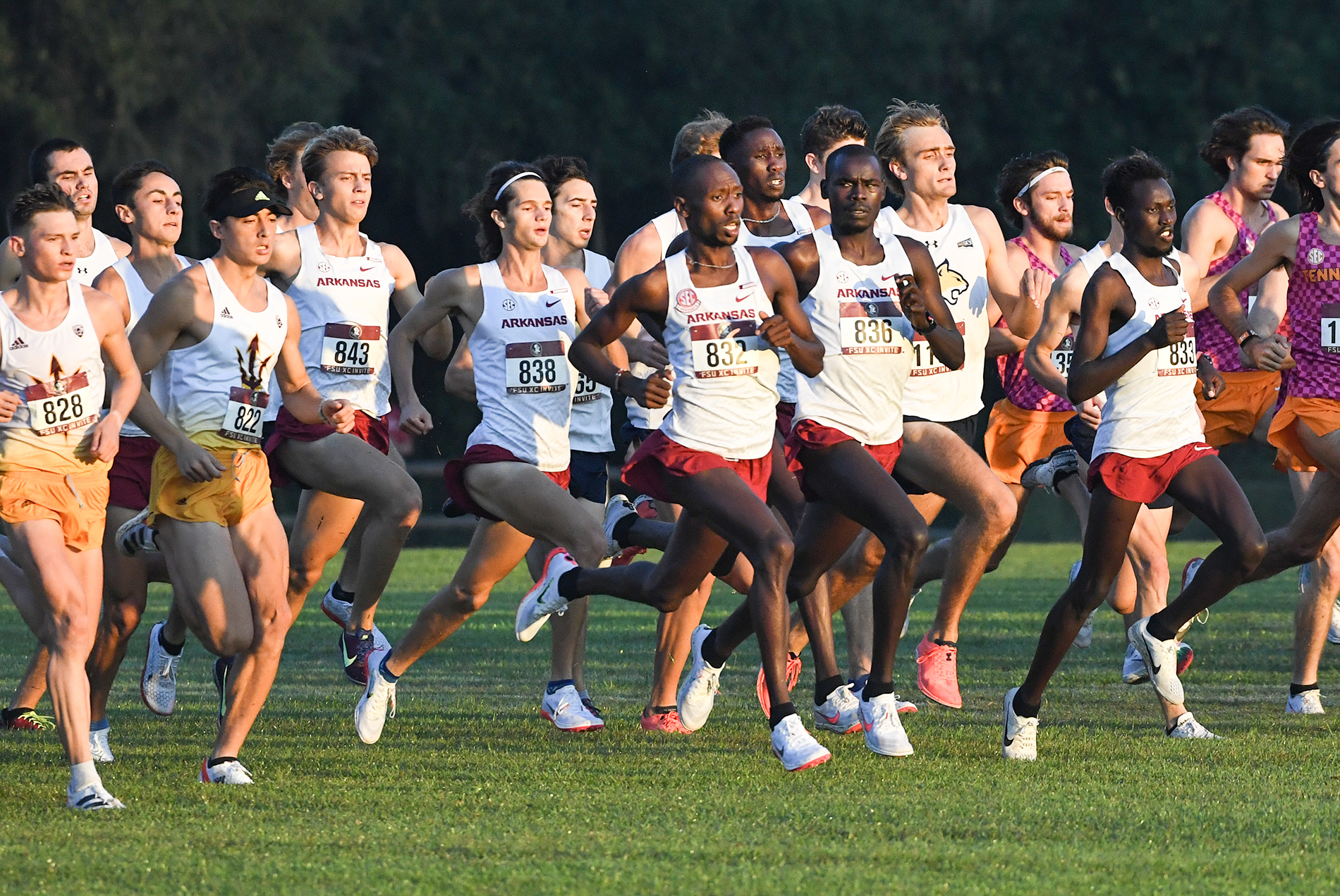 Impressive effort places Arkansas third in Pre-National Invitational
TALLAHASSEE, Fla. – A strong performance by the No. 8 Arkansas men powered the Razorbacks to a third-place finish in the Florida State Pre-National Invitational held on Friday. The same site will host the NCAA Championships in November.
"We finished in third place running against some really good schools and the kids ran well," stated Arkansas men's head coach Chris Bucknam. "They feel good right now, recovering well from the race, so that's a good sign of our fitness. There's more in the tank.
"The kids wanted to prove something today, that they are a contender, and I think they did that. It was a good test for us, and we will just move on and get ready for the SEC Championships."
Arkansas totaled 128 points in the meet, which featured a dozen nationally-ranked teams, matching the total by runner-up Colorado, who held a 3-2 edge in the tie-breaker among the finish by the first five runners of each team.
No. 7 Colorado tallied the following positions (7-23-24-36-38) compared the order for Arkansas (10-16-27-31-44).
No. 1 Northern Arizona, the defending national champions, won the team title over a field of 40 schools with 64 points. BYU's Conner Mantz claimed the individua title in 22:47.0 while the No. 5 Cougars placed fourth in team scoring with 131 points with No. 2 Notre Dame in fifth at 203 points.
Leading the Razorback charge was Amon Kemboi, who finished 10th overall with a time of 23:13.1 on the 8,000m course at Apalachee Regional Park.
"It was a nice race, being third we earned that today and we should be ready when we come back for nationals," said Kemboi. "We should be able to improve on this performance. I think we have it in our team to do so.
"The start was a bit of a change from the Boston race to here, we got out much faster and were in a better position. I felt I should have been with the lead pack more, but I was in a good spot for most of the race. I felt like I had a good race today. When we come back, I'll be ready for that 10k."
Following Kemboi to compile the Arkansas team score were Gilbert Boit, who placed 16th in 23:22.7; Andrew Kibet, 27th in 23:28.0; Emmanuel Cheboson, 31st in 23:29.9; and Myles Richter, 44th in 23:47.3.
Also racing for the Razorbacks, finishing sixth and seventh among the team, were Jacob McLeod and Elias Schreml. McLeod placed 47th (23:49.6) while Schreml finished 108th (24:18.3) in his debut in an Arkansas uniform among a field of 304 runners.
"All of our guys did an outstanding job from where they are at individually," said Bucknam. "Myles, Andrew and Emmanuel all have made huge improvements from last year to this year.
"Generally speaking, we may have went out too hot at the start. They're confident and want to run fast, but I thought we may need to temper that a little bit. I know that we're getting really fit, so we don't need to charge out there and hope to hang on. It's all about what the field decides to do, and you have to go with the field."
Florida State | Pre-National Invitational
Teams: 1. Northern Arizona 64, 2. Colorado 128, 3. Arkansas 128, 4. BYU 131, 5. Notre Dame 203, 6. Texas 233, 7. Princeton 271, 8. Florida State 281, 9. Alabama 325, 10. Georgetown 331. 11. Mississippi 349, 12. Montana State 364, 13. Duke 367, 14. California Baptist 376, 15. Wake Forest 401.