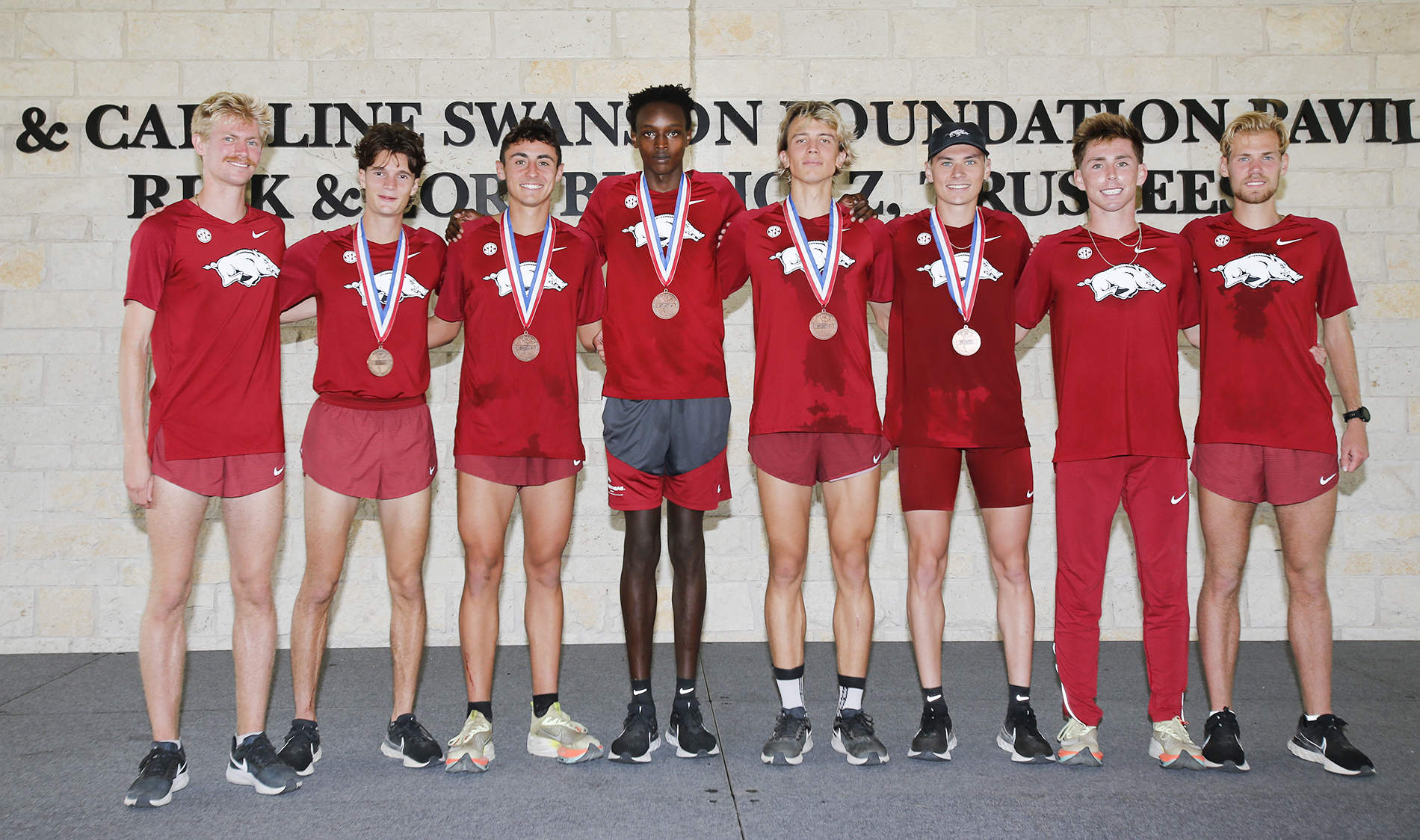 Individual win by Patrick Kiprop as Razorbacks capture South Central title
COLLEGE STATION, Texas – Arkansas sophomore Patrick Kiprop bettered the NCAA South Central Region field with a winning time of 30 minutes, 4.9 seconds, over a 10,000m distance Friday morning on the Dale Watts Course.
"The race was good, and the target was to stick with the team," said Kiprop, who lead the field by one second near the 8k mark and expanded it to 15 seconds by the finish. "During the last part of the race I tried stretch out the lead and win the race. We qualified the team for nationals with a win as well.
"Staying with the pack early in the race was a good idea. I was able to conserve my energy until the last part of the race."
The Razorbacks totaled 49 points for the team title off a 1-3-4-16-25 finish as Texas placed second in team scoring with 55 points from a 2-5-12-13-23 effort. Longhorn Isaac Alonzo finished second in 30:20.8, 15-plus seconds behind Kiprop.
"The guys followed the race plan perfectly," said Arkansas men's head coach Christ Bucknam. "We just wanted to get out there and get into a nice rhythm. The guys handled it really well. I'm pleased with their performance. We got the job done."
This marks the 11th consecutive appearance in the NCAA Championship field for the Razorbacks, who collected a pair of fourth-place finishes in the past two NCAA meets. It's also the 48th time for Arkansas to advance in the past 49 seasons, with 2011 the lone year breaking the consecutive streak over that span.
Overall, this marks the 52nd appearance by Arkansas in the NCAA Cross Country Championships since its first appearance in 1957.
Kiprop claimed the 22nd individual title by a Razorback and the first since 2014 when Stanley Kebenei was the victor. That total has been achieved by 18 Arkansas runners with a trio of Razorbacks getting double victories from Kebenei, Michael Power, and Godfrey Siamusiye.
Razorback Individual Winners | Arkansas (22)
2022 – Patrick Kiprop, 2014 – Stanley Kebenei, 2013 – Stanley Kebenei, 2009 – Dorian Ulrey, 2004 – Josphat Boit, 2002 – Alistair Cragg, 1999 – Michael Power, 1998 – Michael Power, 1997 – Ryan Wilson, 1996 – Godfrey Siamusiye, 1995 – Godfrey Siamusiye, 1994 – Jason Bunston, 1993 – Niall Bruton, 1992 – David Welsh, 1991 – Eric Henry, 1990 – Eric Henry, 1989 – Reuben Reina, 1985 – Chris Zinn, 1984 – Roland Reina, 1982 – Tony Leonard, 1980 – David Taylor, 1978 – Mark Muggleton.
"Patrick is going to do a good job in the national meet," stated Bucknam. "He's starting to get his legs underneath him after having a slow start in September. He's starting to feel good again."
Arkansas had two finishers among the top four in Elias Schreml and Jacob McLeod placing third and fourth with times of 30:28.4 and 30:29.7. Schreml moved up from 10th to third place over the final portion of the race.
"Elias is light years ahead of where he was last year in cross country," said Bucknam. "I'm really pleased with Elias, he's such a great competitor and loves to race. He's got a smile on his face all the time. He wants to challenge himself in cross country. That was his goal coming into this season.
"I was really pleased with Jacob, who was 10 times better than the conference meet. He just felt better and was breathing better."
Myles Richter placed 16th as the fourth Razorback in the field, clocking 31:13.4. Then Ryan Murphy claimed the fifth Arkansas position, finishing 25th in 31:34.4.
Josh Shearer placed 40th in 32:01.5 while Rueben Reina did not finish with around 200m left in the race.
"Rueben was in 10th or 11th place with 200m to go and I think the humidity and heat got to him," explained Bucknam. "He was unable to finish the race, or we probably drop another 10 or 12 points from there on our team score.
"I'm really happy with Rueben's performance, it was a breakthrough run for him even though he didn't finish. He was just a few meters away. That's a great sign going forward."
The rest of the top 10 in the team scoring included host Texas A&M (108), Arkansas State (228), Tulane (244), New Orleans (268), Baylor (286), Rice (288), Lamar (289), and Incarnate Word (314).