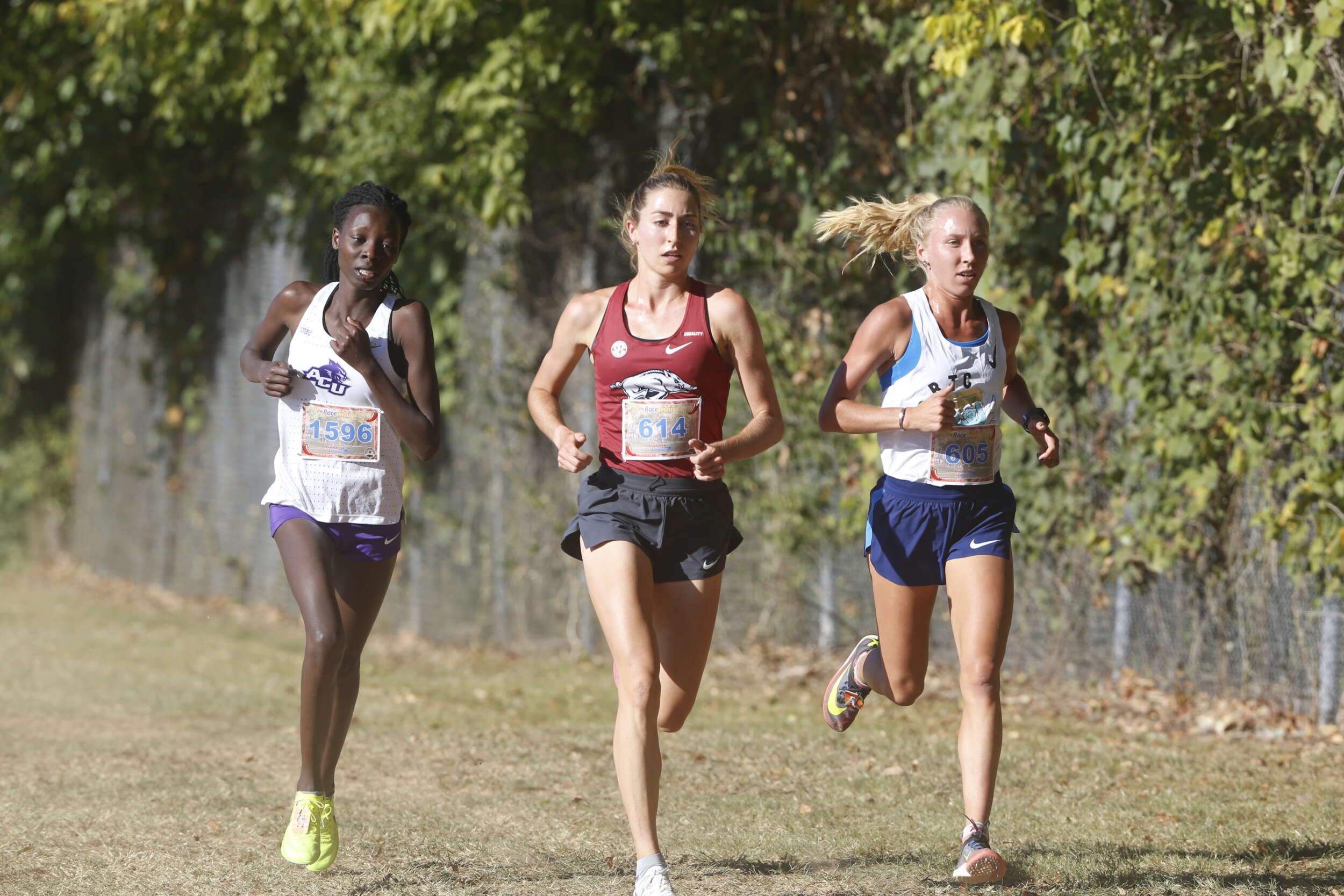 Isabel van Camp wins as Razorbacks claim 10th consecutive Chile Pepper title
FAYETTEVILLE – Razorback junior Isabel van Camp produced a winning time of 15 minutes, 58.0 seconds in the 34th annual Chile Pepper Festival 5,000m race at Agri Park, leading Arkansas to its 10th consecutive victory with a total of 27 points over a field of 31 teams on Friday afternoon.
"It always fun to run at home," said van Camp. "It's a great course, a great environment, and it's super fun to be out here with teammates."
Arkansas' winning total came off a team finish of places 1-2-5-8-10 while the sixth and seventh Razorbacks finished 14-17 in adjusted scoring. Finishing behind Arkansas were Southern Miss (123), Dallas Baptist (130), Oklahoma (152), and Kansas State (202) among the top five.
"Team-wise I think it went according to script," said Arkansas women's head coach Lance Harter. "I think we had a number of breakthroughs within our squad. We couldn't have asked for anything more."
In producing her best time on the Agri Park course, van Camp also demolished her previous 5k best of 17:16.6 from 2021 on the Missouri Gans Creek course. Previously, van Camp won the Chile Pepper high school division in 2018 in leading Keller to a team title.
"It feels special and it's a full circle moment," noted van Camp. "It definitely makes me feel very grateful for the opportunities I've had in high school and beyond.
"I know I made the right choice in coming to Arkansas. My life would have taken a different trajectory if I hadn't had the opportunity to come here. I'm very, very grateful. This is a very special place to be."
Running in tandem with van Camp throughout the race was Razorback Lauren Gregory, competing unattached since she has exhausted her cross country eligibility, but will compete for Arkansas during the 2023 track season.
"It's very special racing with Lauren," stated van Camp. "We went out to see if we could make it hurt. There wasn't a lot of expectations on time. It was more let's go out and see what we can do."
Gregory produced a time of 15:58.2 as the runner-up in the race, crushing her previous best on a 5k cross country course of 16:49.8 set at Notre Dame in 2017. In third place was Irene Rono of Abilene Christian in 16:19.1.
"It's a fantastic breakthrough and a tribute to Isabel's and Lauren's training," said Harter. "It's nice they could go together and help each other out.
"The young lady who was in third is a very formidable foe, and we'll see her again at regionals, so it was nice we were able to take advantage of that opportunity."
Gregory added: "Today was really fun. I love Chile Pepper. This was only my second Chile Pepper to race. I've run out here so many times during practice, but it's always fun to feel the energy of a race out here.
"To have Isabel next to me is such a calming presence. Especially when you run with her every day in practice and almost every race during track season. So, it just feels you're working out there together."
A trio of freshmen claimed the next three positions in the race. Razorback redshirt freshman Sydney Thorvaldson finished fourth in 16:32.0 as the top freshman in the field of 276 runners. The next frosh, placing fifth, was redshirt freshman Oliwia Wawrzyniak of Southern Miss in 16:34.8, while Arkansas' true freshman Mia Cochran finished sixth in 16:36.7.
The next two Razorbacks to finish, completing the team score for Arkansas, were Taylor Ewert (16:57.0) and Mary Ellen Eudaly (16:58.0), as they placed 12th and 14th. Then Gracie Hyde placed 18th in 17:13.3 as Nyah Hernandez (17:19.5) and Adoette Vaughan (17:20.9) were 21st and 22nd.
Also racing for Arkansas were Heidi Nielson (38th | 17:34.3) and Mackenzie Rogers (75th | 18:05.9). Claire McCune, competing unattached, finished 11th in the race with a 16:49.5.
Team scores: 1. Arkansas (No. 13 ranking), 27; 2. Southern Miss, 123; 3. Dallas Baptist (No. 27 Div. II), 130; 4. Oklahoma, 152; 5. Kansas State, 202; 6. Nebraska-Kearney, 216; 7. CSU-Pueblo, 242; 8. Abilene Christian, 297; 9. Belmont, 313; 10. Arkansas State, 325.