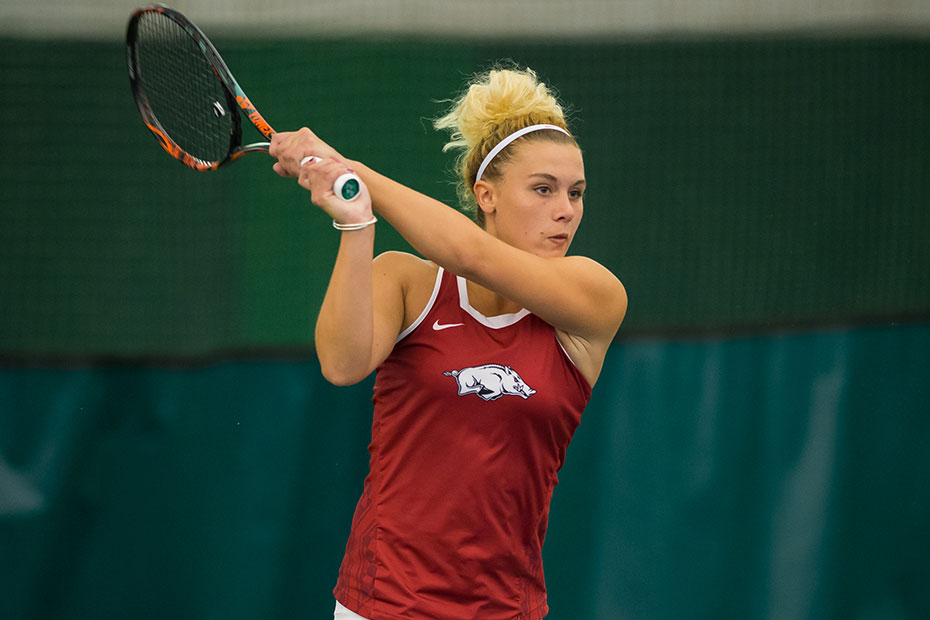 ITA Kick-Off Weekend Up Next
COLUMBUS, Ohio. – Fresh off a season-opening win, No. 18 Arkansas will travel to Columbus for the 10th annual Intercollegiate Tennis Association Kick-Off Weekend set for Friday and Saturday.
ITA Kick-Off Weekend will take place at 15 campus sites with four teams competing at each. The 15 schools that win both of their matches at these events will be invited to play in the Feb. 9-12 ITA National Team Indoor Championship hosted by the University of Wisconsin.
The Razorbacks, who will serve as the No. 2 seed in Columbus on Ohio State University's campus, will face No. 3 seed Wake Forest at noon CT Friday. Top seed and host No. 14 Ohio State will take on No. 4 seed Kansas. The two winners will advance to Saturday's championship match, while the two losing teams will square off in a consolation match.
Quotable
"We have a fantastic regional here in Columbus with four teams playing very well right now," head coach Michael Hegarty said. "I'm excited to see us continue to grow through the weekend."
Live Coverage
Fans can follow this weekend's matches through live scoring and video here.
The Series
The all-time series between Arkansas and Wake Forest is split 1-1. In the previous meeting, the Razorbacks defeated the Demon Deacons 4-0 in the first round of the 2008 NCAA Tournament.
Season-Opening Success
The Hogs beat Tulsa 4-3 on Tuesday in its season opener at George M. Billingsley Tennis Center. Arkansas won the doubles point, highlighted by a 7-5 comeback win from its 57th-ranked duo of senior Mia Jurasic and junior Ana Oparenovic, and posted singles victories at the No. 4, 5 and 6 spots.
SEC Preseason Poll
The Southeastern Conference announced the women's tennis coaches' preseason poll Wednesday. Arkansas was picked to finish sixth overall. The preseason poll is voted on by the women's tennis head coach at each institution and is based on a 14-13-12-11-10-9-8-7-6-5-4-3-2-1 vote. The SEC currently leads the nation with nine teams ranked in the top 25.
Team (Points)
1. Georgia (184)
2. Florida (174)
3. Vanderbilt (171)
4. South Carolina (140)
5. Auburn (138)
6. Arkansas (116)
7. Ole Miss (107)
8. LSU (101)
9. Kentucky (95)
10. Texas A&M (73)
11. Tennessee (61)
12. Mississippi State (47)
13. Alabama (34)
14. Missouri (16)
For more information on Arkansas Women's Tennis, follow @RazorbackWTEN on Twitter.