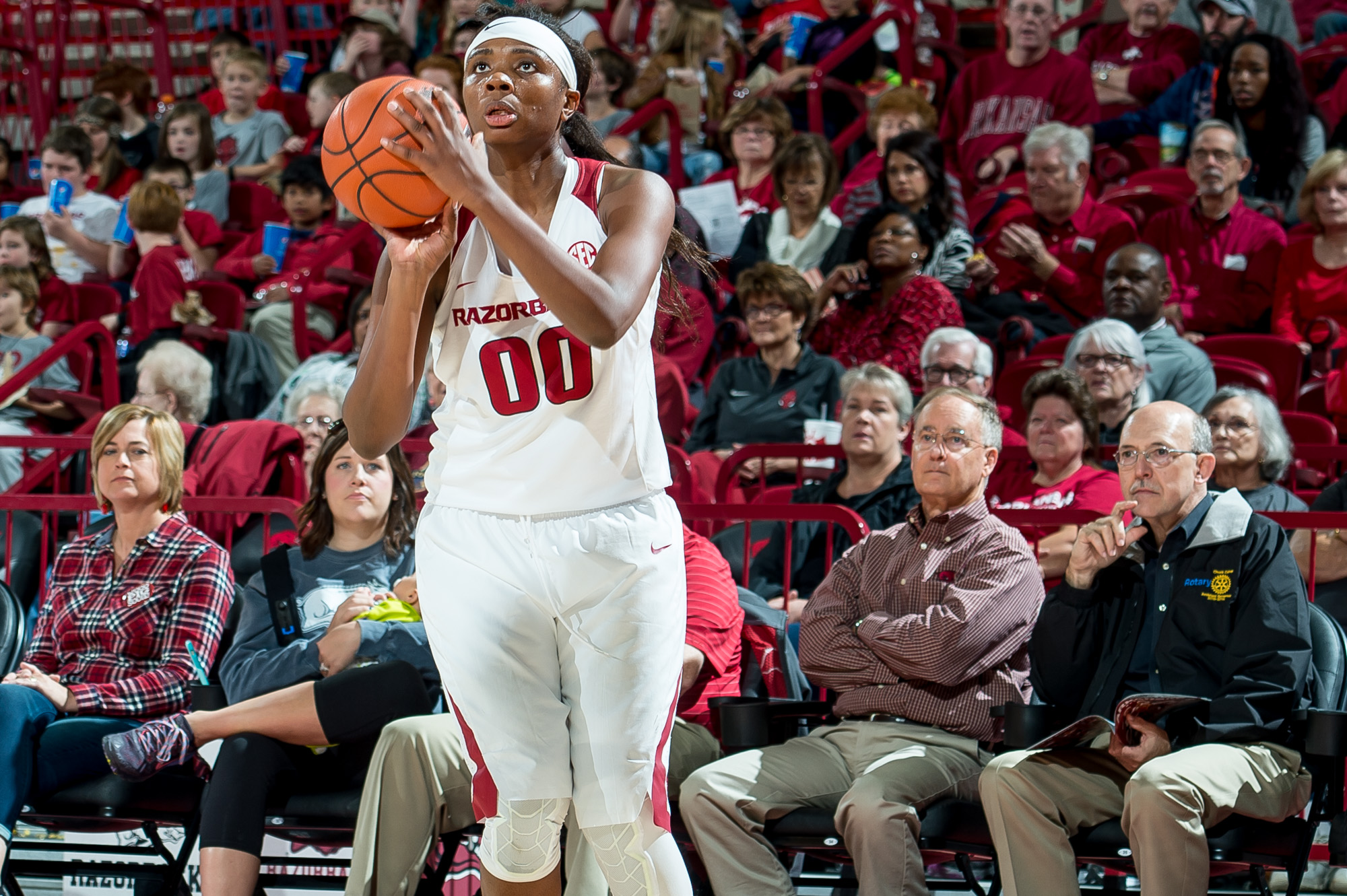 Jackson Has Fourth Consecutive 20+ Point Game
SAN JUAN, PUERTO RICO – University of Arkansas junior Jessica Jackson had 22 points but it wasn't enough as the Razorbacks (2-3) fell to Louisiana 67-59 in the San Juan Shootout in Puerto Rico Friday.
Junior Kelsey Brooks added 16 points unofficially and senior Melissa Wolff is believed to have been in double figures on the boards but a technically difficulty prevented the recording of stats for the game.
Arkansas opened the game with a solid and balanced effort with the first four baskets coming from four different players. The Razorbacks led the entire opening period and into the second before the Ragin' Cajuns took advantage of a couple Arkansas turnovers and tied the game at 36 in the second frame.
A see-saw battle followed with the teams trading leads until the fourth period. Arkansas led 50-46 going into the last stanza but a 21-9 run by Louisiana was the difference as the Razorbacks endured a cold spell shooting.
Jackson scored in double figures for the fifth consecutive game and had 20+ for the fourth consecutive contest this year. Brooks has scored in double figures in four of five this season.
The Razorbacks continue play in San Juan facing No. 7 Oregon State (3-0) who defeated Hofstra 73-58 in their first game of the tournament.
FROM JIMMY DYKES
This is a very disappointing loss. They are a very good team but you can't turn it over and expect to win. Jess did a good job inside but turnovers were the difference. Louisiana might be the best team in their conference and they played well today. We played well at times but we have to be able to play well for 40 minutes.
NOTES FOR #BeArkansas
Arkansas Starters: Kelsey Brooks, Jessica Jackson, Melissa Wolff, Jordan Danberry, Briunna Freeman
Arkansas won the tip
Arkansas led the entire first period until 7:52 in second period (17-19)
Louisiana hit a three at the halftime buzzer to lead 29-27 at the half
This is the first trip to the San Juan Shootout and to Puerto Rico for @RazorbackWBB
Jessica Jackson has opened the season with back-to-back double doubles and five consecutive games in double figures. She has four 20+-point games (SHSU, at SDSU, Tulsa, Louisiana).
Arkansas is 3-1 all-time against Louisiana including today's loss
Kelsey Brooks has scored in double digits in four of five game this year
The Razorbacks face No. 7 Oregon State Saturday at 1:30 p.m. as the San Juan Shootout continues
Arkansas is 1-1 all-time against the Beavers
For more information on Arkansas women's basketball, follow @RazorbackWBB on Twitter.