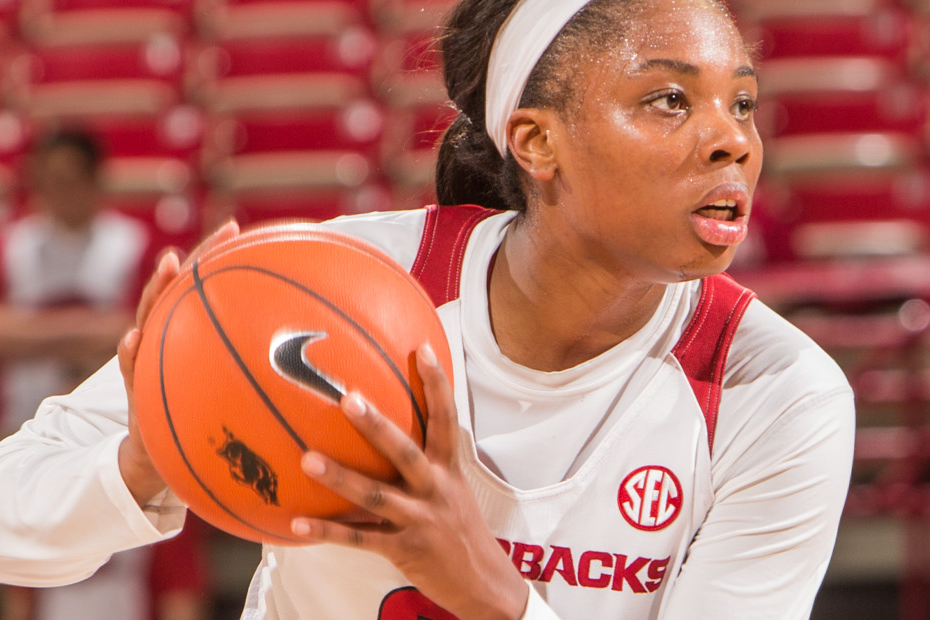 Jackson Leads Four Players in Double Figures
BOX SCORE
AUBURN, Ala. – The University of Arkansas had four players in double figures but dropped an overtime game at Auburn, 71-60, Sunday.
The Tigers (13-7, 3-4 SEC) full-court press was tough for Arkansas (9-11, 4-3 SEC) forcing a season-high 28 turnovers, including six in the overtime period. After being tied at the end of regulation, Auburn got three steals and outscored Arkansas 15-4 to get the win Sunday.
Arkansas had four starters in double figures at the end of regulation. Junior Jessica Jackson finished with 19 points and went 4-for-4 from the line. Sophomore Devin Cosper added a career-best 17 points and had nine rebounds while junior Kelsey Brooks and senior Melissa Wolff scored 10 each.
Neither team shot well early with both the Razorbacks and Tigers battling through long scoring droughts. Arkansas hit a two at the 5:50 mark of the first period and went 9:19 minutes stretching into the second period before they would score again.
Auburn went on a 10-2 run during that time and led by as many as seven but Arkansas redoubled its effort and scratched its way back into the game. Not typically a big three-point shooting team, the Razorbacks hit five triples in the first half and went 5-for-6 from the line taking a 26-24 lead into the locker room at the half. Freshman Keiryn Swenson took a charge and Arkansas forced a pair of Tiger shot clock violations in the second period.
An even 16-point third period was highlighted by a 4-for-4 performance from Wolff who kept Arkansas in the game.
The fourth frame saw the Tigers outscore Arkansas 16-14 and tie the game with under two minutes to play. Auburn grabbed a lead but Brooks hit a three to tie the contest and force the Razorbacks' first overtime game of the year.
NOTES
• Arkansas is 14-19 all-time against Auburn
o The loss snapped a two-game Arkansas win streak
• Arkansas had a season-high with 10 three-pointers
o 13 threes in an SEC game is a program record
• Arkansas had a season-high 28 turnovers
• Arkansas shot 35.1 percent on 20-for-57 from the floor
• The Razorbacks were 10-for-12 from the line
• Auburn out rebounded Arkansas 43-35 in the loss
PLAYER NOTES
• Arkansas Starters: Jessica Jackson, Kelsey Brooks, Devin Cosper, Melissa Wolff, Alecia Cooley
• Jessica Jackson had 10 points at the half – her second consecutive game with double figures at the break
o It is the third consecutive game the Razorbacks have had a player in double figures at the half
 Melissa Wolff vs. Missouri
o Jessica Jackson had two blocks in the game surpassing the 100 career block mark
• Devin Cosper had 10 points at the half
o It is the first time this year that two players have been in double figures at the first half
o It is the ninth time this year that Arkansas has had a player in double figures in the first half
o Arkansas is 5-4 when a player is in double digits in the first 20 minutes
• Cosper finished with 17 points and nine rebounds
• Melissa Wolff scored in double figures for the fifth time this year and 23rd time in her career
UP NEXT
Jan. 28 No. 22 Florida
Jan. 31 No. 10 Mississippi State
Feb. 4 at No. 18 Tennessee
Feb. 8 Vanderbilt
Feb. 14 at No. 23 Missouri
For more information on Arkansas women's basketball, follow @RazorbackWBB on Twitter.
— ArkansasRazorbacks.com || On Twitter @ArkRazorbacks || Facebook.com/ArkansasRazorbacks –