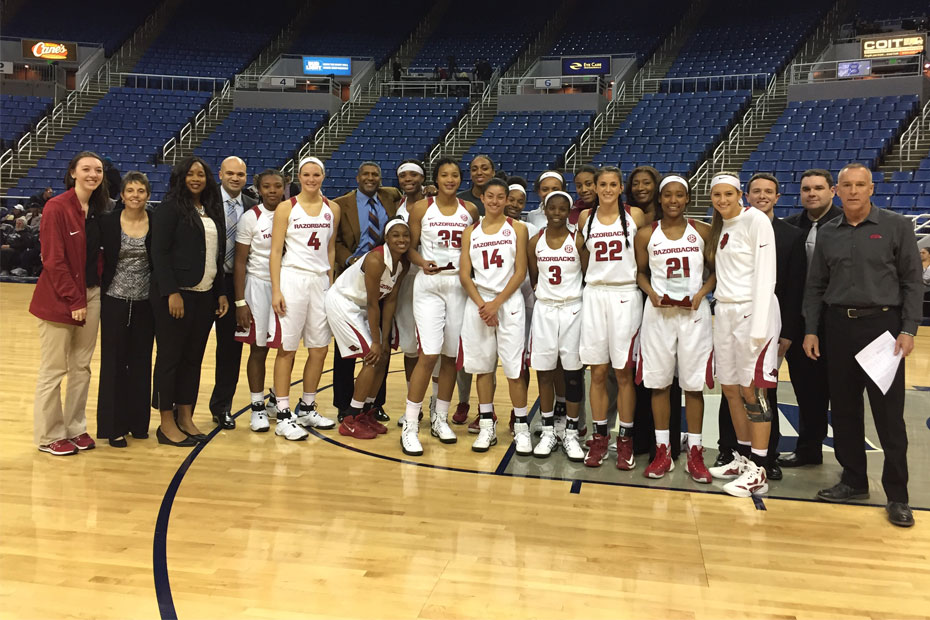 Jackson MVP; Arkansas Wins Nugget Classic
RENO, Nev. – University of Arkansas senior Jessica Jackson earned Nugget Classic MVP honors leading the Razorbacks to a 2-0 weekend with a thrilling win over Navy, 70-67, in the final game of the Nugget Classic
Arkansas, 6-0, suffered through a couple of scoring droughts and found themselves up just three with under a minute to play. Navy (3-2) grabbed a rebound off an Arkansas miss and called a quick timeout.
One of the best three-point shooting teams in the country, Arkansas knew Navy would look for the long shot to tie the game out of the timeout. The Midshipmen missed the three but grabbed the rebound with 10 seconds to go, calling another timeout.
Arkansas elected to foul out of the break and Navy missed both bonus shots as the Razorbacks held on for the win.
Jackson finished with 17 points, her sixth consecutive double figure scoring game. Keiryn Swenson added a career-best 16 points and Briunna Freeman had a career-best 13 points. Alecia Cooley was also selected to the Nugget Classic All-Tournament team.
Key Run: 9-0
Arkansas went on a 9-0 run over a span of 2:20 in the second quarter to open a 10-point lead over Navy. That lead was the catalyst to the victory as Arkansas would never trail from that point on.
Key Stat – 5-for-20
Arkansas held Navy to 5-for-20 from the 3-point line, as the Midshipmen made just 25% – well below their season mark of 43.6% that ranks sixth in the nation.
Notable
• Arkansas has used the same starting five for every game: Malica Monk, Jailyn Mason, Jessica Jackson, Bailey Zimmerman and Alecia Cooley.
• This is the first meeting between Arkansas and Navy.
• Arkansas is off to a 6-0 start for the second time in the three seasons under head coach Jimmy Dykes. The Razorbacks won the first six games to start the 2014-15 season.
• Arkansas is 99-44 all-time in in-season tournaments and 28-21 in the final game of a tournament.
• Jessica Jackson has scored in double figures in each of the first six games this season.
• Jessica Jackson has scored in double figures in the first half twice this year including 14 points against Navy.
• Briunna Freeman scored a career-high 13 off the bench.
• Keiryn Swenson scored a career-high 16 points going 7-for-12 and playing 34 minutes.
• Arkansas has led for 223.10 of the 240:00 minutes played this season. Arkansas has been tied for just 6:06 and has trailed for just 10:11.
Quotable – From Jimmy Dykes
I'm pleased. They come in making 10 three-pointers a game and we held them to five for the game. That was the difference in the game.
Up Next
The Razorbacks remain on the road next week traveling to Tulsa Nov. 30. Arkansas returns to Bud Walton Arena on Saturday, Dec. 3 hosting Texas Tech as part of the SEC/Big 12 Challenge at 3 p.m.
To order tickets for the 2016-17 home season, click here or call the Razorback Ticket Center at 800-982-HOGS (4647) or 479-575-5151. Fans can email the Razorback Ticket Center at raztk@uark.edu.
For more information on Arkansas women's basketball, follow @RazorbackWBB on Twitter.