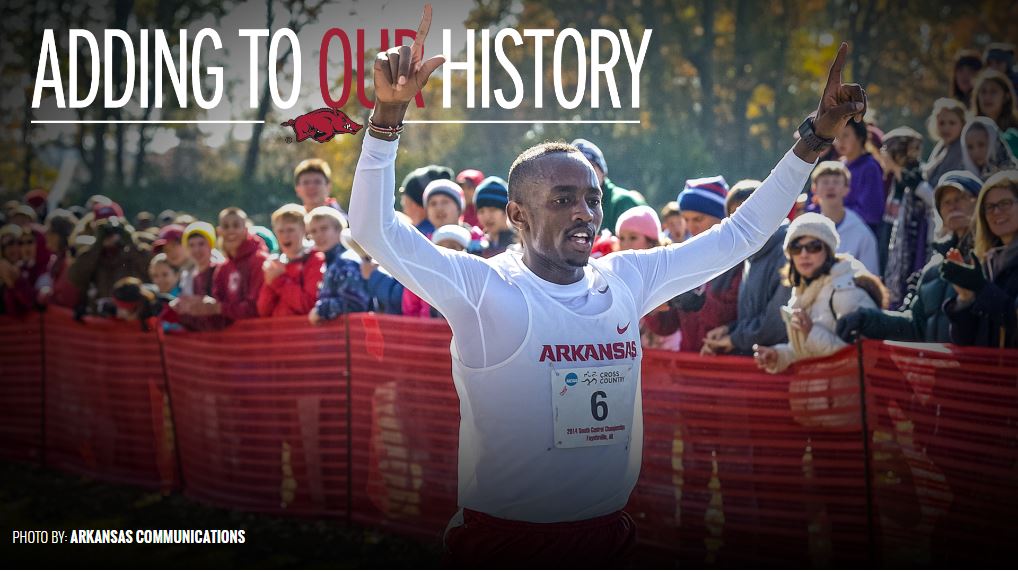 Kebenei Paces No. 24 @RazorbackTF to the NCAA South Central Title
FAYETTEVILLE, Ark. – Behind a title run by senior Stanley Kebenei Friday afternoon, the No. 24 University of Arkansas men's cross country team finished in first place at the 2014 NCAA South Central Championships in Fayetteville. With the victory, the Razorbacks clinch the program's 34th regional title and an automatic berth to next week's NCAA Championships. Kebenei crossed the finish in 29:08.10 to win his second-consecutive regional title.
Overall, the Razorbacks placed four in the top 10 to secure a 42-51 win over Texas. Head coach Chris Bucknam's squad asserted its regional dominance on Friday afternoon, as six of his seven runners competing earned NCAA All-Region honors. Every Hog harrier that ran at Agri Park today set a new personal-best time in the 10K.
Kebenei, in trademark fashion, distanced himself from Texas' Craig Lutz in the race's final 1,000-meters as he collected his second straight NCAA South Central Regional individual title. It is the third event title that the 2014 SEC Runner of the Year has collected this season, and his fifth overall.
Redshirt Gabe Gonzalez earned his third-straight NCAA All-Region honor, his second with Arkansas, by placing fifth. Freshman Alex George finished right beside Gonzalez to take sixth in his inaugural NCAA South Central race. The pair of Arkansas runners posted an identical time of 29:55.00. Junior Cale Wallace earned his first NCAA All-Region accolade by rounding out the group of top 10 Razorback runners, as his time of 30:01.90 was good enough for ninth-place.
For the second straight race, redshirt sophomore Aidan Swain placed fifth in the Arkansas scoring rotation to help his team capture a victory. Swain's 21st-place finish was able to help the Hogs outlast a Texas squad who had five runners place ahead of its final harrier in the scoring rotation. Despite not place inside the team's top five, freshman Austen Dalquist was still able to earn All-Region honors, as his time of 30:22.80 was good enough for a 23rd-place finish.
With Friday's victory, Arkansas claimed one of the two automatic NCAA Championship berths. The Razorbacks will conclude their season at the 10-kilometer course in Terre Haute, Ind., next Saturday, Nov. 22. Race time is slated for 11:00 a.m.
Coach Bucknam Post-Race Sound
On his team's NCAA South Central victory: "I was pleased with our performance today. It was like a preliminary race for next week's championship. We just had to get one of the top two spots to advance and our kids went out there and did that. It's always nice when you can win a race that means something, and I'm just happy the amount of work and effort these kids have put into not only this race, but into this season."
On winning at Agri Park: "You always want to win at home and I think our guys were really energized by the outstanding crowd that came out today. The course is in great shape for this time of year and we stepped up and gave our fans something to cheer about. For as good as today's performance was, I think we still have a better one in us next week."
On Stanley Kebenei's performance: "Stanley is a superstar in my eyes. He is an unbelievable competitor that isn't afraid of anything. He never shy's away from competition and he proved that, yet again, today. Now, he can move on to nationals where he should be in that front group where anything can happen.
Senior Stanley Kebenei
On his performance: "I felt good during the race and I think today was a good warmup for nationals. We had some nice weather today that will prepare us for what it will be like in Indiana next weekend, and I was happy to go out there and help my team bring home another regional championship."
On pulling away late in the race: "That is something that Coach Bucknam has taught me in my time here. Before, I would go into a race and not really know when to kick it into that extra gear and it would cost me some victories. Coach taught me how to hang out with the pack, pace myself better and then when the later part of the race comes up, that's when I should start to make my move and go all out. It's something I've done a lot this season, and today it was no different."
Top Five Teams
| | | |
| --- | --- | --- |
| Place | School | Score |
| 1st | Arkansas | 42 (1-5-6-9-21) |
| 2nd | Texas | 51 (2-10-11-13-15) |
| 3rd | Lamar | 106 (3-12-24-30-27) |
| 4th | North Texas | 134 (8-17-25-33-51) |
| 5th | Stephen F. Austin | 164 (7-19-38-44-56) |
Arkansas Results
| | | | |
| --- | --- | --- | --- |
| Runner | Place | Score | Time |
| Stanley Kebenei | 1st | 1 | 29:08.01 (PR) |
| Gabe Gonzalez | 5th | 5 | 29:55.00 (PR) |
| Alex George | 6th | 6 | 29:55.00 (PR) |
| Cale Wallace | 9th | 9 | 30:01.90 (PR) |
| Aidan Swain | 21st | 21 | 30:21.90 (PR) |
| Austen Dalquist | 23rd | — | 30:22.80 (PR) |
| Christian Heymsfield | 41st | — | 31:02.40 (PR) |
Arkansas All-Region Selections
Stanley Kebenei
Gabe Gonzalez
Alex George
Cale Wallace
Aidan Swain
Austen Dalquist
For more information on Arkansas cross country, follow @RazorbackTF on Twitter.